Neurosciences
When you choose our care team you have access to a wide range of advanced treatments for conditions affecting the brain, spine and nerves. We offer comprehensive specialty services available at few centers in the nation. Our physicians include a number of regional and national experts. These experts lead a program that has been nationally recognized for noninvasive treatment for neurological problems.
Why choose us for neurology and neurosurgery?
BJC HealthCare works with Washington University physicians, BJC Medical Group, and providers across the region to deliver extraordinary care. Brain injuries, tumors and chronic conditions can significantly affect your quality of life and overall function. We understand how critical timely, effective treatment is when it comes to neurological conditions.
We use the most advanced tools and techniques available to care for you. And we do so with an empathetic, compassionate approach, explaining all your options and involving you in every treatment decision.
When you choose our care team, you'll find:
Team-based, compassionate care: Multiple experts collaborate on your care, including specialized neurologists, neurosurgeons, neurorehabilitation therapists, neuroradiologists and more. You receive treatment from an entire team of specialists who create personalized, effective care plans.
Convenient access: Your local BJC hospital includes the region's best physicians, giving you access to the latest innovative technology and expertise close to home. We understand how taxing it can be to travel for multiple medical appointments. Options like telehealth and coordinated visits help to make your treatment journey as smooth as possible.
Advanced treatments: Our team offers a range of advanced therapies and surgical treatments, many of which aren't available anywhere else in the region. From Gamma Knife radiosurgery to endovascular treatments, we use a wide variety of innovative, leading-edge techniques.
Research emphasis: Washington University physicians are active researchers as well as clinical experts who provide patient care. We regularly have early access to new therapies and offer treatments through clinical trials.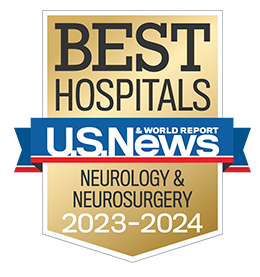 Barnes-Jewish Hospital
Neurosciences Specialties & Services at BJC
Trust your care to our team of neuroscience experts. You have access to groundbreaking, effective treatments you won't find elsewhere in the region. 
A traumatic brain injury (TBI) often requires emergency care.

Finding out you have a brain tumor can be overwhelming. Our specialists provide a range of brain tumor treatments to help you achieve the best outcome possible.

Cerebrovascular disorders affect blood vessels in the brain. Our physicians are among the most experienced cerebrovascular disease experts in the region.

From epilepsy diagnosis through treatment and recovery.

Serious memory loss isn't just part of aging.

We provide leading-edge, compassionate care for movement disorders.
Our neuroimmunologists combine advanced technology, leading-edge research and a compassionate approach to bring you effective treatment.

Nerve injuries can cause pain and weakness, significantly interfering with your day-to-day function. We provide comprehensive, effective nerve injury treatment.

You have access to a full array of leading-edge neurology treatments. Trust your treatment to BJC's team of regional and national leaders in neurology care.

Our neuromuscular team treats thousands of patients every year. You have access to an entire team of specialists who provide personalized treatments.

Our neuroradiologists and interventional neuroradiologists diagnose and treat a range of conditions affecting the brain, head, neck and spine.

Specialized physical therapy, occupational therapy or speech therapy may help improve motor symptoms associated with a movement disorder.

Our neurosurgeons use the most advanced tools and technologies to operate safely and effectively. A team of experts develops your personalized treatment plan.

When it comes to stroke, every second counts.
Neurosciences Conditions We Treat at BJC
Our collaborative team including neurologists, neurosurgeons, and neurorehabilitation therapists provide treatment for many neurological conditions. Our specialists create personalized, effective care plans based on your specific condition.
Alzheimer's disease

The most common type of dementia, this condition causes a progressive loss of memory, cognitive function and language skills.

Epilepsy

Epilepsy is a chronic condition characterized by seizures, bursts of uncontrolled electrical activity in your brain.

Multiple sclerosis

This chronic, progressive disease occurs when the immune system attacks the protective tissue around the nerves in the brain and spinal cord.

Parkinson's disease

This progressive nervous system disorder occurs when nerve cell damage leads to a drop of dopamine. Symptoms include tremors, stiffness, balance problems or slow movements.

Stroke

A stroke occurs when there's a disruption in blood flow in your brain. Stroke requires emergency treatment to minimize brain damage.

Brain and head injuries

Traumatic brain injury (TBI) occurs when a blow to the head or body causes brain dysfunction.
Brain tumors

Tumors occur when a cluster of irregular cells forms in the brain or travels to the brain.

Headaches

A headache may cause dull, sharp or radiating head pain and could have an underlying neurological cause.
BJC Neurosciences Locations
From routine care to the most advanced treatments, we are nearby to cover your every health need. Find expert, compassionate care to help you live your healthiest life at every stage at convenient locations throughout Missouri and Illinois.
Neurosciences News & Resources
Schedule your appointment