Cancer
If you or a loved one needs cancer screening — or receives a cancer diagnosis — where you go matters. Our nationally recognized cancer prevention and treatment teams provide the highest quality care, at several convenient locations. Here, you'll find the compassionate care and support you deserve during this challenging time.
Why choose us for cancer care?
BJC HealthCare works with Washington University physicians, BJC Medical Group, and providers across the region to deliver extraordinary care. Siteman Cancer Center and the Missouri Baptist Cancer Center are two programs accessible through BJC HealthCare. After a cancer diagnosis, deciding where to seek treatment can be an overwhelming decision. We help make it easier by offering world-class care that's close to home.
Our nationally recognized cancer experts provide fast, accurate diagnosis followed by the most advanced treatments available. And our compassionate support services provide help to you and your family every step of the way.
When you come to us for cancer care, you'll find:
Expert team: Our cancer specialists are among the best in the nation. Our highly trained team includes medical oncologists, radiation oncologists and surgeons. All are board-certified with years of expertise in their specialties. The cancer team also includes specially trained oncology nurses who provide expert and compassionate care.
Advanced treatment options: We offer a full range of innovative treatments for all types of cancer. From minimally invasive surgical techniques to leading-edge immunotherapy treatments, we can help you effectively fight cancer.
Access to clinical trials: Siteman Cancer Center and Washington University School of Medicine provide access to numerous clinical trials. These trials give you the opportunity to receive new medications and treatments not yet available at other cancer centers.
Comprehensive cancer screening and prevention: The only good cancer is the one you don't get. We offer comprehensive cancer screening programs, including genetic testing, to help keep you and your family healthy.
Convenient care: Coordinating appointments with multiple doctors and receiving frequent, ongoing treatments can be exhausting. We help make navigating cancer care easier by offering convenient access to services close to home.
Support for you and your family: While our expert oncologists treat cancer, our compassionate cancer support services team focuses on all your other needs. We offer services including nutritional counseling, emotional support, art and music therapy, massage therapy and more. These are available to help support you and your family throughout cancer treatment and beyond.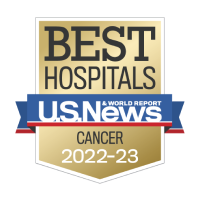 #10 in the US and #1 in Missouri for cancer care
Cancer Specialties & Services at BJC
Trust your cancer care to the expert team at BJC. You'll have access to innovative treatments as well as specialized services to improve your quality of life throughout your cancer journey.
From diagnosis to treatment and beyond, we're here to help you navigate all aspects of breast cancer care.

Our cancer screening and prevention program provides advanced screening tests, including colonoscopies, mammograms, Pap tests and skin cancer screenings.

Our cancer care goes beyond treating the disease. We offer supportive services to help you navigate all the challenges you face during treatment.

Our cancer centers provide the latest, most effective chemotherapy and medical oncology treatments with a personalized, compassionate approach.

We specialize in advanced therapies to effectively treat all stages of colorectal cancer.

Cancers that affect the female reproductive system require specialized care.
Our immunotherapy team is knowledgeable in the latest immunotherapy options to treat cancer. We use advanced genetics to tailor your treatment.

Lung cancer treatment is rapidly improving. We provide you with the latest and best treatment options available.

We use advanced treatments — including stem cell transplants and CAR T-cell therapy — to effectively treat lymphoma.

Pediatric Oncology

Our partnership with St. Louis Children's Hospital provides the best cancer care possible for your child.

Our ability to find and treat prostate cancer at its earliest stages means better outcomes for our patients.

Our radiation oncology team features board-certified radiation oncologists, physicists and cancer biologists who specialize in the latest radiation therapies.

Skin cancer is the most common type of cancer. We have the tools to effectively treat all types and all stages.

Our surgical oncology team includes board-certified surgeons who specialize in diagnosing and treating cancer. We provide minimally invasive and robotic options.
BJC Cancer Locations
From routine care to the most advanced treatments, we are nearby to cover your every health need. Find expert, compassionate care to help you live your healthiest life at every stage at convenient locations throughout Missouri and Illinois.
Schedule your appointment