Shaping the futures of our youth and community
Career Resource Center introduces teens to careers in construction and health care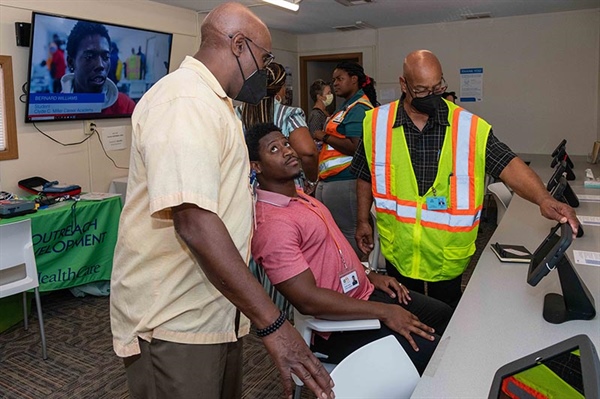 From the outside, it may look like your average construction trailer -- but behind the door, a world of opportunities awaits area high school students.
This fall, administrators and teachers from local high schools attended an open house at the Career Resource Center at Barnes-Jewish Hospital – a partnership between BJC HealthCare, Tarlton Corporation, McCarthy Building Companies and Washington University to introduce students to construction and health care careers. The center hosts a dynamic, one-day program for high school students that aims to address future workforce needs in the community by sparking an interest in these career fields.
"The goal is for students to have the opportunity to see themselves in these careers and hear from industry professionals, such as construction tradespeople, about on-the-job training and apprenticeships," says Jennifer Irvin, school-community education partner, BJC Community Health Improvement. "The students also learn about roles in health care that have a lot of potential for career growth."
The center was launched in 2018 during construction of the Siteman Cancer Center at Christian Hospital's Northwest Healthcare. When the Campus Renewal Project phases 3-4 got underway last year, the center brought to the Washington University Medical Campus.
The center's program includes presentations by guest speakers about entry-level positions and apprenticeships that have competitive compensation, interactive technology demonstrations, conversations with construction workers and medical professionals, and tours of the hospital and its construction sites. Throughout last spring, 50 students participated in visits to the center.
"These students are our future, and we owe them the time and encouragement needed to fulfill their hopes and dreams about career choices," says Charles Henson, manager of diversity for BJC Planning, Design & Construction. "The Career Resource Center is a vehicle to introduce them to two very different but appealing paths. What's exciting is how students respect the opportunity and appreciate the attention given to them."
Kerry Arens, coordinator of the Chelsea Detrick Experiential Learning Center at Webster Groves High School, attended the September open house at the center and will return this fall with a group of students. She is excited for them to see a variety of pathways for their futures and hopes they find at least one career that sparks their interest.
"Students will be able to explore various trades and healthcare careers by seeing them in action, engaging in simulations, and by speaking with people currently working in those fields," says Arens. "This broad-based exposure will help students see jobs they might have never even known about."
Derwin Crosby, an instructor at Clyde C. Miller Career Academy, brought a group of students to the center last spring. (Watch this video to see highlights of the visit.) He says the Career Resource Center was an opportunity for his students to experience careers first-hand and to hear from and see minorities in these professions.
"The experience was wonderful, and the students really enjoyed it," says Crosby. "The students really appreciate seeing the diversity in the workplace, so close to where they live. Having the different industry representatives speak was beneficial and enlightening."
Irvin adds that the center's program also introduces young people to career paths that can potentially fulfill workforce needs at BJC. She says that of those 50 students who participated last spring, several have expressed interest in health care careers.
"Two of the seniors last spring were offered full-time paid summer internships with BJH telemetry. They were both certified in EKG and are pursuing pre-nursing coursework," explains Irvin. "We are scheduling follow-up shadowing visits for several students, and four others participated in the BJC Career Exploration event in September where they could learn about entry-level and advancement opportunities in radiology, respiratory, and laboratory currently available at Barnes-Jewish Hospital and educational opportunities through local community colleges. Some of our own team members also will be conducting follow up classroom presentations.
 "When we invest in the pipeline, we are literally growing our own workforce. In addition, we are making a big difference in the lives these kids."
Interested in learning more about the Career Resource Center for a high school you know?
Contact: