New BJC Scholars Fund Paves the Way to a Degree for First 14 Students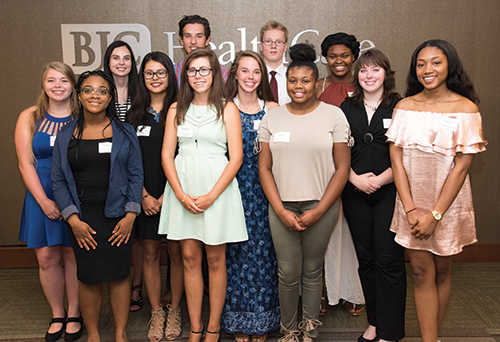 The BJC Learning Institute auditorium brimmed with promise, pride and gratitude as BJC HealthCare and The Scholarship Foundation of St. Louis honored the inaugural class of BJC Scholars at a luncheon and orientation July 19. 
Twelve of the 14 scholarship recipients from throughout the region were on hand with family members and supporters to meet BJC and Foundation leadership and receive information about the scholarship award process. Two students from Columbia, Mo., were recognized in a separate event at Boone Hospital Center August 7. 
"There is a real correlation between higher education and better health," said BJC CEO Steve Lipstein in his remarks to the group. "Statistics show that a college degree adds 10 years to your life. We want to make an investment in you — not just your education, but your health as well. By creating this new scholarship opportunity, BJC hopes to make an impact in helping you attain your educational goals and in creating new opportunities for a brighter and healthier future." 
BJC created the scholarship opportunity in response to regional community needs identified by the Ferguson Commission and For the Sake of All. Open to high school seniors planning to pursue a two- or four-year degree at a public Missouri or Illinois state college or university in their state of residence, the BJC Scholars Fund offers need-based awards of $10,000 per academic year. The annually renewable scholarship can be applied toward tuition, fees, room and board, transportation and incidental costs.
"As the first class of scholars, you are the torch bearers of this program, lighting the way for those who come after you," said Faith Sandler, executive director of The Scholarship Foundation. "We welcome you to the extended family of The Scholarship Foundation and to our tradition of success. We are proud of the successes of individuals and even more so of how each contributes to the success of the communities where we live and work and where your health care is provided."
In addition to administering the BJC scholarship program, The Scholarship Foundation is supporting the awardees and their parents in taking full advantage of other state, federal and institutional funds to which students are entitled, to ensure that the BJC scholarship award completes the funding required for full year attendance. The foundation also provides ongoing support that includes advising, workshops, financial aid counseling, participation in paid internship programs and additional funding opportunities if relevant. 
June Fowler, BJC senior vice president of communications, marketing and public affairs, encouraged the students to look around the room. "I had the very good fortune of finding people to help me along my journey," she noted. "There are people in this room who are willing to help you along the way." 
'Your education will never leave you'
BJC Scholars expressed excitement and gratitude about the scholarships that are helping them achieve their academic goals.