Barnes-Jewish Hospital
Consistently ranked among America's best hospitals by U.S. News & World Report, Barnes-Jewish is a nationally recognized academic medical center with exceptional quality and unmatched experience for patients needing all levels of care, from the most common to the more complex. In partnership with Washington University School of Medicine – and with more than 1,800 physicians – it is the largest hospital in Missouri caring for communities that extend across the country.
Overview
Advanced medicine. Community care.
A teaching hospital staffed by Washington University physicians, Barnes-Jewish is internationally recognized for its leading-edge therapies and commitment to educating the next generation of medical professionals. Barnes-Jewish is also the first hospital in Missouri to be designated as a Magnet hospital in 2003 by the American Nurses Credentialing Center for excellence in nursing and has been redesignated consistently since.
Barnes-Jewish serves as a safety net hospital for the city of St. Louis, with a mission to care for the underserved and underinsured in the diverse communities of the St. Louis metro area, where many people have no access to health care apart from Barnes-Jewish – and the hospital is proud to provide urgently needed services to these populations.  
We believe the world's most advanced medicine and breakthrough treatments are only effective if they reach the patients who need them most. 
QuickLinks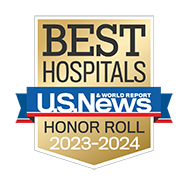 Among the Nation's Best, #1 in Missouri, and #1 in St. Louis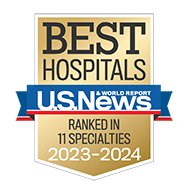 Best Hospitals Ranked in 11 Specialties 2023-2024 Barnes-Jewish Hospital
Specialties & Services
Barnes-Jewish Hospital is ranked among the nation's top hospitals in multiple specialty areas including Cardiology & Heart Surgery, Neurology & Neurosurgery, Orthopedics, Obstetrics and Gynecology, and Cancer.
Emergency Care

BJC's full-service emergency department is open 24/7. Learn about our advanced emergency services and find an emergency department location near you.

Pharmacies

Our licensed pharmacists are an integral part of our caregiving team who work to get you the medicine you need.

Primary Care

Your lifelong partner in managing your day-to-day health needs, we provide answers and guidance, and we'll connect you to the right solution when you need it.

Specialized Care

Our wide range of clinical care programs will give you access to what you need for your health and wellbeing.

Critical Care

An entire team of skilled experts provides compassionate critical care. You have access to multiple specialists, including via telehealth consults.

Mental Health

Mental health is just as important as your physical health. Our compassionate team provides an array of services to improve your well-being.

Trauma Care

In an emergency, your care is in the hands of highly trained specialists who research and provide leading-edge treatment for critical injuries.
Allergy and Immunology
Dermatology
Digestive Health
Ear, Nose, and Throat (ENT)
General Surgery
Geriatrics
Infusion Services
Laboratory Services
Medical Stabilization
Nephrology
Nutrition
Ophthalmology
Pain Management
Palliative Care
Physical, Occupational, and Speech Therapy
Plastic & Reconstructive Surgery
Podiatry
Psychiatry
Pulmonology
Rheumatology
Sleep Disorders
Urology
Weight Management
Wound Care