Quick Links
In October 2012, the BJC Collaborative, LLC (the "BJC Collaborative") was created by its four founding members, BJC HealthCare of St. Louis, Missouri, Saint Luke's Health System of Kansas City, Missouri, CoxHealth of Springfield, Missouri, and Memorial Health of Springfield, Illinois.
Since the BJC Collaborative was founded, additional systems have joined, including Blessing Health System of Quincy, Illinois, Southern Illinois Healthcare of Carbondale, Illinois, Sarah Bush Lincoln Health System of Mattoon, Illinois, and Phelps Health of Rolla, Missouri.
Over the years, Collaborative members have worked together to enhance the quality of care, increase access to health services through meaningful population health benefits, and reduce the total cost of care within our Midwest region. By pooling our individual strengths as market-leading, independent, non-profit health care systems, we have been able to make a significant impact for our patients and the communities we serve.
Specific ways which BJC Collaborative members pursue joint work efforts include the following:
Achieving Savings Through Group Purchasing
Through 2022, the BJC Collaborative has achieved $617 million in savings for its members through its purchasing efforts. The Clinical Engineering Operations Committee (CEOC) and Clinical Asset Management (CAM) Shared Services account for $492 million of the savings and have played a crucial role in reducing costs and achieving operational efficiencies. Through a unique and disciplined process, Collaborative members identify clinical asset needs at each organization and work with vendors to secure vital equipment.
System-to-System Initiatives
BJC Collaborative facilitates opportunities to implement and expand clinical programs and services between and among its members, creating opportunities for pooling the resources and talents available across the region to improve care and access for patients in their local communities.
Building Relationships and Sharing Best Practices
Leaders from each health system are sharing best practices and developing solutions to shared challenges in areas including Cybersecurity, Government Relations, Virtual Care, Clinical Engineering, Clinical and Service Quality, Emergency Preparedness, Human Resources, Legal Services, Credentialing, Public Relations/Communications, Cancer Prevention, and Diversity/Equity/Inclusion. 
The BJC Collaborative looks forward to continuing to strengthen relationships across its members, sustaining synergies around cost savings, and establishing new committees in strategically important spaces.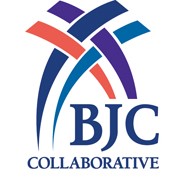 BJC HEALTHCARE • COXHEALTH • MEMORIAL HEALTH • SAINT LUKE'S HEALTH SYSTEM 
BLESSING HEALTH SYSTEM • PHELPS HEALTH • SARAH BUSH LINCOLN HEALTH SYSTEM • SOUTHERN ILLINOIS HEALTHCARE