Collaborative health systems share much in common with BJC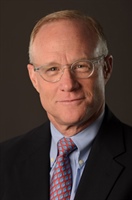 November 5, 2012 – Just over a week ago, BJC announced that we are launching a new company, a collaboration among four leading health care systems in southern Illinois, Missouri and eastern Kansas. The four "members" of this Collaborative are BJC, Memorial Health System in Springfield, Ill., CoxHealth in Springfield, Mo., and Saint Luke's Health System in Kansas City. 
Who are these new partners of ours? Well, for one, they are very good people. Memorial's CEO is Ed Curtis. Ed is a nurse by profession, and has served Memorial for more than 35 years, including the past four years as CEO. CoxHealth's leader is Steve Edwards. Steve is relatively new to the CEO role at Cox but was previously the system's chief operating officer for six years. And Mindy Estes, a physician, is Saint Luke's CEO. While only in that capacity for one year now, she and I knew each other when she served as the CEO of Fletcher Allen Medical Center at the University of Vermont. 
Working with Ed, Steve and Mindy, I have come to learn that these leaders and their respective health organizations share much in common with BJC. These health systems are all not-for-profit health care delivery organizations that genuinely care about making medicine better for their patients, families and communities. Memorial, Cox and Saint Luke's all have a rich tradition of serving their local communities with distinction, earning high praise for quality of patient care, careful and disciplined stewardship of financial resources, and a commitment to their social and academic missions. 
In BJC's own relatively brief history of working together, our hospitals and service organizations have come to appreciate the enormous value of learning from one another, of sharing in the costs of technology and support services, and of working together in teams to achieve even higher impact in each of the communities we serve. This new BJC Collaborative is a natural extension of what we already do. There are many things that we already do especially well that can benefit our new partners. Conversely, there are many things that they do well that can benefit us. The BJC Learning Institute is a place where "learning and innovation come together for better health and better health care" — the BJC Collaborative with Memorial, Cox and Saint Luke's extends that journey to other parts of our state and our region. 
It should not go unnoticed that the BJC Collaborative is perhaps the first time that independent health systems in Illinois and Missouri have come together to establish a metaphorical bridge that crosses the Mississippi River. I am hopeful that others in our community will follow our lead and begin to develop partnerships that strengthen the collective health and well-being of all who live in Southern Illinois and Eastern Missouri. At the same time, never before have independent health systems in the three largest population centers of Missouri (St. Louis, Kansas City and Springfield) come together to collectively work on improving the health and well-being of all Missourians. I am proud that we should be among the first to try new and better ways of unifying our state around the common objectives of better health and better health care. 
Time will tell if the BJC Collaborative can live up to its promising and full potential. We have an ambitious agenda around cost savings and quality improvement. All I ask of each of you is that we give it our very best effort. Our "very best" has gotten us to where we are today — among the very best health care organizations in America. And with the BJC Collaborative, we can be even better.