Teenage Blues fan has a night she'll never forget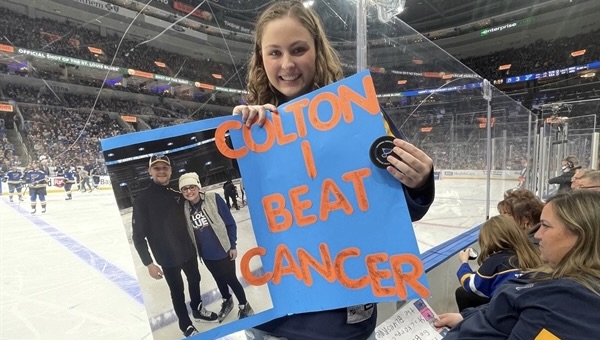 ---
The handmade sign said, "Colton, I beat cancer" with a photo of St. Louis Blues player Colton Parayko and Ashlynn Wilson, a teenager who recently became cancer free, ice skating together at Enterprise Center.
Angela Wilson, RN, Missouri Baptist Medical Center dialysis unit, won two tickets in a BJC drawing to the St. Louis Blues' last regular season home game and took as her guest her 19-year-old daughter, Ashlynn, who recently spent two and a half years battling acute lymphoblastic leukemia at Siteman Kids at St. Louis Children's Hospital.
"Ashlynn has pretty much been housebound or in the hospital since she was diagnosed in August 2019," says Wilson. "Since November 2021 she has been cancer free and slowly starting to get to do some normal teenage things.
"She is a huge Blues fan, so I wanted to take her to enjoy a game," Wilson adds, "and we had the best night ever."
When Ashlynn was battling cancer, Wilson says, the St. Louis Blues invited 20 St. Louis Children's Hospital patients who were undergoing chemotherapy to skate with the Blues players, enjoy some time on the ice with them and visit their locker room.
"St. Louis Blues defenseman Colton Parayko helped Ashlynn ice skate. She isn't very good at it, and he was teaching her how to skate, showing her the right moves," Wilson says. "Ashlynn was just smitten with him — you could tell from the smile on her face."
And that's when the photo of Ashlynn and Parayko was taken. "Ashlynn wasn't very happy with me that I made that sign to bring to the hockey game," Wilson says. "But I'm so glad I did because that was a night both of us will cherish forever."
"Our seats were amazing," adds Ashlynn. "They were rink side, across from the players and coaches and up against the glass."
Mother and daughter cheered on the Blues and held up the sign throughout the game. "We knew early in the game that Colton had read the sign because he kept smiling at Ashlynn and gave her a thumbs up," Wilson says. "In the third period, during a break or timeout, Colton skated right over to us and handed a game hockey puck to Ashlynn over the glass, smiling at both of us. It was moment we will never forget.
"After he gave the puck to Ashlynn, the entire crowd behind us wanted to see what her sign said. Ashlynn turned around and showed everyone her sign — which drew a standing ovation from everyone behind us cheering for her," Wilson adds. "This really made her night, and I was so happy for her. She has been through so much."
Ashlynn continues to get monthly blood draws at St. Louis Children's Hospital.
"Ashlynn's team of doctors and nurses are amazing and gave her the best care I could ever imagine," Wilson says. "They are understanding, nice and very knowledgeable. When she had some complications with chemotherapy, they pulled through and helped her so much with her many trips to the ICU."
Ashlynn says her hematologist, Jeffrey Magee, MD, as well as hematologist Laura Schuettpelz, MD; nurse practitioner Rema Malone, RN; and clinical nurse coordinator Latresha Anderson, RN, are like family to her. "I can't say enough great things about them," Ashlynn says. "They were always there for me and gave me the best care you could imagine. I wouldn't be here today without their expertise and guidance through this journey."
In 2023, Ashlynn will be attending Goldfarb School of Nursing at Barnes-Jewish College and, like her mom, will become a nurse.
"Right now, I'm thinking of working with pediatric patients on the oncology floor at St. Louis Children's Hospital," Ashlynn says. "It's full circle for me, because I can give back to the patients going through what I went through, and I can help them like the doctors and nurses helped me."
In the meantime, mother and daughter have some very special memories to celebrate. "I cannot thank BJC enough for the tickets and the St. Louis Blues organization, too. They are wonderful and so giving. We had an amazing night, and I am very blessed," Wilson says.
Sitting on a shelf in Ashlynn's bedroom are three hockey pucks, two signed by players Colton Parayko and Brayden Schenn, which she received at the event she attended while battling cancer, and the third one from a very memorable night – one Ashlynn will never forget.