Tips to Stay Healthy, Safe and Cool this Summer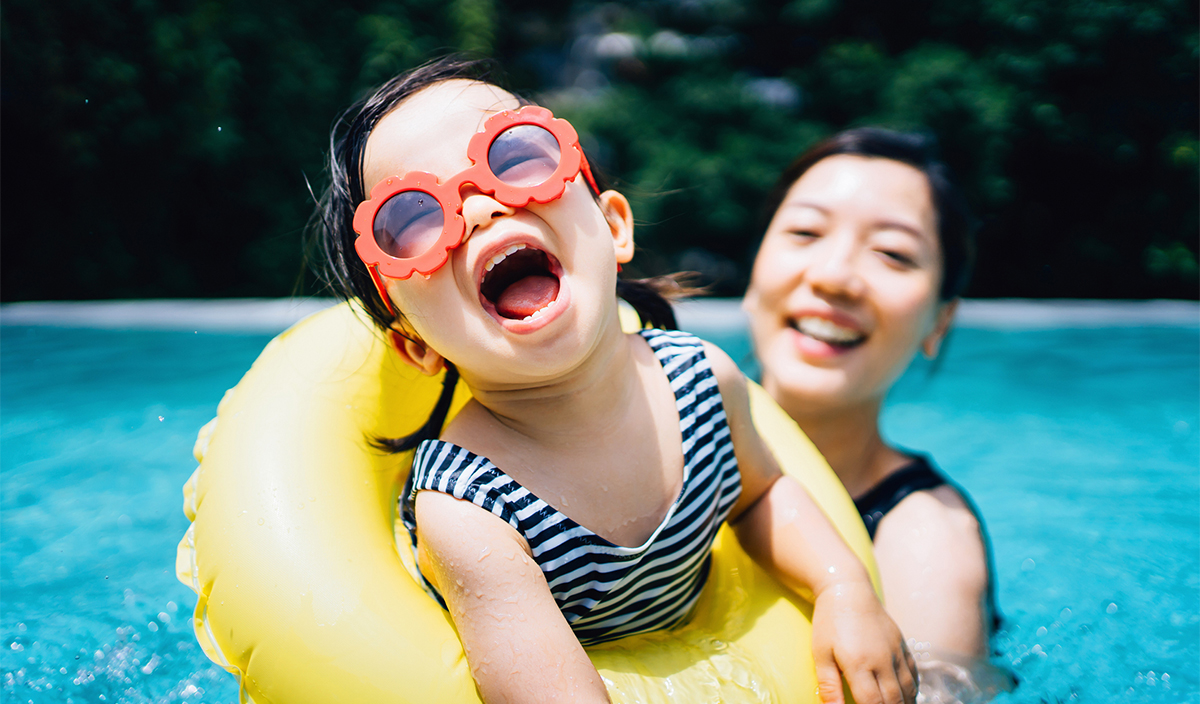 There's so much to do during the summer months — and so many opportunities for illness or injury. Typical summertime activities like swimming and biking come with unique risks, and summertime heat itself can be dangerous.
Read on for helpful tips to stay safe and healthy — while still enjoying everything summertime has to offer.
How to Avoid Heat-Related Illnesses
St. Louis summers are notorious for extreme heat and humidity — a potentially dangerous combination. To prevent heat-related illnesses this summer, follow these tips from the U.S. Centers for Disease Control and Prevention (CDC):
Wear appropriate clothing
Choose lightweight, light-colored, loose-fitting clothing.
Stay cool indoors
Stay in an air-conditioned place as much as possible.

If your home doesn't have air conditioning, go to the shopping mall or public library — even a few hours spent in air conditioning can help your body stay cooler when you go back into the heat.

Call your local health department to see if there are any heat-relief shelters in your area.

Electric fans may provide comfort, but when the temperature is in the high 90s, they won't prevent heat-related illness.

Taking a cool shower or bath or going to an air-conditioned place is a much better way to cool off.

Use your stove and oven less to maintain a cooler temperature in your home.
Schedule outdoor activities carefully
Try to limit your outdoor activity to when it's coolest, like morning and evening hours.

Rest often in shady areas so that your body has a chance to recover.
Pace yourself
Cut down on exercise during the heat. If you're not accustomed to working or exercising in a hot environment, start slowly and pick up the pace gradually.

If exertion in the heat makes your heart pound and leaves you gasping for breath, stop all activity. Get to a cool area or into the shade, and rest, especially if you become lightheaded, confused, weak or faint.
Do not leave children (or pets) in cars
Cars can quickly heat up to dangerous temperatures, even with a window cracked open.

While anyone left in a parked car is at risk, children are especially at risk of getting a heat stroke or dying.

When traveling with children, remember to do the following:

Never leave infants, children or pets in a parked car, even if the windows are cracked open.

To remind yourself that a child is in the car, keep a stuffed animal in the car seat. When the child is buckled in, place the stuffed animal in the front with the driver as a visual cue.

When leaving your car, check to be sure everyone is out of the car. Do not overlook any children who have fallen asleep in the car.
Stay hydrated and drink plenty of fluids
Drink more fluids, regardless of how active you are. Don't wait until you're thirsty to drink.

If your doctor limits the amount you drink or has you on water pills, ask how much you should drink while the weather is hot.

Stay away from very sugary or alcoholic drinks — these cause you to lose more body fluid. Also avoid very cold drinks because they can cause stomach cramps.

Keep your pets hydrated too, by providing plenty of fresh water in a shady area.
Replace salt and minerals
Heavy sweating removes salt and minerals from the body that need to be replaced. A sports drink can replace the salt and minerals you lose in sweat.

If you are on a low-salt diet, have diabetes, high blood pressure or other chronic conditions, talk with your doctor before drinking a sports beverage or taking salt tablets.
Stay informed and check for updates
Check your local news for extreme heat alerts and safety tips and to learn about any cooling shelters in your area.
Use a buddy system
When working in the heat, monitor the condition of your co-workers and have someone do the same for you.

Heat-induced illness can cause a person to become confused or lose consciousness.

If you are age 65 or older, have a friend or relative call to check on you twice a day during a heat wave. If you know someone in this age group, check on them at least twice a day.
Monitor those at high risk
Although anyone at any time can suffer from heat-related illness, some people are at greater risk than others, including:
Infants and young children

Adults age 65 or older

Those who are overweight

Those who overexert during work or exercise

People who are physically ill, especially with heart disease or high blood pressure, or who take certain medications, such as for depression, insomnia or poor circulation

Visit adults at risk at least twice a day and closely watch them for signs of heat exhaustion or heat stroke. Infants and young children, of course, need much more frequent monitoring.
See more information from the CDC on recognizing and treating heat-related illnesses such as heat cramps, heat exhaustion, heat stroke and heat rash.
For treatment of minor summertime illnesses or injuries, visit BJC's Convenient Care locations or St. Louis Children's Hospital's After Hours Clinics.
Enjoy the Summertime Sun — Safely
In our excitement to enjoy everything summer has to offer, Graham Colditz, MD, associate director of prevention and control at Siteman Cancer Center, says it's important that we remember to protect our skin when we're out in the sun. The sun's ultraviolet — or UV — rays can damage skin, increasing the risk of skin cancer, including the most serious type of skin cancer, melanoma.
Lynn Cornelius, MD, chief of dermatology at Washington University School of Medicine in St. Louis, adds that rates of skin cancer on the whole are increasing. "Some of this may be due to aging populations, and some due to people not photo-protecting (using sunscreen, clothing and other barriers) as well as they should," Dr. Cornelius says.
Key steps we can take to protect our skin from the sun include using sunscreen (and re-applying), finding shade between 10 a.m. and 4 p.m., and wearing sunglasses, hats and long-sleeve shirts.
When it comes to sunscreen, a 30 SPF (sun protection factor) or higher rating is good for shorter periods outside. For longer outings, a 50 SPF or higher is better. Choose either a chemical sunscreen, which absorbs UV rays, or a mineral sunscreen, such as zinc, which blocks UV rays. Despite some news reports that pop up occasionally, both types are safe for children and adults. So, pick whichever type you and your family prefer.
"Try different formulations; there are a lot of them out there," Dr. Cornelius said. "The most important sunscreen is the one that you'll use."
See additional tips for staying safe in the sun.
"Enjoying the outdoors is one of the best parts of summertime," Dr. Colditz adds. "And with just a few relatively simple steps, we can help protect ourselves and our family from the sun's rays. And that can make an already good time feel even better."
Protect Your Kids from Common Injuries This Summer
Summer is a fun and active season for many families. But these activities also mean increased injuries. Unintentional injuries are the leading cause of death in childhood — more than all disease-related deaths combined.
Leading causes of injuries include motor vehicle crashes, suffocation, drowning, poisoning, fires and falls. St. Louis Children's Hospital offers the following tips to help you protect your kids from some of these common injuries this summer:
Motor vehicles
Motor vehicle crashes (including all-terrain vehicles) are the leading cause of injury-related deaths in childhood.

Never allow children to ride in the cargo area of pickup trucks or vans.

Adults, teens and children should always wear a seatbelt.

Children age 12 and younger should always ride in the back seat and be properly restrained.

Children should always ride in the appropriate safety seat for their age, height and weight (review guidelines in your seat's instruction manual). St. Louis Children's Hospital's Safety Stop team is available to answer your general car seat questions and help you correctly use your child's car seat. Make a free appointment at any of our Safety Stop locations by calling 314.565.0369.
Bikes
Make sure your children wear helmets every time they ride and that the helmets fit snugly and cover the forehead. Follow St. Louis Children's Hospital's step-by-step instructions on how to fit a bike helmet to make sure your child's helmet is properly fitted. Or, book an appointment with our Safety Stop team and we'll teach you how to make sure your child's helmet fits.
If you ride in the street, obey all traffic signs (stop signs, merge signs and traffic lights).

When riding at night, wear reflective clothing and use a bike light.

Make sure your child's bike is the right size.
Skateboards and roller blades
Safe riders wear helmets, wrist guards, and elbow and knee pads.

Long-sleeve shirts and pants provide extra protection.

Make sure that your children roller blade or skateboard on designated paths or trails, never on public streets or sidewalks.
Playgrounds
Always supervise young children using playground equipment.

Safe playgrounds have shock absorbing material (rubber, gravel or wood chips) around the equipment.

Choose a playground with equipment that is geared toward your child's age and matched with their abilities, developmental level and size.

Children playing on equipment should not wear drawstrings, necklaces or loose-fitting clothing because these items can get caught in equipment and become a strangulation hazard.

Trampolines for recreational use can be very dangerous and are not recommended by the American Academy of Pediatrics.
See more summer safety tips from St. Louis Children's Hospital on topics such as burns, water safety, general outdoor safety and emergency situations.
Take Special Precautions Around Water
According to the CDC, an average of 11 people in the U.S. die from unintentional drowning every day — and more children ages 1 to 4 die from drowning than any other cause of death except birth defects.
Drowning can happen in seconds and is often silent. And it can happen to anyone, any time there is access to water.
Aaron Turner, manager of EMS and ambulance services at Missouri Baptist Sullivan Hospital, knows all too well the dangers of water. As summer arrives, he and his colleagues prepare for "float trip season," knowing they'll see injuries, illnesses and unfortunately sometimes drownings as a result of more people on the water.
To lessen the chance of drowning, he says it's important to be vigilant. "Be aware of the signs posted on the local rivers of the changing water conditions — and when the signs warn of unsafe conditions to swim due to current, obey the posted signs."
Turner also cautions against mixing alcohol with fun on the water, noting that most of the problems he and his colleagues see involve the use of alcohol while boating on the river.
You can help prevent drowning — in a home or community pool or on a lake or river — by following these tips from the CDC:
Learn basic swimming and water safety skills
Formal swimming lessons can reduce the risk of drowning. Children who have had swimming lessons still need close and constant supervision when in or around water.
Build fences that fully enclose pools
Construct and use a four-sided fence that fully encloses the pool and separates it from the house, with self-closing and self-latching gates. Also, remove all toys from the pool area that might attract children to the pool.
Supervise closely
Designate a responsible adult to supervise closely and constantly when children are in or near water, including bathtubs.

You can assign a specific adult to supervise each child when they have access to water.

Adults watching kids in or near water should avoid distracting activities like reading, using the phone, and consuming alcohol or drugs, because drowning happens quickly and quietly.

After swim time is over, shut and lock doors that give access to water.
Wear a life jacket
Life jackets reduce the risk of drowning while boating for people of all ages and swimming abilities.

Life jackets should be used by children for all activities while in and around natural water. Life jackets can also be used by weaker swimmers of all ages in and around natural water and swimming pools.

Do not rely on air-filled or foam toys, as these are not safety devices.
Learn CPR
Your CPR skills could save someone's life in the time it takes for paramedics to arrive.

Many organizations such as the American Red Cross and the American Heart Association offer CPR training courses, both online and in person.
Know the risks of natural waters
Lakes, rivers and oceans have hidden hazards such as dangerous currents or waves, rocks or vegetation, and limited visibility.

Check the forecast before activities in, on or near water.

Local weather conditions can change quickly and cause dangerous flash floods, strong winds, and thunderstorms with lightning strikes.
Avoid alcohol
Alcohol impairs judgment, balance and coordination.

Avoid drinking alcohol before or during swimming, boating or other water activities.

Do not drink alcohol while supervising children.
Use the buddy system
Always swim with a buddy.

Choose swimming sites that have lifeguards when possible.

The buddy system is especially beneficial for people with seizure disorders or other medical conditions that increase their risk of drowning.
Take additional precautions for medical conditions
Provide one-on-one supervision around water, including swimming pools, if you or a family member has a seizure disorder.

Consider taking showers rather than using a bathtub for bathing.

Wear life jackets when boating.

Other medical conditions such as autism or heart conditions are also associated with a higher risk of drowning.
Consider the effects of medications
Avoid swimming if you take medications that impair your balance, coordination or judgment. These side effects increase the risk of drowning.

Several medications can produce these side effects, such as those used for anxiety and other mental health conditions.
Don't hyperventilate or hold your breath for a long time
Do not let swimmers hyperventilate before swimming underwater or try to hold their breath for long periods of time. This can cause them to pass out and drown. This is sometimes called "hypoxic blackout" or "shallow water blackout."
Learn more about water safety and drowning prevention from the CDC.
Create An Essential Parents' First-Aid Kit
No matter how well you plan and prepare, accidents are bound to happen. With kids out of school enjoying lots of free time, there's always a chance for cuts, ticks, stings, poison ivy, infected bug bites, sunburns, eye injuries, broken bones and all kinds of summer fun gone wrong.
Luckily, you can easily treat or prevent much of this summer pain by building a "Dr. Mom" first-aid kit — and knowing how to use it. Although pre-made, store-bought first-aid kits are a good start, these kits typically lack many items you might need to treat your family this summer.
Keep your first-aid kit in your car — and you'll never have to remember to pack it when you're on the go. If you have more than one family car, consider making a first-aid kit for each car.