Tips for healthy eating on a budget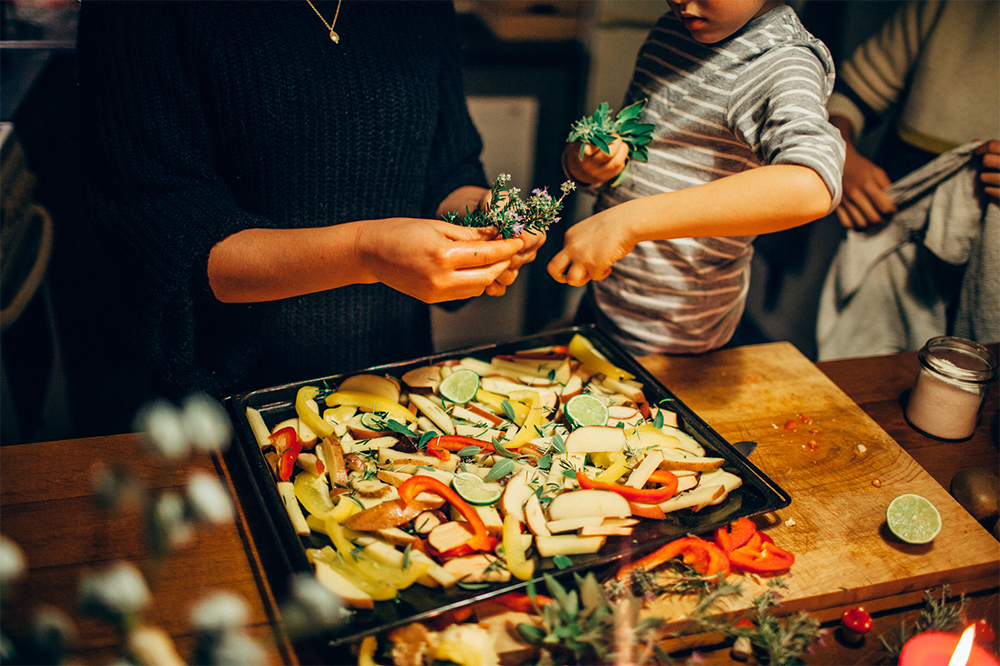 Feeling the pinch from high food costs at the grocery store?
While the cost of food has increased 7.4% over the past year, you can still afford to eat healthful foods, says Missouri Baptist Medical Center dietitian nutritionist Sherri Hoyt, RDN, LD. She offers some wallet-wise ways to stretch your food dollar while still banking good nutrition.
Swap ingredients
Higher food costs don't have to mean lower taste and nutrition. The secret is to adjust your favorite recipes to make them healthier and less expensive to make.
According to the U.S. Bureau of Labor Statistics, meat, poultry, eggs and fish have increased the most — 12.2% — over the past year. To limit blowing your budget with those protein sources, Hoyt suggests healthy swaps, namely canned beans.
Leading by example, Hoyt admits her family keeps six to seven varieties of canned beans in her pantry — with several cans of each variety.
"My go-to for inexpensive, convenient protein is canned beans. Black beans, garbanzo beans, lentils and other beans are a perfect fill-in for beef and pork in recipes. They're also full of protein and fiber to help you feel full and satisfied."
Hoyt also recommends substituting canned tuna and salmon and frozen shrimp for more costly fresh seafood. "What's labeled fresh in the grocery store is usually previously frozen anyway," Hoyt explains.
Try these easy meal makeovers:
On Taco Tuesdays, use black beans or refried beans instead of meat.

Give your meatless spaghetti a flavorful protein boost. Swap meat for a can of soft red beans cooked in marinara and ladled on top of whole-grain pasta for a quick, inexpensive meal.

Make meatless chili with three kinds of beans: red, white and black. "This looks beautiful, especially since we eat with our eyes first," Hoyt says. "If you're not ready to cut meat out of your chili entirely, use half the amount and add an extra can or two of beans."

While egg prices have increased, they are still an economical protein source, Hoyt says. "Making a 'brinner' using eggs and other breakfast foods is an inexpensive way to plan a breakfast-for-dinner (brinner) meal."

Try a tuna sandwich for lunch to get at least one of the fish meals a week recommended by the American Heart Association. "Tuna is healthier and cans are less expensive than deli meat for sandwiches," Hoyt says.

For dinner, used canned salmon to make salmon burgers, rather than pricier salmon steaks. Get creative with mustard sauce to make your salmon burger special.

Add thawed frozen shrimp to salads for a good protein source that is less expensive than fresh shrimp.

Store-brand whole-grain pasta is an excellent way to cut costs and can be the foundation for many recipes. With a small price tag, "super grains" barley and quinoa are rich in protein, fiber and other nutrients.

A bag or box of plain brown rice (uncooked) is less expensive than quick cooking rice or rice already cooked in a bag. A whole grain, brown rice has more nutritional value than white rice. To save time and money, Hoyt recommends batch cooking rice on Sundays. Divide the cooked rice into smaller portions in baggies and freeze to use as needed.
Don't forget fruits and vegetables
Dietary guidelines recommend you cover half your plate with fruits and vegetables. As prices increase, you may be tempted to ignore this recommendation. But Hoyt says not so fast.
"Single ingredient frozen vegetables such as spinach or broccoli are cost effective and just as good for you as fresh vegetables. They are harvested at the peak of ripeness and flash frozen so nutrients are locked in."
She says the same rule applies to fruit. "Keep bags of frozen fruit on hand. They are less expensive than fresh fruit and even tastier when fresh fruit is off season."
Canned fruits and vegetables are inexpensive, healthy options, too, Hoyt adds, especially if you buy canned vegetables that are low sodium.
Some produce such as bananas and potatoes are always in season and are usually inexpensive.
Another cost-saving option is to grow your own produce. During the summer, it's easy to grow tomatoes, peppers and herbs in pots on the patio. The bonus? "Kids may be more likely to try healthy foods if they are involved with growing them," Hoyt says.
8 ways to save
Hoyt says planning is key to successfully reducing your grocery bill. Preparing meals for the week ahead can become a simple habit that will save time and money.
Create a basic menu for the week based on your family's schedule.

Plan a grocery list accordingly.

Check your pantry and freezer before you go to make sure you don't already have some ingredients.

Stick to the list.

Chop up vegetables for the week, place in baggies, and keep at eye level in the fridge.

If you have fridge space, put all the ingredients for a meal on a platter so everything is in one place.

Keep a running grocery list on your phone or on a pad on the refrigerator. All family members can add to it when they use up staples.

Keep ingredients on hand for five family-friendly meals that are quick to fix. That way when it gets late or you're tired, you won't be tempted to order expensive take-out meals or run to the grocery store where you'll make impulse buys.
Tap into technology
Hoyt developed her own system of online grocery shopping that has cut her family's grocery bill in half.
Rather than relying on expensive grocery delivery services, Hoyt searches online for the best deals on staples at her three favorite stores and then does curbside pick-up, which is usually free. On weekends, she visits the grocery store for fresh produce, fish or other items she wants to select herself.
Check out these wallet-friendly healthy recipe ideas:
Mediterranean Tuna Salad
Tuna in a pouch is an economical way to add fish to your menu. And "stretching" tuna with canned beans adds protein and filling fiber for a satisfying meal!​
1 (6.4-ounce) pouch chunk light tuna in water, drained
1 (15-ounce) can cannellini beans, rinsed and drained
2 tablespoons capers, drained (optional)
2 tablespoons extra virgin olive oil
2 garlic cloves, minced
2 teaspoons oregano
Juice from 1 small lemon
Fresh ground black pepper
1) Place tuna in a medium bowl; break up large chunks with a spoon.
2) Add remaining ingredients to bowl; toss gently to combine.
Makes 4 servings.
Cost per serving: $1.29 (without cost of oregano, pepper and optional capers)
Per serving: 180 Calories, 7 g Total Fat, 1 g Saturated Fat, 20 mg Cholesterol, 315 mg Sodium, 14 g Carbohydrate, 4 g Fiber, 0 g Added Sugar, 15 g Protein
Cook's notes:
Enjoy salad as a simple, make-ahead entrée or wrap in leafy lettuce leaves or a whole-wheat tortilla – even use as a "topping" for a garden salad to boost protein.

Compare labels on pouched tuna and canned beans. You may find "reduced sodium," "less sodium" or "no salt added" varieties – choose the options that best meet your taste preferences and health goals.

Draining and rinsing canned beans under cool running water for about 1 minute reduces their sodium by 40%. You can have the convenience of the can while keeping an eye on sodium!
Cauli Power Bowl with Greens, Grains and Seeds
Bowl-style eating is a fun way to combine favorites into a mosaic of flavors, textures and colors. Use leftover brown rice from last night's dinner to make meal prep a snap. And think outside the "bowl" and serve this dish as a brunch or dinner entrée!​
2 teaspoons olive oil, divided
8 ounces mushrooms, sliced
½ cup onion, chopped
2 cups baby spinach, sliced into ribbons
6 eggs, beaten with 1/8 teaspoon coarse salt
10-ounce package frozen riced cauliflower, cooked as package directs without adding salt
2 cups cooked brown rice or quinoa
4 tablespoons roasted and salted sunflower seeds
1) Coat medium skillet with cooking spray. Add 1 teaspoon olive oil; heat over medium high. Add mushrooms and onion; sauté until tender and liquid is nearly absorbed. Remove from heat, top with spinach; cover and let rest until spinach wilts. Gently stir to combine; remove from skillet and keep warm.
2) Wipe skillet, coat with cooking spray; add remaining 1 teaspoon olive oil and heat over medium high. Add eggs and scramble. Divide cauliflower between 4 bowls; top each with sautéed vegetables. Divide rice between bowls, placing to side of cauliflower/vegetables. Divide eggs between bowls, placing opposite of rice. Sprinkle with sunflower seeds.
Makes 4 servings.
Cost per serving: $1.54 (without cost of cooking spray and salt)
Per serving: 327 Calories, 15 g Total Fat, 3 g Saturated Fat, 279 mg Cholesterol, 270 mg Sodium, 33 g Carbohydrate, 4 g Fiber, 0 g Added Sugar, 17 g Protein
BJC HealthCare offers nutrition counseling services at multiple locations, including: