Taking Steps Toward Healing with Stepping Stones Camp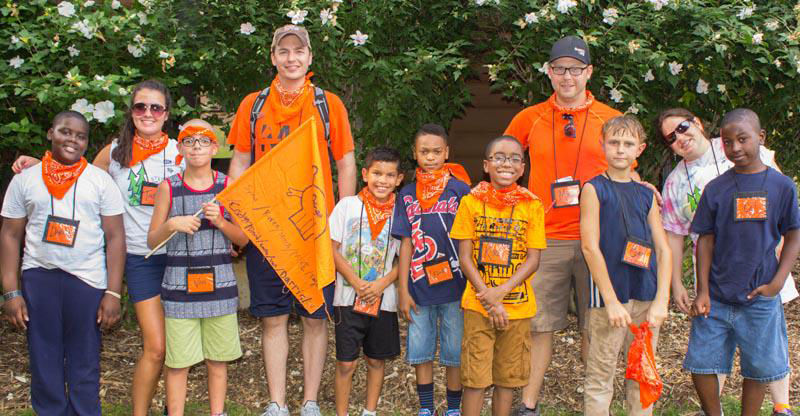 The journey through grief and loss can be difficult and lonely, especially for a child. Stepping Stones is a weekend camp for children and teens ages 6-15 who have experienced the death of a family member or close friend.
For 23 years, Stepping Stones camp, offered by BJC Hospice, has provided a safe place to explore grief, anger and fear — balanced by plenty of fun. This year's overnight camp will be held at Camp Wyman in Eureka Aug. 11-13 and is offered at no cost to participants. The camp is open to any child who has lost a loved one, not only those who were served by BJC Hospice.
"The loss of someone significant can impact a child in many ways," says Andrea Tritinger, BJC Hospice bereavement supervisor. "It can cause challenges in their day-to-day lives, and those challenges will evolve with them over time. Experiencing a loss can also make children feel alone and isolated, either because people around them avoid talking about it to protect the child or the child doesn't know other children who have lost someone."
Stepping Stones camp can provide a safe space for campers to:
Be around other children who "get it."

Express feelings of grief and loss.

Share memories of their loved ones.

Learn coping tools.

Have plenty of camp fun including team-building exercises, swimming, campfires and creating a stepping stone.
Led by professional staff, Stepping Stones camp offers a place for children to remember and honor their loved one in an atmosphere of understanding and encouragement.
If you know of a child who has experienced a loss, learn more about Stepping Stones.
In campers' own words
"I loved everything at camp and I wish it lasted longer!" – Makayla
"I learned that hugs, talking, breathing and friends can help when I am having a hard time."  – Amaya
"This camp is the best camp in the world!" – Joseph
"It was OK to cry at camp and I didn't have to hold it in. That helped me." – Isaiah
If you know of anyone who would benefit from the camp, please share this flyer.