Taking steps toward healing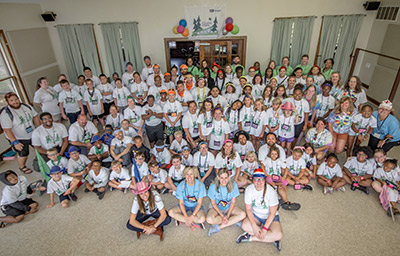 Swimming, dancing and remembering their loved ones — these were some of the activities campers participated in at the 21st annual Stepping Stones camp, operated at no cost to campers by BJC Hospice. 
The three-day-long bereavement camp is offered to children ages 6-12 who have experienced the death of a loved one. Professional staff and volunteers lead the camp, which offers a safe place to explore grief, anger and fear — balanced by plenty of fun.
This year, 59 children came together in August at Camp Wyman in Eureka, Missouri, for team building, a carnival, outdoor games and, of course, s'mores. There were also therapeutic activities, such as making prayer flags, stepping stones and wish sticks, a memory gallery, walk of remembrance, nighttime boat ceremony with candles, and comfort dogs.
"This was our 21st year of offering Stepping Stones to the community, and it was another wonderful, emotional, amazing, hope-filled and fun weekend," says Andrea Tritinger, BJC Hospice supervisor. "It is always such a gift to see the campers connect with one another, laugh and cry together, share stories about the people in their lives who have died, and participate in the wide variety of activities we have planned for them."
Stepping Stones camp couldn't have happened without the 50-plus volunteers who stayed the whole weekend at camp and more than 30 other volunteers who came to help with an activity.
"Our volunteers are truly incredible! We are so grateful for their energy, flexibility, patience and willingness to jump in and do whatever it takes to make the weekend a success," Tritinger says. "I love seeing the volunteers of all ages come together with a passion and commitment to create something wonderful for the campers.
"I love how open the kids are to this experience and I truly believe they all walk away from the weekend with a new friend, a coping tool or a sense that they are not alone, as they may have felt before."
From the parents of campers
"Now that the laundry is done, the boys are cleaned and dinner is cooking, I wanted to take a minute to thank you and all of the many volunteers it took to make this weekend a success. My boys LOVED camp and said they could have stayed longer. 
This was the first time Logan has stayed anywhere other than grandparents' homes and he said he was totally fine. That makes my mama heart happy. Alex spent a week at a camp in southern Missouri at the beginning of June. This is a very well-known and well-respected camp. In Alex's words, "Camp Stepping Stones blew that camp out of the water!" 
He has already said that he wants to volunteer at your camp when he gets older. I know it takes a lot of planning and I just want you to know it doesn't go unnoticed. So, thank you for giving my boys the chance to talk about their dad and papa in a safe space and for working so hard to make this happen for these children."
— Parent of two campers
---
"Thank you in:
French – Merci
German – Danke
Hawaiian – Mahalo
Italian – Grazie
Chinese – Xie xie
Andrea and Stepping Stones Camp, I can't thank you enough, for allowing Ashley the opportunity to attend camp this year. She had a great time and said she made a lot of new friends of all ages. She even asked how she could come back as a volunteer next year. 
We explained to her that you have to be 16 years old, but I think that request is a reflection of what she got out of camp — she wants to help somebody else with their grief — the way you all helped her begin to cope with her loss.
I am sure that this one weekend of love will make a difference in her life. Thank you again for everything that each and every one of you did to make camp a success."
— Parent of a camper
---
"INCREDIBLE! What a powerful and impactful weekend for everyone! Thank you from the bottom of our hearts.
Evan talked the entire way home and is still talking — about the activities, memories of grandma and grandpa, the fun … lol, and the cabin pranking. Out of the blue he said he would love to be a counselor there someday and it was so awesome they sang songs at least three times a day."
— Parent of a camper