Taking one step at a time to heal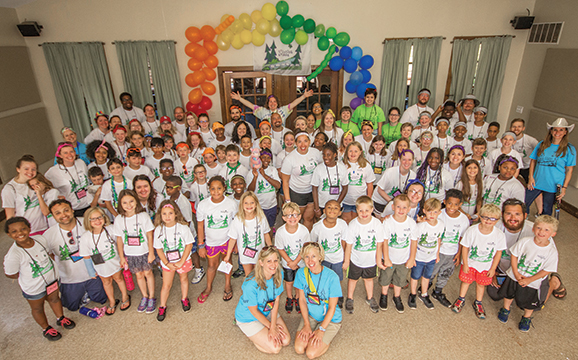 Swimming, dancing and remembering their loved ones — these were some of the activities campers participated in at the 20th annual Stepping Stones Camp, offered at no cost to campers by BJC Hospice. The three-day-long bereavement camp is offered to children ages 6-12 who have experienced the death of a loved one. Professional staff and volunteers lead the camp, which offers a safe place to explore grief — balanced by plenty of fun.
This year, 57 children came together in August at Camp Wyman in Eureka, Missouri, for team building, a carnival, outdoor games and, of course, s'mores. There were also therapeutic activities, such as making prayer flags, stepping stones and wish sticks, a memory gallery, walk of remembrance, a night-time boat ceremony with candles,  four comfort dogs and a motivational speaker who shared a message of encouragement with the campers.
"This was our 20th year of offering Stepping Stones to the community, and it was another fun, emotional, exhausting, amazing, hope-filled weekend," says Andrea Tritinger, BJC Hospice grief support supervisor. "It is always such a gift to see the campers connect with one another, laugh and cry together, share stories about the people in their lives who have died, and participate in the wide variety of activities we have planned for them."
Tritinger says there has been an increasing number of campers coming to camp with multiple or traumatic losses. BJC Hospice provides plenty of clinical staff for the level of support that some of those campers need.
"We have really focused on incorporating the theme of stepping stones over the past few years to teach the campers about different tools they can use to help get them through difficult times," says Tritinger. "Some of the tools we discussed include breathing, music, moving your body, laughter, talking with others and writing."
Stepping Stones Camp could not have happened without the 58 volunteers who stayed the whole weekend at camp and 30 other volunteers who came to help with an activity.
"Our volunteers are truly incredible! We are so grateful for their energy, flexibility, patience and willingness to jump in and do whatever it takes to make the weekend a success," Tritinger says. "I love seeing the volunteers, who range in age from teenagers to some in their 60s and above, come together with a passion and commitment to create something wonderful for the campers.
"I love how open the kids are to this experience and I truly believe they all walk away from the weekend with a new friend, a coping tool or a sense that they are not alone, as they may have felt before."
Quotes from letters the campers in each cabin wrote to next year's campers
"We loved the boats, the memory walk and our cool cabin buddies!"

"We learned that it's OK to cry and talk about your loved one who died."

"We learned how to use our stepping stones and be respectful and listen."

"We were surprised and happy to find other people like us who lost someone when we got to camp."

"It helped us learn that it is OK to not be OK."

"We all became friends and, even though it was emotional, we learned how to give and receive support and that it's OK to express all our different feelings."

"Our advice to you is to not be afraid, and try everything because camp is super fun!"
For more information about Stepping Stones Camp or to volunteer, call 314-953-1676 or e-mail [email protected].