Students from Two All-girls Schools Compete in STEM Construction Workshop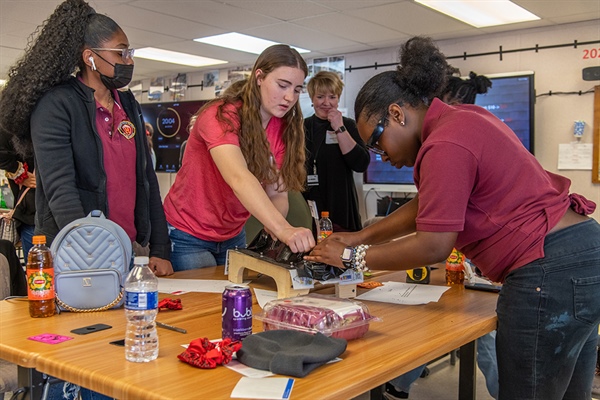 Students from two all-girls schools teamed up to build water-tight roofing structures, testing their critical thinking skills, teamwork and ability to adapt to change in a STEM construction workshop hosted by the Campus Renewal team. Twenty-one girls from Hawthorn Leadership School for Girls and Ursuline Academy were grouped into 5 teams to compete.STEM is an umbrella term used to group together the distinct but related technical disciplines of science, technology, engineering, and mathematics.
Megan Catlett with McCarthy Building Companies organized the competition. "When I was in high school at Ursuline Academy (2018 graduate), we had field trips to companies that allowed us to do activities and meet with professionals, which influenced my decision to pursue and achieve an engineering degree in college."
Those high school experiences and her passion for her field led to a desire to introduce more high school girls to her profession. The Campus Renewal team had a connection to Hawthorn, and with Megan's connections at Ursuline Academy, the field trip was planned. The "Waterproof that Roof!" activity was developed as a way to promote teamwork, scheduling, financial responsibility, problem solving, and designing.
Mary Bueckenddorf, Hawthorn, teaches middle school science and a high school level class titled: Sustainable Future:  Green Architecture and City Planning. She appreciated that the program was challenging, yet not so overwhelming.
"The project requirements were exceptionally well designed to achieve some impressive outcomes and were aligned with real world problems. The set up was complicated enough to keep girls working hard, but not so overwhelming that they gave up. The McCarthy, Cannon and BJC mentors gave students feedback and encouragement, but didn't step in to do the project for them."
As the competion was being tested, a panel of professionals working on the Campus Renewal Project answered questions, providing insight on their career paths.
Donna Ware, BJC executive director of planning & design, enjoyed the interaction with the students. "I loved seeing all the girls truly engaging in solving the problem. And it looked like they were actually having fun, too!" 
BR+A engineer, Erin Riley, said, "I loved hearing the students describe how they approached the roof challenge and what they would have done differently. I also really enjoyed hearing from all of the panelists. We have such a strong group of women on this project and I'm honored to be part of the team!"
Courtney Krus, McCarthy assistant superintendent was excited to see so many girls interested in STEM fields. "I loved hearing them talk through how they could make the best roof. I saw a bunch of great minds assessing all the different angles the water could get in, which materials were best to create a slope, and what fasteners/adhesives were compatible with which building materials. I am excited to hopefully have some of these young women join the industry and see what amazing things they can help build."
A few of the students shared what they thought about their hands-on field trip. 
How did you feel when you learned what you'd be doing?
"I felt intrigued and curious about how it would go and what tools we'd be given during the activity."- Keva B. 8th grade, Hawthorn
"Kind of surprised! I thought we would be more so on the construction site rather than just seeing it."- Trish 9th grade, Hawthorn
"When I found out what we were doing I was excited and interested in how my group would do. It was enjoyable working with people that I didn't know because I love to meet new people and hear their ideas and not just mine." Katie K., 9th grade, Ursuline
Describe how it was working with a team of people, some you didn't know, to solve a problem.
"It was fun because everyone had their own idea about how we should solve the problem. Some of us didn't agree with the ideas, so it was fun to see people disagree professionally. It was also eye opening seeing all of the different ways you can disagree with somebody at a respectful level." – Keva B. 8th grade, Hawthorn
"At first it was hard communicating, but then we started talking and assigned people roles, like budgeting, drawing the design, and putting the design together."- Maddi 9th grade, Hawthorn
What was the most challenging part of the competition, and why?
"The most challenging part of the competition was designing and building the roof with limited resources and budget. We had to be mindful of the cost of materials and make strategic decisions to optimize our design while staying within budget. Overcoming these challenges required creative problem-solving and resourcefulness to ensure that our design was structurally sound and met the water test requirements." Alexandria M. 12th grade, Ursuline
"The most challenging part was finding the tools we needed and then finding out how to save money and make it sturdy enough so that water wouldn't get in" – Keva B. 8th grade, Hawthorn
Were you and your team happy with your design? Why or why not?
"We were happy, and it was nice we weren't really focusing on the design. We were focusing on the end result of what we designed being able to withstand 5 minutes of water"- Keva B. 8th grade
"I think our final design wasn't what we thought it would look like when we first made the design. Overall we did a lot better than we thought we would, so we were really happy with it." Jeanne 9th grade
What did you learn about designing and building?
"Contribution and teamwork also plays a role in designing and building."- Tania, 9th grade, Hawthorn
"I learned that your initial idea is probably not going to be the final outcome. It takes a lot of brains in order to build and design things." – Adeline 9th grade, Hawthorn
"I learned that even when you do things, something isn't going to work. It's ok to not get it right on your first try." – Keva B. 8th grade, Hawthorn
"I gained insights into the practical aspects of designing and building roofs, such as understanding the significance of angles, height, and materials in creating effective structures that can withstand water testing." Alexandria M. 12th grade, Ursuline
What did you learn about women in construction and design?
"There were a lot more women involved in construction than I thought there would be. When I think of construction, I think it's mostly male dominated. I was really happy to see that there were way more women involved." – Trish 9th grade, Hawthorn
"There's a lot of women behind the scenes. You might see many men building in construction, but it's mainly women--the architects, engineers behind the scenes. – Adeline 9th grade, Hawthorn  
What was the funnest part of your day?
"The most fun was being able to communicate, meet new people and build a bond over the construction."- Tania 9th grade, Hawthorn
"I liked seeing the carpenter's tool vest and trying it on"- Adeline, 9th
"Actually seeing new people and collaborating with them from a different school. It was nice to meet a fresh set of minds rather than the people you work with every day." – Trish 9th grade, Hawthorn
"The most fun part was finding out my team won the design challenge." – Keva B. 8th grade, Hawthorn
"It is hard to get any opportunities to explore careers in STEM, especially for women, so it was amazing to get to attend and learn about all the different things and all the people that it takes for a project to be finished. It was fun to work with other girls and build our roof and then see our work and how we did with our design." Angie R., 12th grade, Ursuline