Memorial Reaches Out to Seniors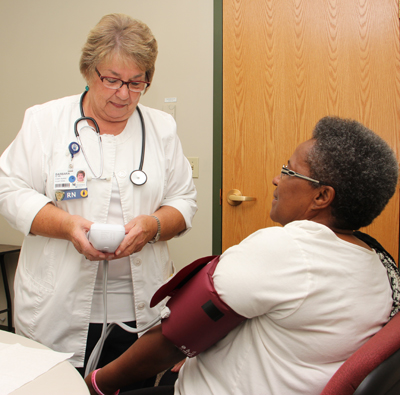 Community health outreach is foundational to the mission of Memorial Regional Health Services, with its roots as a faith-based community hospital. For Memorial, community outreach provides a personalized point of contact with patients in the community outside the walls of the hospitals and helps to support the continuum of care. With the opening of Memorial Hospital East in April 2016, Memorial expanded not only its local community, but also opportunities for community outreach and resulting relationships.
Memorial resides in St. Clair County, where census data shows a higher percentage of residents living in poverty, a higher percentage of residents 65 and older, and fewer residents completing college. After assessing community needs, Memorial partnered with the Program for Seniors & Older Persons (PSOP) in Belleville to provide two clinical nurses to support community education and outreach.
PSOP is a community-funded program providing health and life activities, resources, and education at no cost for older persons in the community. These resources and activities include exercise programs, computer classes, help obtaining drivers licenses, travel groups, transportation passes, senior companions, foster grandparents and health education and screening. The local community college, Southwestern Illinois College (SWIC) also supports PSOP and many of the activities and services offered.
Barb Bell, RN, works in the Memorial Hospital Belleville (MHB) float pool as an admission/discharge nurse, and is one of the nurses actively involved in community health care outreach through PSOP. She provides health assessments, screenings, medication education, physician referral, information regarding other healthcare needs, and answering questions. Bell sees approximately 10-15 people per week.
"The opportunity to partner with Memorial to have the services of an on-site nurse is a tremendous value to our seniors and allows us to offer a full-range of services in one location," said Cheryl Brunsman, PSOP executive director.
Memorial provides organizational support to Bell by funding three hours each week to support the work at PSOP.