Living with an autoimmune disease? What you need to know about the COVID-19 vaccine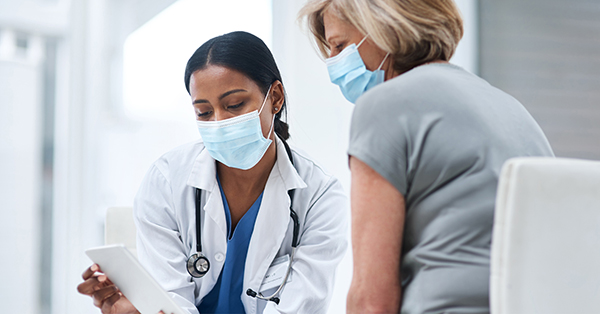 For people with autoimmune diseases, getting a COVID-19 vaccine might be one of the most important decisions they make to protect their health.
Autoimmune diseases occur when the body's immune system mistakes the body's own healthy cells for viruses, bacteria or other harmful invaders and attacks them. Treatment often includes suppressing the overactive immune system.
Individuals who live with autoimmune diseases such as lupus, multiple sclerosis (MS), psoriasis/psoriatic arthritis, rheumatoid arthritis or inflammatory bowel disease might wonder if they're at greater risk for COVID-19 because of their suppressed immune systems. Or they may wonder if the COVID-19 vaccine will be safe and effective for them.
We asked two autoimmune disease specialists, Washington University School of Medicine rheumatologist Alfred Kim, MD, PhD, and Missouri Baptist Medical Center neurologist Barry Singer, MD, what they tell their patients.
According to the Centers for Disease Control and Prevention (CDC), people with autoimmune conditions may receive a COVID-19 vaccine; however, no data are currently available on the safety of COVID-19 vaccines for people with autoimmune conditions.
The CDC recommends these individuals consult with their health care providers if they have any concerns.
Dr. Kim, co-director of the Washington University School of Medicine Lupus Clinic, concurs with the CDC's advice.
"We have been recommending that all patients with autoimmune diseases get the COVID-19 vaccine," he says. "This is largely because there are certain subsets of patients — and this may be due to the types of medications they are on — that make them more vulnerable to acquiring severe COVID-19 that can lead to hospitalization or even death."
Dr. Kim says patients can reduce their risk of COVID-19 by following the recommendations of the CDC, including wearing a mask, social distancing and avoiding crowds.
"At the same time, if they are in an environment as most people are, where they are mingling with strangers, the vaccine provides the best opportunity of avoiding hospitalization or worse if they happen to get COVID-19," he says.
"If patients are uncertain about whether to get vaccinated, we urge them to discuss their concerns with their physician to determine what is the best decision for their situation. And even after people are vaccinated, they should continue to follow the CDC guidelines in protecting themselves and others around them."
Dr. Singer, director of the MS Center for Innovations in Care at Missouri Baptist Medical Center, also recommends that patients get the COVID-19 vaccine.
"In general, I am recommending COVID-19 vaccination to all my MS patients, unless they've had a serious allergic reaction to prior vaccines," he says.
MS doesn't seem to put most patients at any higher risk of having severe COVID-19, Dr. Singer says. Those MS patients who are at higher risk are older, have advanced disability, progressive disease or other serious medical problems.
MS patients treated with B-cell depleting medications — highly effective antibody treatments that remove B immune cells from the body — may be at higher risk, he says.
The COVID-19 vaccination has not been associated with new MS relapses and the vast majority of patients have tolerated vaccination well, Dr. Singer says.
Patients may want to keep in mind that many MS medications (disease-modifying therapies) suppress the immune system and may reduce the power of COVID-19 vaccination.
"So, instead of a 95% chance of being protected, some MS treatments may reduce this percentage," Dr. Singer says. "However, even some patients with lower protective antibody levels after vaccination may still have adequate T-cell responses to the virus." (Dr. Kim and his Washington University colleagues, along with University of California researchers, are currently studying this issue.)
It's best for patients to talk to their health care providers to determine the best way to protect themselves against COVID-19, Dr. Singer says. "Guidance on mask-wearing, social interaction, work concerns and travel really needs to be individualized with your health care providers based on individual risk factors for severe COVID-19, MS treatment, changing CDC recommendations and local COVID-19 situation."
How Do I Receive the COVID-19 Vaccine?
COVID-19 infection can have serious and life-threatening complications, and getting the vaccine is the fastest, safest and most effective way to get protected from the disease. In addition, the more people who are vaccinated, the quicker our communities can "return to normal." The COVID-19 vaccine is free to you. BJC HealthCare and Washington University continue to encourage everyone to get vaccinated.