Landscape Architecture Firm Grows on BJC Projects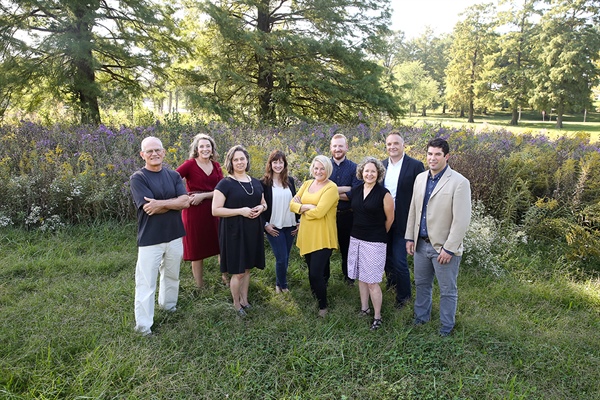 June 2021 - When DTLS started working with BJC shortly after its founding in 2012, Julia Montroy, DTLS principal and landscape architect, led an office of four. The firm now employs 12, due in part to growth stemming from work on BJC's Campus Renewal.
On Campus Renewal Phase 1, DTLS was the local landscape architect working with Philadelphia-based Andropogon Associates. Work included campus streetscape, median and foundation landscape improvements, support of the rooftop garden construction review, and participation in an urban planning round table with representatives of the larger district including Cortex and Washington University School of Medicine. DTLS was the prime landscape architect for the Forest Park Parkway / Kingshighway Boulevard intersection project managed by BJC.
DTLS had also bid on other BJC projects outside of the City of St. Louis, and Montroy says these experiences early in DTLS's existence helped them to learn about BJC and develop a relationship.
"Our experience on BJC projects mirrors our approach to planting design – diversity builds strength," Montroy says. "We have engaged with BJC in several different contractual arrangements, and the result is that we have learned about BJC from many angles. It inspires us to pass it along as we grow and learn."
BJC executive director of planning & design, Donna Ware, has appreciated Montroy's engagement with the BJC team and other project contractors, as well as her willingness to partner, learn and grow to ensure an exceptional result.
"Our diversity and inclusion efforts enable smaller or newer firms like DTLS to partner with more experienced firms when initially working with us," says Ware. "This gives them the opportunity to do meaningful work, get to know BJC's project team, and evolve to hopefully one day take on even greater scopes of work."
Montroy also was an active participant in BJC 101, recognized for 100 percent program attendance in the program's inaugural year. "With BJC 101, we were inspired, mentored and introduced to peers in a supportive environment, which represents a commitment by BJC to ongoing education."
DTLS's work on Phase 1 and development of Washington University Medical Campus public realm design standards, as well as the company's growth over the past several years, led to the firm being selected as the prime landscape architect on the design-build team of McCarthy/Cannon Design for the current phases of Campus Renewal.
"DTLS continues our strong relationship with BJC for Phases 3 and 4 as the prime landscape architect, extending streetscape and public realm design to connect to Phase 1, integrating the campus into a cohesive environment for patients, visitors, staff and pedestrians – creating an exceptional experience before even before entering a building," Montroy adds.
Other Phase 3 and 4 landscape components include an exterior dining terrace, front entry arrival and two fifth-floor outdoor terraces, bringing nature closer to patients, visitors and staff.
Learn more about Campus Renewal Phases 3 & 4 here.
DTLS is certified as a Federal Women-Owned Small Business (WOSB), Women-Owned Business Enterprise (WBE) and Disadvantaged Business Enterprise (DBE).