Jason Purnell named one of Modern HealthCare's Top 25 Diversity Leaders in Healthcare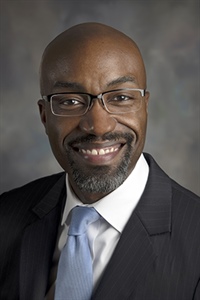 Congratulations to Jason Purnell, BJC vice president of community health improvement, on being named to Modern Healthcare's inaugural list of the Top 25 Diversity Leaders in Healthcare (formerly known as the Top 25 Minority Leaders).
Honorees on this year's list represent a cross section of the health care industry and have demonstrated a commitment to expanding and improving access to care, regardless of a patient's race, ethnicity, gender or sexual orientation. They've also served as mentors to advance diversity within the industry's leadership ranks. Read more about the honor and see the other honorees at Modern Healthcare.
Purnell joined BJC in September 2020 to update and enhance BJC's Community Health Improvement strategy. By better incorporating socioeconomic factors into the work, he has provided transformative ideas on how to truly achieve health equity in the St. Louis region.
Before joining BJC, as a scholar at Washington University, he led research on social services disparities impacting vulnerable populations. His work resulted in the landmark policy report, "For the Sake of All," which led to Health Equity Works, an organization that uses data to spur collaboration and change at the community level. Purnell remains a principal investigator and project director.
He also leads St. Louis' COVID-19 Regional Response Team (RRT), a collaboration of non-profit, public and philanthropic organizations creating a centralized response to meet the needs of individuals most adversely impacted by the pandemic.
His work in these areas has earned him numerous other honors.