How to Stay Safe During Spring Travel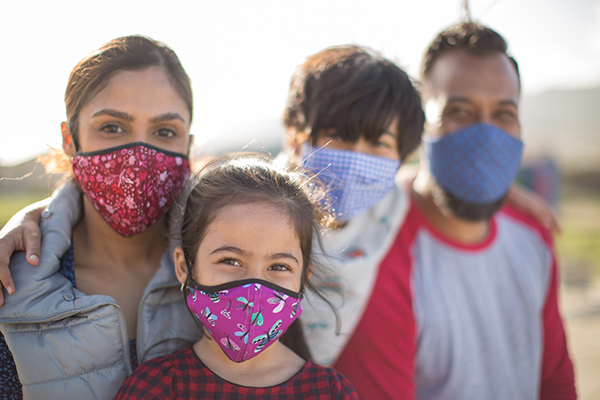 Wanna get away — or just get together with family and friends? Springtime often brings travel, graduations, weddings and other family functions. As relaxing as a trip to the beach or a big family holiday might sound, the U.S. Centers for Disease Control and Prevention (CDC) would like you to reconsider.
Because traveling and large gatherings increase the chance of both getting and spreading COVID-19, the CDC recommends staying home to protect yourself and others from COVID-19.
But, if you've already booked a trip or can't bear to miss out on seeing family or friends — there are some steps you can take to minimize your risks associated with travel or get-togethers.
See what safety precautions to take when attending or hosting get-togethers.
Tips to Make Travel Safer
The CDC released new travel guidelines April 2 for those who are fully vaccinated. Those individuals:
Learn more about the CDC's recent recommendations regarding fully vaccinated individuals.
For all travelers, the CDC recommends taking these steps to protect yourself and others from COVID-19:
How You Travel Makes a Difference
According to the CDC, all travel includes the potential for exposure to COVID-19. Here are some specific risks to watch out for, based on how you travel:
Learn more about how to protect yourself from COVID-19 on different types of transportation.
Stay Safe Once You Get There
What you do when you get to your destination is just as important as how you get there. As always, the CDC recommends that you take the same safety precautions you'd take at home, such as avoiding crowds, wiping down surfaces and wearing a mask around people who don't live with you.
Once you arrive at your hotel, for instance, be sure to wear a mask in the lobby or other common spaces and minimize use of areas that may lead to close contact (within 6 feet) with other people — like inside dining or lounging areas, game rooms, spas/salons and fitness centers. Also, wipe down your hotel room's frequently touched surfaces and items. When visiting tourist attractions or restaurants, follow the same masking and physical distancing rules you would when venturing out at home.
When visiting public swim areas, such as beaches, wear masks when you're not in the water and bring extra supplies, including two masks for each person (in case one gets wet), hand sanitizer with at least 60% alcohol, disinfectant wipes, tissues and paper towels. Whether you're in or out of the water, stay at least 6 feet away from people you don't live with, and avoid crowded swim areas, beaches, pools, water playgrounds and hot tubs where you cannot stay 6 feet away from others.
Tips for After You Travel
The CDC recommends taking the follow steps after you return from your trip:
In short, the CDC recommends that most people avoid both travel and large gatherings. But, if that beach vacation or family event is calling your name, just remember to take the proper precautions — and you can still have fun while minimizing your risks. See more information from the CDC about traveling during the pandemic.
BJC HealthCare is working hard to make the COVID-19 vaccine available to those who are eligible, according to federal and state guidelines. You can now directly schedule your COVID-19 vaccine, either Pfizer or Moderna, at bjc.org/coronavirus. By getting vaccinated, you're taking care of your health as well as your family, friends and community. We strongly encourage the vaccine for anybody who is eligible to receive it, and we recommend that you accept the first opportunity provided to receive a vaccine.