Giving a second life to BJC computers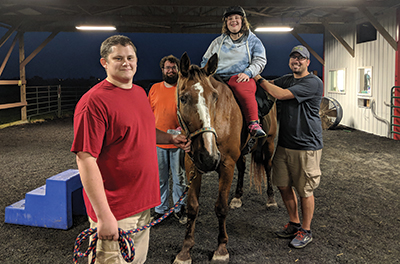 What do the Boy Scouts, OASIS, a therapeutic riding center and an uncensored performing arts festival have in common? All are local nonprofit organizations that received donations of retired computer devices, such as servers, laptops and desktop PCs, from BJC.
A couple of months ago, Travis Hoffeditz, a team supervisor at BJC's IT customer support center, volunteered to lead BJC's computer donation effort. He started with the Chakota Therapeutic Riding Center, which provides horse-assisted therapy to children and adults with disabilities. Next up was a local chapter of the Boy Scouts, followed by OASIS, which promotes healthy aging, and St. Lou Fringe, a theater group.
"This second life for BJC computer equipment provides nonprofit organizations with much-needed technical support," Hoffeditz says. "They often lack funding for computer hardware and software."
The process for donating computer equipment to a nonprofit organization begins with review and approval from senior leadership, including Carl McCann, BJC corporate solutions vice president. Before any retired device can be donated, the BJC IT desktop capital team has to wipe clean all personal and business-related data on the hard drive, returning the hard drive to a blank state with no information or operating system on it. BJC does not support the devices after they're donated.
The next nonprofit on the donation list is Randy's Rescue Ranch in O'Fallon, Illinois, which rescues and provides therapy to abandoned, abused and neglected animals of all shapes and sizes.