Engineering intern sets his sights high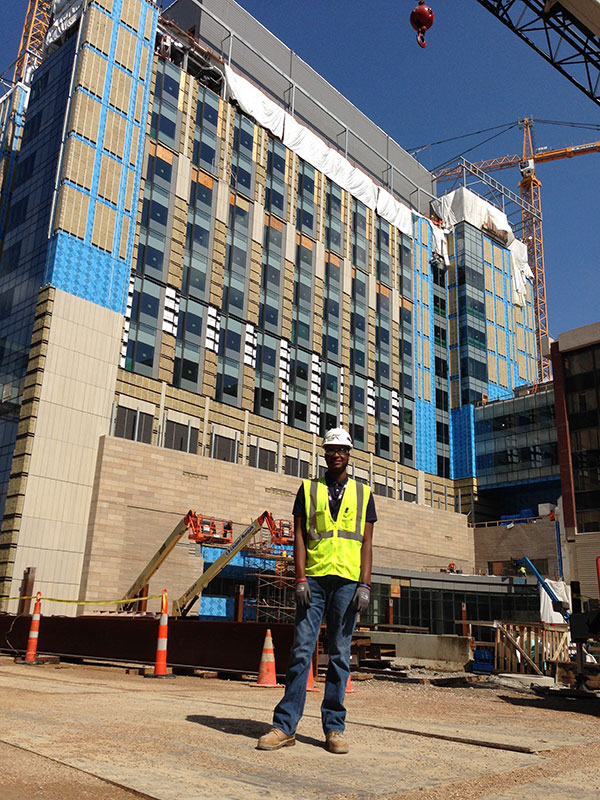 August 24, 2016 - A trek through the construction site of the Barnes-Jewish Hospital expansion reveals unfinished walls and ceilings, exposed pipes, concrete floors, steel girders and electrical conduit. Nearly 1,000 skilled craft workers and apprentices of every trade – electrical, plumbing, carpentry, flooring, painting and more – share space with one another, equipment and supplies. It's a bustling site.
Engineering intern Jeffry Faulkner navigates it easily en route to his 10th floor destination. The elevator doors opening on nearly every floor, steel-toed boots shuffle to make room, followed by quick greetings and laughter between stops.
Weaving through the 10th floor framed rooms, Faulkner stops at an east facing window in a future patient room. Outside the window, a makeshift sprinkler is spraying water at the window and framing. He looks for leaks.
"The quality assurance (QA) team inspects everything in the building," says Faulkner, a University of Missouri-St. Louis/Washington University Joint Undergraduate Engineering Program student. "I've spent the summer learning all the mechanical, electrical and plumbing (MEP) systems that go behind the walls and above the ceiling. Everything is tested for quality and has to be approved by the QA team." 
In his second summer interning on Campus Renewal, Faulkner worked with the QA team on those inspections. He learned the sources and purpose of the neat rows of pipes and conduit between the metal studs. Side-by-side with inspectors, he examined the quality and accuracy of the intricate work. And he recorded inspection findings on a shared, web-based system of drawings on which contractors can view the results.
Starting his third year of college this month, Faulkner has soaked up every moment on the project. He understands the value of what he's learning and is grateful for the knowledge he gained. "This is school away from school," he says.
"The experience I'm getting is so important," Faulkner says "Henry (Woods) always asks if I want to see certain things and learn about them, such as a concrete pour and civil engineering work. It was very thoughtful. Scott Semple (quality assurance inspector) is able to answer any question I have. He's always in teaching mode."
Woods is the project engineer who supervised Faulkner's first summer on the project. Seeing his transformation over the two summers has been gratifying.
"Jeffry has grown in so many ways," says Woods. "Last year, he didn't know the difference between project management and quality assurance, but this summer he learned quickly working with the QA team. He learned about in-wall, above ceiling and window inspections and worked alongside the QA team to perform those inspections. 
"He recently gave a project tour and explained the QA process like a pro. I was impressed with his knowledge and am very proud of his growth." 
Semple says Faulkner's ability to provide detailed information on the status of construction and was often surprised at how Jeffry could take an assignment and find out the absolute most efficient way to accomplish it," says Semple. "This speaks to his ingenuity and the forward thinking processes that often accompany a strong engineer, architect or builder.   

"A construction site can contain many personalities and attitudes but Jeffry proved he could work with anyone," Semple adds. "Being able to work well with others coupled with a strong work ethic will allow Jeffry to develop into a valuable professional."

Family road trips, which included stops at National Football League stadiums, sparked Faulkner's interest in engineering. Staring out the car window, he watched and wondered, asking his parents, "How are the highways and bridges built under and over each other?" He also wondered how long it took to build bridges and how much it cost. His mother Rena, an accountant, and his father Jeff, Sr., who owns a barbershop, couldn't answer those questions.

His curiosity grew. At North Tech High School in Florissant, he studied the basic concepts of geospatial engineering his junior and senior years and began exploring engineering programs for college, looking out of state."My mom talked with me about the cost of college, the cost of housing and debt, so I looked into the UMSL/WashU program. It's affordable, and I can commute."

Students start the five-year civil engineering program with three years of preparatory classes at UMSL. Upon successful completion, they transfer to Washington University for two additional years of engineering classes at the UMSL rate. "I've been on the Wash U campus, and it's really nice," he says. "I'm working hard. I really want to be there.
"I see my parents get up every day and work all day. I see the success of other family members. They work hard."
Those family road trips also sparked an interest in travel. This summer's internship helped fund a 10-day trip with friends to California, and he has his sights on Italy. "I want to take a world cruise that stops in Italy. I've always wanted to go to Italy to see how American life compares. I want to observe how different their culture, food and everyday life is from ours."
In the meantime, a full-time college load, summer internships and planning for an engineering career will keep him busy. He hopes to intern on Campus Renewal again, but if not, he knows his way around a large hospital construction project. He understands the importance of the quality of what's hidden behind the walls and above the ceilings.
"The fact that I can go back years after a project is finished and say, 'I was a part of that and contributed to something people need,' really appeals to me. That gives me the drive and passion to become a civil engineer.
And then there's his dream project. "I'm a big sports fan, and to be an engineer on a sports stadium would top it off."