Dr. Bruce Hall named to Becker's list of '26 patient safety experts to know'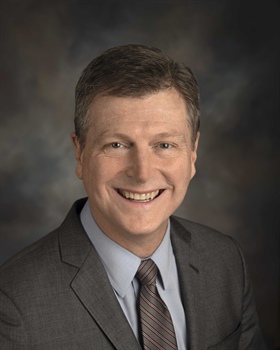 BJC HealthCare chief medical officer Bruce Hall, MD, PhD, MBA, has been named to the Becker's Healthcare "26 patient safety experts to know" list for 2022.
According to Becker's Healthcare, the professionals included on the list are prominent advocates for patient safety — including clinicians, researchers and experts who focus on improving health care for large populations. Many of the honorees have received industry awards, published articles and led initiatives to facilitate the reduction of patient harm in the health care setting.
As BJC's chief medical officer, Dr. Hall provides physician executive leadership to ensure the quality and effectiveness of clinical care across BJC, including directing the BJC Chief Medical Officer (CMO) Council. Dr. Hall has also led efforts to standardize and integrate clinical services across the system and works with physicians and nursing leaders to standardize and integrate shared support systems related to resource stewardship, care coordination, utilization management, clinical documentation and medical staff service functions.
Becker's also noted the following: "Dr. Hall leads the Clinical Advisory Group for the BJC Center for Clinical Excellence in addition to his other roles at BJC HealthCare. His responsibilities include physician engagement strategies as well as health system efforts to successfully participate in alternative payment and episode reimbursement. Dr. Hall is also a professor of surgery in the Washington University School of Medicine in St. Louis and serves as a guest lecturer for Washington University's Olin Business School in St. Louis."
Prior to becoming BJC's chief medical officer in November 2021, Dr. Hall served as vice president and chief quality officer for BJC. He joined Barnes-Jewish Hospital, Washington University School of Medicine and Olin Business School in 2000, coming from Harvard Medical School.
Dr. Hall has served at different times as an American College of Surgeons liaison to the National Quality Forum, the Centers for Medicare and Medicaid Services, the Centers for Disease Control and Prevention and the Joint Commission. This is his second recognition by Becker's as a "patient safety expert to know," also achieving the honor in 2020.