Demolition of Barnes-Jewish Hospital's Queeny Tower set to begin in March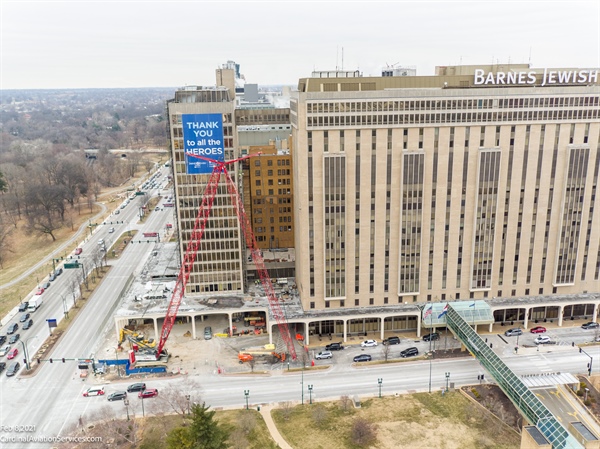 The Kingshighway skyline will undergo another significant change as part of BJC's long-term campus renewal project.  Queeny Tower, an iconic fixture that has stood at the corner of Kingshighway and Barnes-Jewish Plaza 55 years, is being razed for future hospital expansion.
In early March, a 400-foot crane will begin safely chipping away at the building, which was considered contemporary in health care design when it opened in 1965. 
Scaffolding, protective netting and plywood installed on three sides (north, east and west) of the building will contain debris within the site. The crane stands on the south side, where debris is loaded into trucks for removal. Demolition will conclude in late September.
Originally designed to house long-term patients, Queeny Tower also featured hotel rooms, doctors' offices, a restaurant, a pool and expansive views of Forest Park.
As models of care have evolved, modern health care delivery calls for high-performing facilities and private inpatient rooms for maximum patient safety and comfort. Designers are creating just such a new inpatient bed tower that eventually will rise on this same corner. A construction timeline has yet to be determined.
Demolition of Queeny Tower and construction of a new inpatient facility are key components of BJC's long-term Campus Renewal of the academic medical center campus on Kingshighway Boulevard encompassing Barnes-Jewish Hospital and St. Louis Children's Hospital along with Washington University School of Medicine.
Demolition facts
The 400-foot crane will remove rooftop mechanical equipment, such as air handling units and the 17th floor bridge connection to the adjacent hospital building. It also will demolish the upper floors.

Abatement of hazardous materials, such as asbestos, was completed in 2020.

Interior demolition is nearing completion.

Excavators will take down the lower floors and parking garage structure that extends beyond the building's footprint.

Using a wrecking ball or implosion is not possible with the building's proximity to occupied buildings and a busy roadway.

Noise, vibration, odors, dust are monitored continuously by a third-party contractor. Demolition is temporarily halted, and issues researched and mitigated, if OSHA thresholds are exceeded.

Demolition is expected to be finished by the end of September.
Campus Renewal Project facts
Launched in 2012, the project is transforming the campus through renovations and new construction, creating an environment and experience for patients that match the excellence in medical care they expect.

Private inpatient rooms are a key component of the overall project along with major improvements to open and public areas and to patient/visitor parking, arrival and departure.

Barnes-Jewish's 558,000-square-foot Parkview Tower and a 222,000-square-foot expansion of St. Louis Children's Hospital opened in early 2018.

A new 17-story inpatient tower is being designed to replace Queeny Tower. Construction start and timeline have not been determined.
Queeny Tower facts
Edgar Monsanto Queeny and his wife, Ethel, helped make QT possible with a gift of $4.5 million, half the cost of the $9 million structure. 

321 feet tall.

Opened in 1965, primarily for long-term patients, with a mix of hospital beds, doctors' offices, hotel rooms, convenient parking, restaurant and an 18th floor swimming pool under a solarium roof.

The Queeny Tower Hotel closed in 1997. Most of those rooms were converted to inpatient rooms to accommodate an increasing demand for inpatient hospital beds.

The 17th floor restaurant closed Nov. 14, 2016.

In 2019, the building was vacated, closing in November.

Hospital design has evolved tremendously, and Queeny Tower infrastructure was inadequate to support modern and evolving health care technology.