Construction Milestone Reached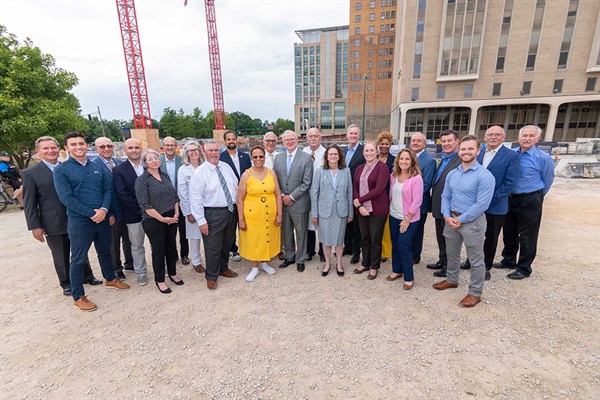 A major construction milestone was reached on the Barnes-Jewish Hospital inpatient tower:  the first slab on grade concrete pour. This marks the end of excavation and the start of the 16-story tower rising from 30 feet below the street level.
Last month, notes of hope were gathered from team members, physicians, leaders and members of the community. On August 23, in the wee hours of the morning, those hopes and well wishes were scattered into the foundation of the new 16-story tower at Barnes-Jewish Hospital as the concrete was poured over them – becoming a permanent part of the hospital. Watch the video.
The concrete pour marks an important milestone of the tower – the construction team will now begin building the tower out of the ground. Excavation, which started last November, is complete. By the end of the year, two floors of the building will be visible above street level.
Leadership from Barnes-Jewish Hospital and Washington University School of Medicine gathered in late July to celebrate the upcoming milestone, a few weeks shy of the concrete pour.
John Lynch, MD, BJH president, kicked off the event, recognizing the efforts of project team and thanking leadership, board members and government officials for their ongoing commitment to the renewal of the campus. "I'd especially like to recognize the caregivers and others who will occupy this tower when it opens in 2025 – caring for our future patients," said Lynch. "We are here today to celebrate this project milestone and what this building will mean for the generations of patients we will serve."
Other speakers included Angelleen Peters Lewis, Barnes-Jewish Hospital's chief operating officer and chief nurse executive. "While we are celebrating construction of this new tower, we have so much more than bricks and mortar and modern equipment to recognize," she said. "The real foundation of our great hospital is our people – the nurses, therapists, pharmacists, dietitians, social workers, physicians and countless others who will make this building come to life."
Dr. Paul Scheel, CEO, Washington University Physicians, emphasized the partnership of the hospital and school. "One of the most significant aspects of the relationship is collaboration at all levels – the leadership at the school, the hospital and BJC," said Scheel. "We are a vital community of faculty, staff and students, not only dedicated to excellence in patient care, but to medical education and research. Together, our interdisciplinary work results in excellence in patient care and medical discovery."
Ralph Damiano, MD, chief, Washington University Cardiothoracic Surgery, is appreciative of the collaboration the new facility will enable. "The great thing, that will be a first, is the patients in cardiology, cardiac, thoracic and vascular surgery will all be cared for and co-located here in this amazing new tower," said Damiano. "In this building, we'll be able to provide this world class, cutting edge clinical care that has been a hallmark of the 100  years of cooperation between Barnes-Jewish and Washington University. This building will facilitate collaboration between the services, allowing for truly multidisciplinary care."
Concrete pour fun facts
Square feet of surface that was poured 15,800

Depth of concrete poured: 5 inches

Linear feet of rebar (the reinforcing steel that increases the strength of concrete) 35,800

Yards of concrete:245

Yards poured per hour:60

Total number of hours:4-5 hours

Number of concrete trucks:26