BJC Honors Veteran with a Final Farewell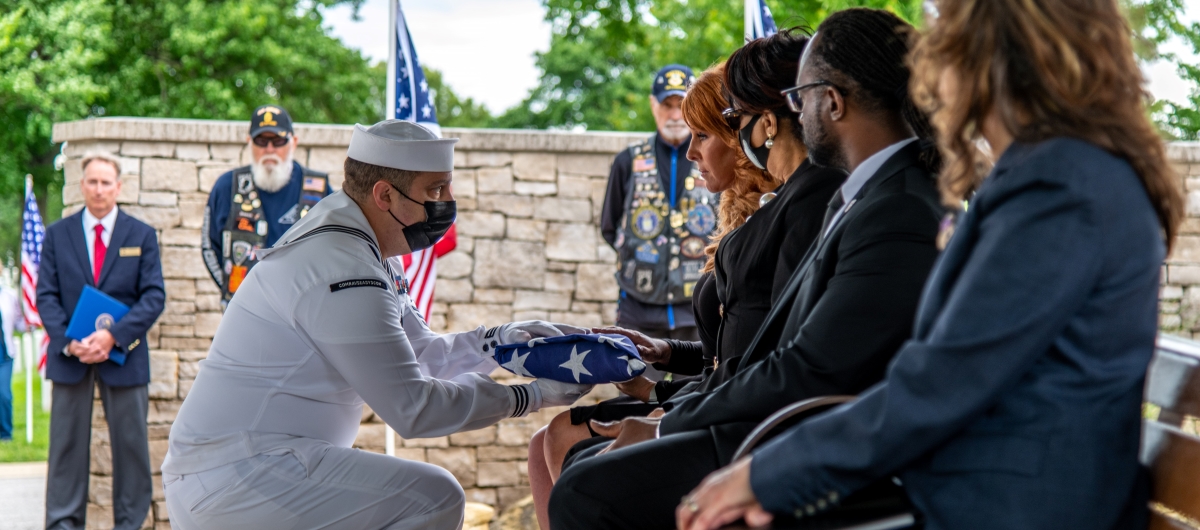 On Thursday, May 26, ahead of Memorial Day weekend, members of the BJC Veterans Connection group gathered with colleagues near Barnes-Jewish Hospital as a funeral procession prepared to leave the medical campus. Those in attendance did not know the patient, not even their name, but they felt a sense of duty.
They only knew the patient was a Navy veteran who served three years during the Vietnam War era with an honorable discharge, and there were no known family members to claim their remains.
"As a veteran myself, it made me sad that this individual has no one to attend to them after they passed," says Marc Haynes, Missouri Baptist Medical Center cardiac research nurse and U.S. Air Force veteran. "Even though we may have never met the person, they are still our comrade, and we honored them as such."
The procession, accompanied by Patriot Guard Riders, then traveled the 16 miles to Jefferson Barracks National Cemetery, where the veteran was laid to rest with full military honors in a columbarium niche. A U.S. flag was folded and presented to Chandra White, manager of the Barnes-Jewish Hospital Office of Decedent Affairs, who coordinated the inurnment service and accepted the flag on behalf of the veteran's family. The brief, but meaningful, moment was the conclusion of months of work by White and her team.
Aftercare is not an afterthought
The Office of Decedent Affairs oversees care of patients' remains after their death at Barnes-Jewish and St. Louis Children's hospitals.
The purpose of the Office is to streamline the workflow, consolidate services and serve as a single point of contact for nursing floors, patient families, medical examiners and anyone else who needs information related to a patient's death. This helps ensure BJC's Values of compassion, respect and excellence extend to deceased patients and their families. Miscommunication or errors can be traumatic for families and staff, waste hospital resources and leave a lasting impression about the experience for loved ones.
"We want people to know that aftercare is not an afterthought," says White.
The Barnes-Jewish Office of Decedent Affairs is the only one in Missouri and there are fewer than 10 of its kind across the United States.
In many cases, their work is straightforward — coordinating with the care unit and patient's family to facilitate transport of the patient's remains to their preferred mortuary, for instance. But in some cases, the process is much more complex.
Since the Office opened in 2018, the team has handled about 30 cases where deceased patients, such as the Navy veteran, have no known family, friends or guardians to claim their remains. That's when the team goes into detective mode.
The ODA team members try to locate connections by checking local, regional and national databases. That includes running a "DD-214 search" of U.S. Department of Defense military service discharge records to determine if the deceased patient was a veteran. The Office also works with BJC's Risk Management and hospital leadership teams to ensure due diligence during the search process. If no relatives are found, unclaimed remains are cremated.
"When there's no family to claim someone, we step into the gap," White says. "We treat each person like they were our family member to honor their life with respect and dignity."
The folded U.S. flag White received at the Jefferson Barracks military service now rests in her office at Barnes-Jewish.
"It is a privilege to partner with such compassionate team members to celebrate someone who served our country, and on this Memorial Day, we are grateful to all who have given the ultimate sacrifice for our freedom," White says. "And if a family member of the Navy veteran ever comes forward, we will be honored to present them with their loved one's flag."
Thoughts from BJC Veterans Connection members about honoring their fellow veteran
"A military veteran makes tremendous sacrifices while serving his or her country. The least his country can do for him or her is provide a proper burial and tribute in gratitude for his or her service, dedication and contributions. It is an honor and a privilege to serve this country and participate in the line of honor for this veteran's remains." — Aaron Hines, St. Louis Children's Hospital clinical informatics services, U.S. Army veteran and member of the U.S. Individual Ready Reserve
"I consider it an honor and privilege to be there in support of a fellow veteran as they make their final journey." — Donna Walton, Center for Clinical Excellence, U.S. Army veteran
"I hope someone would do the same for me if I were in that position." — Robert Diven, Barnes-Jewish Hospital/St. Louis Children's Hospital public safety department, U.S. Marine Corps veteran.
"Thank you to all the volunteers who are honoring this unclaimed veteran. We are carrying on a tradition that, throughout our American history, we remember those who served to preserve our freedom. I'm reminded of the inscription on the Tomb of the Unknown Soldier:
HERE RESTS IN
HONORED GLORY
AN AMERICAN
SOLDIER
KNOWN BUT TO GOD" — Bob Cannon, BJC group president, U.S. Navy veteran