BJC first in the region to hire Per Scholas St. Louis graduates
PROGRAM PROVIDES DIVERSE, JOB-READY GRADUATES FOR CYBERSECURITY OPENINGS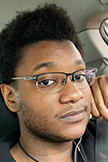 Like many young adults, Elijah Acuff wasn't sure what career field was best suited for him.
"When I was in high school, I didn't know what I wanted to do," says Acuff. "I didn't want to go to college, take on a lot of debt and not have a focus or drive."
The 26-year-old worked many jobs and eventually found something that spoke to him — information technology (IT). Once he had a goal, Acuff began to research the career choices and discovered that cybersecurity work didn't really require a college degree. He found a boot camp that was completely free of charge … if he could get in.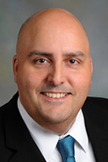 Matthew Modica, BJC vice president and chief information security officer, believes that if a person has the aptitude and the attitude, cybersecurity can be taught.
"Prior to this, most of my positions — including entry level — required a college degree," says Modica. "A lot of people don't grow up in cybersecurity or have formal cybersecurity education, but you don't need a two-year or four-year degree to be successful. You do need a hunger to learn and perform, and you need curiosity."
BJC is a formal member of the Global Center for Cybersecurity (GCC), a nonprofit organization that works to reverse the rise in global cybercrime in part by cultivating a diverse and connected workforce that can effectively fight back.
"The GCC wanted to focus on diverse, underserved areas within the St. Louis communities," says Modica. "As part of that strategy, the GCC partnered with Cortex Innovation Community and nationally recognized nonprofit Per Scholas to start a cybersecurity training program to prepare community members who do not have experience in the cybersecurity industry for potential opportunities with local companies. The talent that Per Scholas St. Louis is developing is exceptional, and we are delighted to be the first Per Scholas Talent Solutions Plus partner here in the city."
Modica worked with BJC leaders to establish two entry-level positions within Information Security that did not require a degree. It's a trend that he's starting to see in the cybersecurity field and one that can provide opportunity to those who are not able to attend a formal degree program.
Per Scholas works with companies like BJC to identify specific hiring skill gaps and train candidates to fill them. According to its website, women and people of color are staggeringly underrepresented in the American IT workforce. The organization provides a free 15-week training course in St. Louis to help bridge that gap, and 85% of the learners are people of color, 40% are women and one-third are young adults.
"About 100 people applied for the free training program," says Modica. "Fewer than 20 were selected by Per Scholas to attend the first cohort. Per Scholas puts them through a rigorous 15-week training course where the learners start from no cybersecurity knowledge and end with enough knowledge for a cybersecurity certification. The best part of the program is this is all done at zero cost to the learner."
Acuff was selected and the subject material confirmed what he suspected — cybersecurity was his dream field. He joined BJC in December 2022 to work with the threat and vulnerability management team.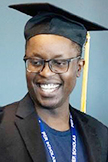 Fellow student Patrick Kamau graduated from the Per Scholas cybersecurity program and was hired in December as a BJC information and security risk analyst. Kamau, 39, has experience in international public health, medical technology and nonprofit work. He is excited to combine his passion for cybersecurity with his experience in health care. The 15-week program included the opportunity to meet with area employers, including Modica and Chris Niekamp, BJC director of security operations.
"Matt and Chris came in and spoke to us and told us about the opportunities at BJC," says Kamau. "The values aligned with what I was looking for. I'm very fortunate to work in cybersecurity in the health arena, and there is a lot of experience on the BJC team. Everyone is very accessible, and I really appreciate that."
Acuff agrees, saying he feels valued at BJC.
"We're working as a team to reach the same goal, and I feel extremely fortunate and grateful," he says. "The best thing is that I am proud of what I do. I protect information for a health system. When I started this journey, I moved in with some friends and they helped take that cost-of-living burden off me, because I needed to devote myself 100% to full-time learning. Everyone chipped in where they could and now I can give back."
Modica is excited for the future of his team and the Per Scholas program in St. Louis.
"Elijah and Patrick were the first Per Scholas graduates hired in the St. Louis area," says Modica. "I'm excited for their future at BJC and for our continued collaboration with Per Scholas and the GCC when it comes to providing opportunities for community members. We'll continue to invest in and train Elijah, Patrick and all of our cybersecurity employees on the job and through the BJC continuing education benefits."