BJC Clinical Asset Management Donation to Ukraine Brings a Heartfelt Response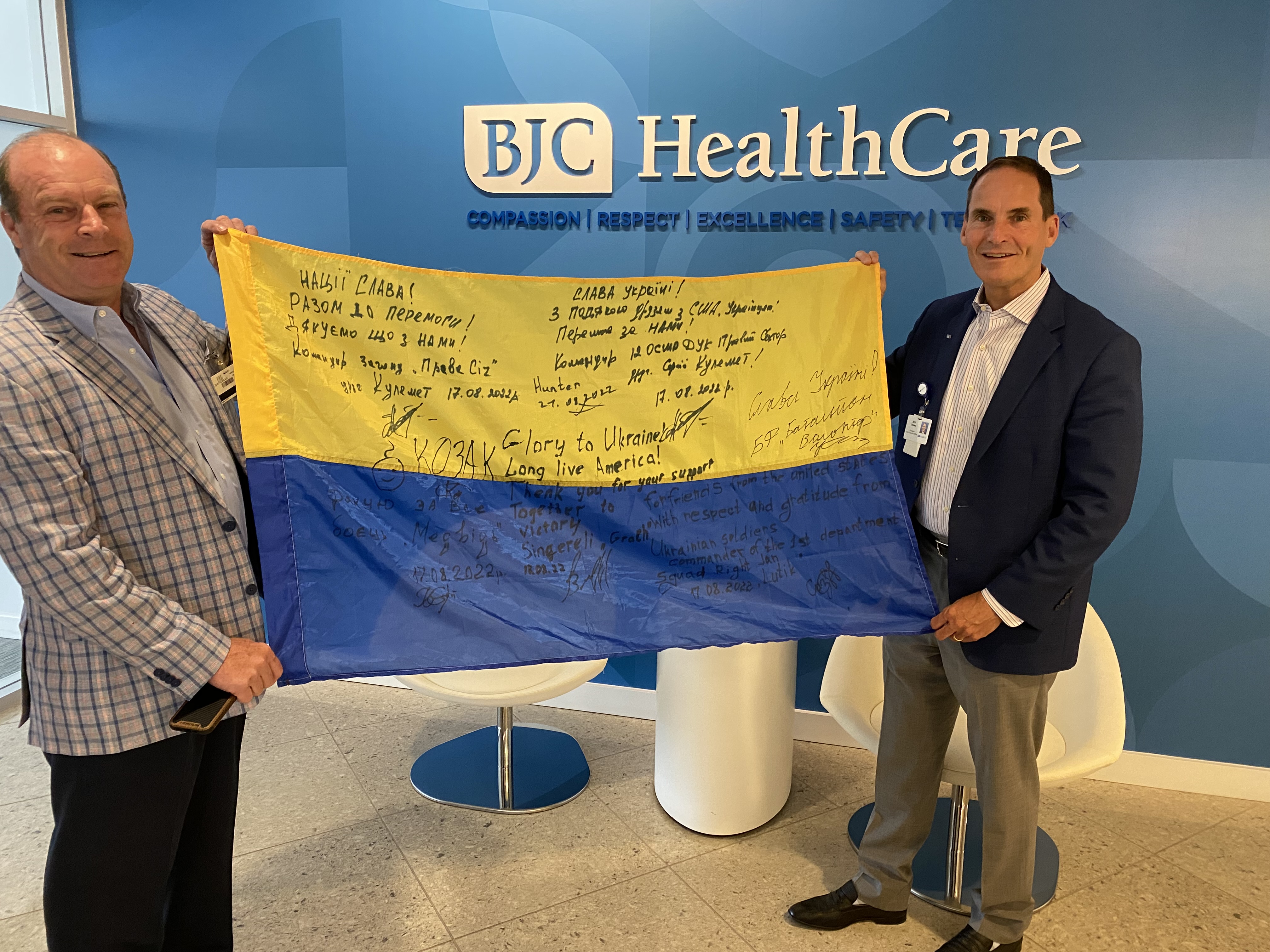 BJC Clinical Asset Management vice president Larry McWhirter, left, and BJC president and CEO Rich Liekweg hold a flag sent by Ukrainian soldiers. The soldiers signed the flag upside down (the flag is flown properly with the blue on top) for good luck. | Photo by Emily Brasel
---
BJC HealthCare has a long track record of helping those in need around the world by donating equipment and supplies it no longer needs.
Now, with the help of BJC Clinical Asset Management (CAM), the organization is responding to the humanitarian crisis in Ukraine by donating supplies, food and equipment to medics and hospitals treating Ukrainian civilians and soldiers injured in the fighting there.
In response, BJC has received heartfelt thanks and a symbol of hope directly from the front lines.
Managing assets to help others
The BJC Clinical Asset Management asset recovery center in Fenton, Missouri, serves as a clearinghouse, storage facility and repair shop for all manner of surplus supplies and equipment from across the organization.
Boxes of gauze share shelves with desk lamps. Hospital beds, physical therapy equipment, waiting room chairs and CT scanners line the aisles. Rather than discarding these items, Larry McWhirter, CAM vice president, and his staff work hard to make sure they are reused or repurposed within BJC and the BJC Collaborative, sold to other health care organizations or donated to charity.
In the past, BJC has donated surplus equipment and supplies locally and to charitable organizations around the world. Surplus BJC isolettes have nurtured premature Rwandan babies. A refurbished ambulance transports Guatemalan cancer patients. "We've provided a great depth of outreach," says McWhirter.
A need in Ukraine
When the invasion began in early 2022, Ukraine's health care infrastructure became a primary target for Russian drone strikes and artillery. Hospitals and clinics were left in rubble. Fighting and blockades disrupted supply delivery, and military and civilian casualties skyrocketed.
Back in St. Louis, CAM was working with U.S. Materials Management, a local surplus equipment dealer. Scott McClendon, the company CEO, told CAM staff about one of his clients who had formed a non-profit agency to help get medical supplies to Ukrainian hospitals and to medics treating wounded soldiers on the battlefield.
The client, Elizabeth Stefanishina, an administrator for a New Jersey urgent care clinic, is a Ukrainian native. She had formed the VSM Humanitarian agency to honor her late father, a Ukrainian government official.
VSM works with Mark Lopez, a retired U.S. Marine who volunteers in Ukraine. Lopez not only teaches emergency first aid techniques to Ukrainian soldiers serving on the front lines, but helps transport the wounded to hospitals and delivers donated medical supplies.
It was an easy decision to help the Ukrainians by donating surplus supplies through VSM, says McWhirter.
In August 2022, a 62,000-pound shipment of basic supplies and non-perishable food, including Ensure and baby formula, made its way from the CAM asset recovery center, first to New Jersey, then across Europe to the Ukraine and finally to the frontline mobile hospital units and medics' packs.
According to Lopez, the supplies — things most American hospitals take for granted, like trach tubes, gauze and sutures — were a godsend for the Ukrainians, who had been using regular thread to close wounds or oxygen tubing in tracheotomies.
Surprised by hope
The CAM team was gratified to hear their donation had helped save lives, says McWhirter.
"I've never had to ask anyone within the asset recovery center twice to pack a shipment for donation. They say it's their chance to participate in serving others."
As always, the team was eager to help those in need without expecting anything in return, says McWhirter.
But a very unexpected response showed up this spring.
McWhirter received a package with a blue and yellow Ukranian flag, with the English words "Glory to Ukraine, Long live America! Thank you for your support!" and the signatures of several soldiers and their leaders written across it in marker.
The flag was a thank you from the frontline soldiers who received donations from BJC last August. While the Ukrainian flag is properly displayed with blue on top to symbolize the sky above Ukraine's yellow (golden) wheat fields, the soldiers had signed the flag so that yellow would have to be on top to read it. This was done as a symbol of good luck and hope, says McWhirter.
The flag is a great reminder of the lack of access, care and supplies in other places around the world, says McWhirter. "We shouldn't take what we have here in the United States and at BJC for granted."