BJC Behavioral Health team touches lives at community event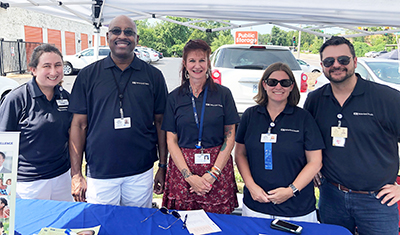 On Aug. 9, the fifth annual Michael Brown Memorial Weekend, presented by Michael Brown Sr.'s foundation, Chosen for Change, was held in Ferguson in remembrance of Michael Brown. The event focused on the healing taking place in the communities, as well as the work still to be done.
BJC Behavioral Health was one of the community agencies present.
Community mental health liaisons Veronica West, Christine Beavin and Conal Montgomery, clinical supervisors Laura Shapiro and Darcy McKeown, and same day access manager Will Letterman spent the afternoon greeting community members, answering questions and providing information as needed.
Some who stopped by the BJC Behavioral Health booth talked about the trauma they experienced directly related to the events surrounding Brown's death and the social unrest that followed in the weeks and months afterward.
"We felt we were able to connect with people and touch their lives," Letterman says. "It was nice to see everyone coming together in a peaceful manner, in both reverence and remembrance of Michael."