BJC 201 - Creating Strategic Alliances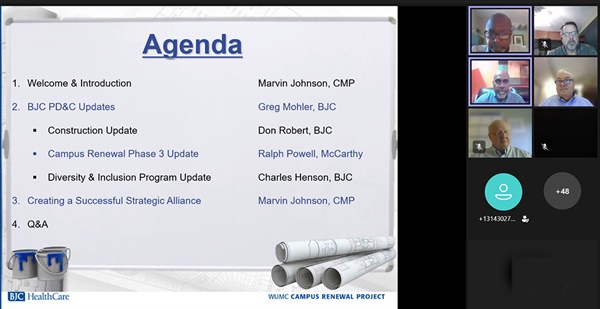 Oct. 2021 – The September BJC 201 program, the third this year that was held virtually, focused on how to successfully create strategic alliances on design and construction projects. These quarterly sessions are intended to create learning experiences in key areas of business/industry including operations, project management, estimating, marketing, business development and financial controls.
The majority of the forum was devoted to "Creating a Successful Strategic Alliance" presented by Marvin Johnson of Construction Management Partners. According to Johnson, the key to long-term success is through strategic alliances among majority and minority contractors. Steps to developing and maintaining partnerships include:
Identify potential partners

Initiate a meeting

Identify specific opportunities

Establish revenue/profit goals

Develop an agenda
Successful partnerships are based on open communication and accountability. You can see and download the presentation here.  
If you have questions, please send them to [email protected] and someone from the project team will get back with you.