Adventures in HealthCare Camp offers a glimpse into health care careers

Reagan Hartenberger was in seventh grade when she first attended Adventures in HealthCare Camp, where campers spend a week exploring health care careers, touring hospital departments and participating in hands-on, career-related activities.
Today, Hartenberger is a patient access representative at Progress West Hospital, she's in her second year of nursing school at Truman State University, and she plans to go on to medical school. She credits Adventures in HealthCare Camp with influencing her career choice.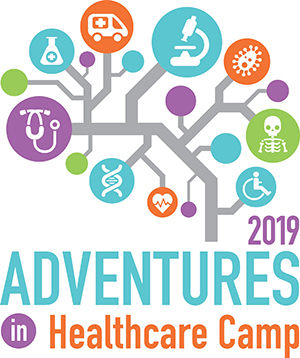 "The camp helped re-ignite my love for all things health care and gave me an outlet to explore multiple career paths within the field," says Hartenberger, who attended camp at PWH for two years. "It was my first introduction to the emergency department, which has become my passion in further study. I aspire to be an emergency room physician and work in either rural or inner-city hospitals."
Now Hartenberger is "paying forward" her Adventures in HealthCare Camp experience by helping to introduce other young people to the health care field. This was the third year she's volunteered her time to help out with the camp.
"I absolutely loved helping out with Adventures in HealthCare Camp," she says. "I loved watching other students get to experience the hospital and love it like I did. I also loved seeing their different perspectives on health care and watching them learn about areas of the hospital that they hadn't thought about before."
Five days of exciting career activities and presentations
BJC employees' children came together for the annual camp July 15-19 at Barnes-Jewish Hospital, Christian Hospital, Barnes-Jewish St. Peters Hospital/Progress West Hospital and St. Louis Children's Hospital.
Hosted by BJC School Outreach and Youth Development, Adventures in HealthCare Camp gives seventh- and eighth-graders a glimpse into what a future health care career might look like. Participants explored occupations such as nursing, radiology, pharmacy, respiratory care and health information technology and spent the last day exploring the Washington University Medical Campus. 
"Adventures in HealthCare Camp offers a great way to provide middle-school students with exposure to multiple careers," says Jennifer Irvin, BJC School Outreach and Youth Development school-community education partner and camp liaison. "The coordinators for the individual camps put a lot of time and thought into scheduling five full days of exciting career activities and presentations by professionals who are eager to share career tips. Each year the camp is more of an adventure."
Angela Harris, a BJH postpartum patient care tech, says her daughter, Madison Harris, had "an amazing experience" at this year's camp.
"She truly couldn't wait to come home daily to tell me about her day," Harris says. "As a 14-year employee at Barnes-Jewish Hospital, I was extremely pleased to find out that BJC offered students this opportunity. I take great pride in the services we provide, and I enjoyed my daughter being able to witness that herself. I'd like to thank the camp coordinators for everything they did to plan such an organized, educational and fun experience for these kids!"
Looking back on the experience
With 39 campers participating, this year marked the 16th anniversary of the camp. Many participants expressed an interest in a health care career by the last day of camp, Irvin says -- and, like Hartenberger, several other former campers have gone on to pursue health care careers and are now BJC employees.
Hartenberger says memories of the camp have stayed with her over the years, and she hopes the camp has that effect on this year's students. "I think the best part about health care camp is that it gives younger students the ability to explore the hospital setting in a more interactive way, so that when they get to high school and college, they can look back on their experience here and say, "'I remember doing that or seeing that at camp, and I was interested in that part of the hospital!'"