14 new students head to college as BJC Scholars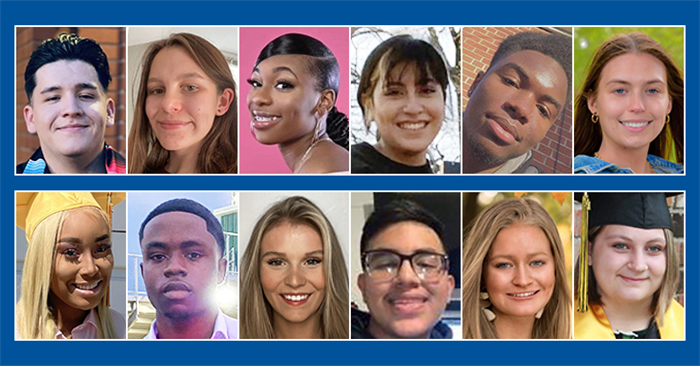 As the fifth class of BJC Scholars marked the beginning of their college journey in a virtual ceremony July 19, the students were encouraged to approach their college experience not only to learn and grow — but also to find what sets their soul on fire.
BJC HealthCare and The Scholarship Foundation of St. Louis welcomed the 2021 class with words of wisdom from the organizations' leaders, former BJC Scholars and the students themselves.
Faith Sandler, executive director of The Scholarship Foundation, shared history to open the program. "Two regional institutions — the Scholarship Foundation of St. Louis and BJC HealthCare — came together five years ago to create this scholarship opportunity," she said. "Both of these organizations understand that the health of a community can benefit by educational attainment within the community. You are the fifth class we have the honor to admit. Congratulations to all of you, who have worked so hard to get to where you are today."
Sandler then introduced several guests in attendance, including Lauren Nash Ming, board president of The Scholarship Foundation, who also welcomed the new BJC Scholars.
One special guest, Donovan Scott-Gass, a 2019 BJC Scholar, shared his advice with the new class of Scholars. "As a first-generation student, this scholarship has allowed me to attend a prestigious university, has lessened my worries and has allowed me more freedom in college," said the University of Illinois student, who is double-majoring in marketing and information systems. "Because of this scholarship, I don't have to work all the time, and I've been able to get involved in my campus community."
He encouraged the new class of Scholars to consider the value of time. "How you spend your time is extremely important because you are never going to get it back. Don't get lost in all the fun and freedom of college, but don't get lost in just academics either," he said. "These coming years are a time when you'll discover who you are. Step out of your comfort zone and take advantage of the opportunities and choices college offers."
Pursue what sets your soul on fire
Joan Magruder, BJC group president and a board member of the Scholarship Foundation, thanked Scott-Gass for his words of wisdom and congratulated the new group of Scholars on their award, as well as their determination and resiliency.
"If there is anything the COVID-19 pandemic has taught us, it's that resiliency is an essential life skill," she said. "All of you know that as well or even better than we do. You are the latest class of BJC Scholars who had their high school lives abruptly upended — adapting to online classes, interruption of sports and other extracurricular activities, virtual college visits, canceled or modified proms, drive-by graduation parades, and a whole new way of forging ahead together through the unknowns. We all admire and applaud you for this resiliency and grit, just as much as we honor your academic achievements as the fifth class of BJC Scholars."
Magruder noted that the 2021 Scholars join more than 50 other students pursuing their education at a Missouri or Illinois public college or university. She spoke of a former Scholar, who was part of the first BJC Scholars class to graduate this past May, and shared a quote from that graduate: "The scholarship made school affordable. That was huge for me. It let me concentrate on school and pursue what sets my soul on fire."
"There is nothing more rewarding or humbling than being able to play a part in that," Magruder said. "And that is just the kind of excitement that inspired creation of the BJC Scholars Fund five years ago, when we looked for a way to make college more accessible and affordable for more of the bright young minds in our communities.
"It is an honor to be able to help you get your start by removing a financial obstacle to chasing your academic dreams and starting to strike out on your own," Magruder said. "At BJC, we want to do our part to pave the way to your future.
"You have already accomplished so much in your high school careers. We are proud of what you have achieved to this point and are very excited for what your future holds. Each of your journeys to this point is inspiring and uplifting, and we know you have limitless possibilities ahead of you," she said. "We don't want finances to stand in the way of pursuing what sets your soul on fire."
Making their dreams come true
As the Scholars introduced themselves, several noted that they are first-generation college students, and all expressed their gratitude for the financial help.
"The scholarship means a lot to me because I'm the first in my family to go to college," said Maria Castillo Vega, who plans to study biological sciences/genetics at Southern Illinois University–Edwardsville (SIUE). "My parents are immigrants from Mexico, and college was never an option for us because we didn't have the funds."
Sidney Clay, who plans to study biology at Truman State University, said, "The scholarship will relieve the stress of financial need, and it also makes my parents so proud that I finished high school and I'm going to college."
Niate Kina, who plans to study biological sciences and is deciding between dentistry and pharmacy as a career, said the scholarship will give him an opportunity to improve the community where he grew up. "After college, I plan to come back, build up my community and give to the people I grew up with, and their families, the opportunity of a lifetime that was given to me."
"The scholarship means I have the opportunity to pursue my dreams," said Jose Mendez-Guillen, who noted that the care a family member received for health problems inspired his decision to major in nursing at SIUE. "I had huge respect for the nurses. That inspired me to help other people."
After the students shared their stories, June Fowler, BJC senior vice president of communications, marketing and public affairs, congratulated the Scholars and welcomed them to the BJC family. "I cannot tell you how proud we are of all of you," she said. "You are the embodiment of everything we wanted when we created this scholarship.
"You have 31,000 BJC team members rooting for you, and we want to stay connected to you. You are our Scholars," Fowler added. "The world is there for you. And I truly believe education is one of the keys that will help you make your dreams come true."
About the BJC Scholars Fund
BJC created the BJC Scholars Fund in response to regional community needs identified by the Ferguson Commission and For the Sake of All, and in recognition of the critical correlation between higher education, better health outcomes and greater longevity. Open to high school seniors planning to pursue a two- or four-year degree at a public Missouri or Illinois state college or university, the BJC Scholars Fund offers need-based awards of up to $10,000 per academic year. The annually renewable scholarship can be applied toward tuition, fees, room and board, transportation and incidental costs. In its fifth year, the fund is now supporting more than 60 students at institutes of higher learning throughout Missouri and Illinois.
The Scholarship Foundation of St. Louis administers all aspects of the program and supports the awardees and their parents in taking full advantage of other state, federal and institutional funds to which students are entitled, to ensure that the BJC scholarship award completes the funding required for full year attendance. The foundation also provides ongoing support that includes advising, workshops, financial aid counseling, participation in paid internship programs and additional funding opportunities if relevant.
2021-2022 Scholars
Octavio Alanis Gomez
St. Louis
Southern Illinois University-Edwardsville
Logan Baerman
St. Louis
University of Missouri-Kansas City
ShaNyah Bursey
Madison, Illinois
Eastern Illinois University
Maria Castillo Vega
St. Louis
Southern Illinois University-Edwardsville
Sidney Clay
St. Louis
Truman State University
Kayla Cummins
Overland, Missouri
Missouri State University
Nadiah (Nadi) Johnson
St. Louis
University of Missouri-Kansas City
Niate Kina
St. Louis
Southern Illinois University-Edwardsville
Baylee Marquez
Cuba, Missouri
Truman State University
Jose Mendez-Guillen
Granite City, Illinois
Southern Illinois University-Edwardsville
Grace Pupillo
Lake Saint Louis, Missouri
Missouri State University-Springfield
Kaitlyn Ziegler
Cuba, Missouri
University of Central Missouri
Two students preferred not to disclose their information.