13 New Students Head to College as BJC Scholars
BJC HealthCare and The Scholarship Foundation welcome the 2023 cohort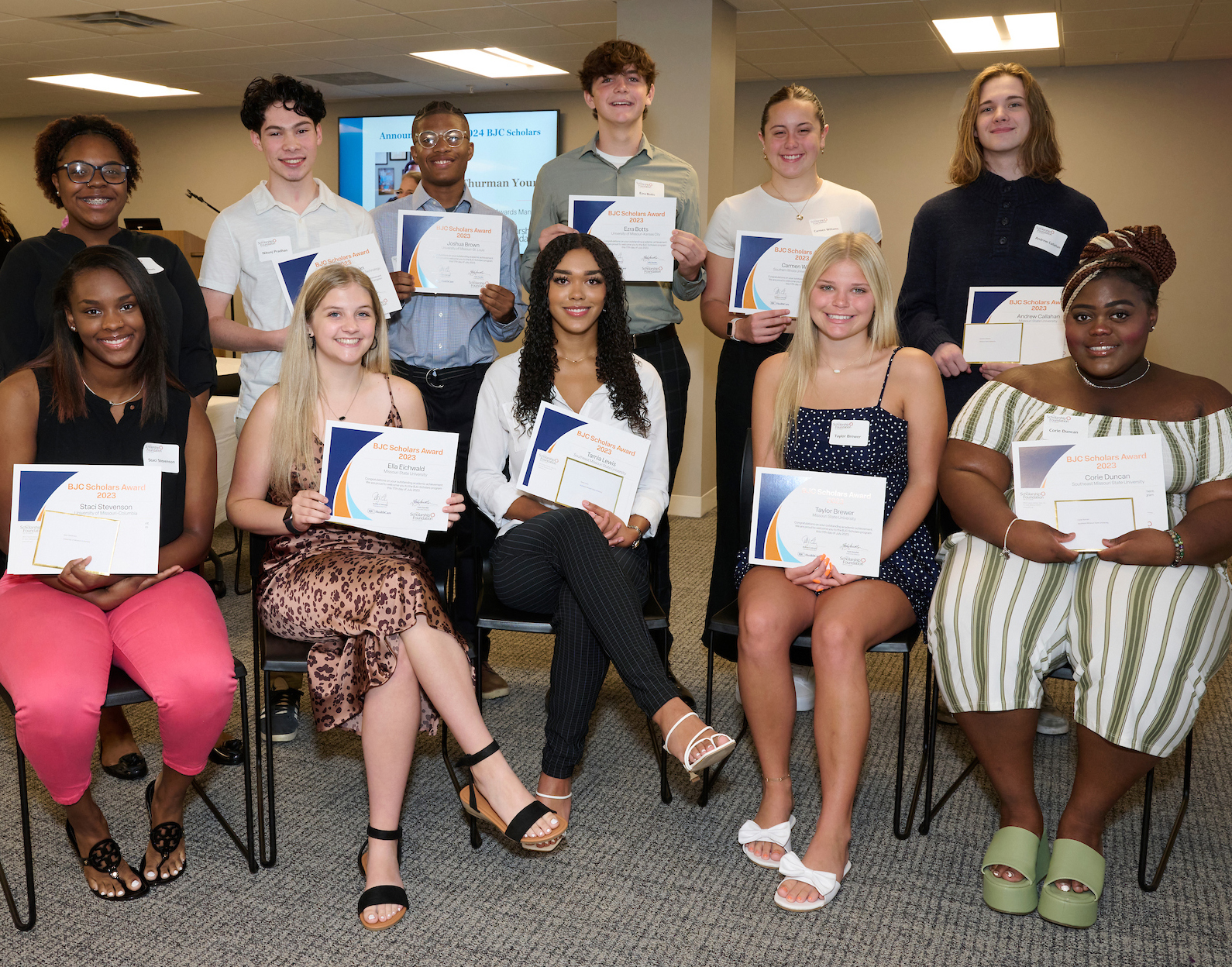 The seventh class of BJC Scholars celebrated their dream of embarking upon a college journey during an awards ceremony July 17 at the Delmar DivINe. BJC HealthCare and The Scholarship Foundation of St. Louis honored the 2023 Scholars with words of praise and advice from the organizations' leaders, along with words of wisdom from a previous scholarship recipient.
BJC Diversity, Equity and Inclusion vice president Steven Player welcomed the students and their family members to the event and offered a glimpse into his own background and his belief in BJC's mission. "Being a St. Louis native who left the region in pursuit of my Doctor of Pharmacy degree, I felt both a responsibility and a true desire to return to and fully invest in my home city," Player said. "Being a team member here at BJC has afforded me just that opportunity.
"At BJC we believe that education opens the door to not just future employment, but to more opportunities in life and, ultimately, to better health outcomes."
Player explained that the BJC Scholars program was created in response to the 2014 death of Michael Brown in Ferguson, Missouri, and in alignment with the ensuing ground-breaking work of the Ferguson Commission, which ultimately identified solutions focused on generating meaningful, positive change for the region and its communities.
"It is incredibly gratifying and humbling to see paths intersect in a powerful way for the greater benefit of those who live in the communities we serve and are a part of," Player said.
Scholarship Foundation board member April Mickens Jolly congratulated the students and family members and thanked BJC for linking access to education to good health, noting "It's one of the things that makes this a great partnership." She explained that The Scholarship Foundation is based upon the conviction that an educated society is essential to a healthy democracy.
"The Foundation sees higher education as a catalyst, an agent of change for individuals, families, communities and nations," she said. "The Scholarship Foundation provides access to postsecondary education to members of our community who otherwise would not have the financial means to fulfill their educational goals.
"You are the reason The Scholarship Foundation does this work and builds these partnerships," she added. "We are so proud of all of you and look forward to hearing about all of the amazing things you accomplish."
'Life changing'
The room was full of energy and pride as scholars introduced themselves and their guests.
All were riveted by the advice offered by BJC Scholar Rickeah Henderson. Now a senior in the social work program at the University of Central Missouri, she recalled the way she learned she had been selected for the scholarship. "I was going to be the first in my family to break the barrier of higher education. My father and I were looking at my financial aid package online and the balance we would owe was impossibly high. My dad suggested maybe going to community college," she said.
"Then on the screen came an email announcing I had been awarded this scholarship and I started crying. And my dad said, 'We're going to make it.' I'm so appreciative. It changed my life."
Rickeah advised new BJC Scholars to have a plan and a purpose. "It's OK to not know your major, but having a purpose is so important — even if it's just to get your degree."
She encouraged the scholars to evaluate their mental health, to do what's right for them as individuals and to remember to practice self-care. "College can be hard and stressful," she said. "There were times when I didn't think I could do it. But remember your purpose and prioritize self-care."
She noted to new students that they "have the right to take up space" at their university and reminded them to ask for advice. "Asking questions is free, and you can get valuable knowledge," she said. "One of the great things about the BJC Scholarship is the family you're getting through The Scholarship Foundation. They are only a text away."
'Limitless possibilities'
BJC president and CEO Rich Liekweg served as keynote speaker for the day. "This is the first time we have held our BJC Scholars event at the Delmar DivINe, and it is wonderful to be able to gather in this space that is designed to bring together health, education and human service organizations for creative collaborations that can help bring our region together," he said. "The BJC Scholars program began seven years ago as one such collaboration — with a goal of creating a new pathway to higher education for students who live in the communities that BJC serves. And we know that the connection between education and long-term well-being is real and we want to be a part of that, as a health care provider."
He also reminded the students of all the support they will have on their higher education journey — from their family members and friends to BJC and The Scholarship Foundation — and congratulated them on their achievements. "As BJC Scholars, you are now joining more than 80 other students across St. Louis, St. Charles, the Metro East and southeast Missouri who we are thrilled to be able to support in pursuing your degree. It is an honor to be able to help you get your start by removing a financial barrier to your college and life experience," he said.
"You have already accomplished so much in your high school careers. We are proud of what you have achieved to this point and are very excited for what your future holds. Each of your journeys to this point is inspiring, and we know you have limitless possibilities ahead of you," he said. "Congratulations to each and every one of you, and congratulations to your parents and supporters beside you. Stay safe, stay healthy, and enjoy these next four years."
At the end of the program, Maxine Clark, the inspiration and catalyst behind the Delmar DivINe, shared a brief history of the Delmar DivINe and its role in working to revitalize the neighborhood around it.
She also offered some final words of inspiration to the students. "If you can live your imagination, your life will be a dream come true," she said. "Keep living your imagination, enjoy your new experience, have fun, congratulations and much success to all of you."
About the BJC Scholars Fund
BJC created the BJC Scholars Fund in response to regional community needs identified by the Ferguson Commission and For the Sake of All, and in recognition of the critical correlation between higher education, better health outcomes and greater longevity. Open to high school seniors planning to pursue a two- or four-year degree at a public Missouri or Illinois state college or university or a school with tuition reciprocity, the BJC Scholars Fund offers need-based awards of up to $12,000 per academic year. The annually renewable scholarship can be applied toward tuition, fees, room and board, transportation, and incidental costs. In its seventh year, the fund has already supported a total of 96 students at institutions of higher learning throughout Missouri and Illinois.
The Scholarship Foundation of St. Louis administers all aspects of the program and supports the awardees and their parents in taking full advantage of other state, federal and institutional funds to which students are entitled, to ensure that the BJC scholarship award completes the funding required for full year attendance. The Foundation also provides ongoing support that includes advising, workshops, financial aid counseling, participation in paid internship programs and additional funding opportunities if relevant.
2023-2024 BJC Scholars
Ezra Botts
St. Louis
University of Missouri-Kansas City
Taylor Brewer
Foristell, Missouri
Missouri State University
Joshua Brown
St. Louis
University of Missouri-St. Louis
Andrew Callahan
Cuba, Missouri
Missouri State University
Corie Duncan
St. Louis
Southeast Missouri State University
Ella Eichwald
Bourbon, Missouri
Missouri State University
Jalise Grimes
St. Louis
University of Missouri-St. Louis
Mason Lane
Sullivan, Missouri
University of Central Missouri
Tamia Lewis
St. Louis
Southeast Missouri State University
Nikunj Pradhan
St. Peters, Missouri
Missouri University of Science and Technology
Stephon Riggins
St. Louis
Harris-Stowe State University
Staci Stevenson
St. Louis
University of Missouri-Columbia
Carmen Williams
Granite City, Illinois
Southern Illinois University Carbondale