Leading heart specialists, close to home: Why choose us?
BJC HealthCare works with Washington University physicians, BJC Medical Group, and providers across the region to deliver extraordinary care. We have a long and well-known tradition of excellence for cardiovascular care in the Midwest. We've saved thousands of lives and helped many more people achieve better heart health.
At our hospitals you'll find:
Regional and national leaders: Barnes-Jewish Hospital and St. Louis Children's Hospital have received national recognition from U.S. News & World Report. We stand out for our expertise in cardiology and heart surgery as well as heart attack and heart failure care.  
Specialized expertise: Heart specialists from several teams work together to plan your care. With experts in cardiology, heart surgery, interventional cardiology and electrophysiology, all the care you need is in one place.  
Focus on prevention and early diagnosis: Our heart doctors focus on detecting cardiovascular problems as early as possible. We offer robust services for heart disease prevention and advanced diagnostic testing. We make a care plan tailored to your needs if you are at risk for heart complications.  
Convenient care: We have skilled heart doctors at locations throughout St. Louis and the surrounding areas. We make high-quality care convenient and accessible wherever you live in the region.  
Range of treatments: We excel in both open and minimally invasive surgeries. We can treat many cardiovascular conditions, such as valve disease or blocked arteries, using catheters (thin, flexible tubes). You can recover faster, with less downtime and pain. Our surgeons also routinely perform major open-heart surgeries for complex heart conditions.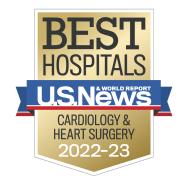 Best Hospitals Cardiology & Heart Surgery 2022-2023 Barnes-Jewish Hospital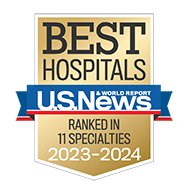 Best Hospitals Ranked in 11 Specialties 2023-2024 Barnes-Jewish Hospital
Heart & Vascular Specialties & Services at BJC
Our physicians specialize in a range of medical and surgical treatments for cardiovascular conditions. We tailor care to your needs, from diagnosis through treatment and recovery. 
We offer advanced minimally invasive treatments for heart rhythm disorders such as atrial fibrillation.

Our comprehensive cardiac rehab programs help you strengthen your heart through medically supervised exercise.

Our experienced cardiologists oversee the health of your heart at any age. We provide the treatments and care coordination you need to stay well.

Our heart surgeons and interventional cardiologists specialize in bypass surgery and cardiac catheterization for coronary artery disease.

We draw on treatments from medication to leading-edge surgeries to help you find relief from heart failure symptoms.

We're regional heart surgery leaders specializing in coronary artery disease and aortic diseases.
We offer advanced cardiac imaging and diagnostic testing in one of the region's largest and most comprehensive heart labs.

As one of the largest transplant centers in the nation, we have performed more than 1,000 heart transplants since 1985.

We specialize in minimally invasive heart valve repair and replacement. Our surgeons are regional leaders in valve disease care.

Our experts treat many cardiovascular conditions using catheter-based procedures, which are alternatives to open surgery.

We offer screenings, risk assessments and treatments to lower your risk of heart disease or cardiac events such as heart attacks.

We excel in minimally invasive endovascular techniques for treating aneurysms, carotid artery disease and peripheral artery disease.
Patient Story
Tom's heart surgery story
Minimally invasive heart surgery helped Tom return to the basketball court after having a heart attack.
Read Tom's Story
Heart & Vascular Conditions We Treat at BJC
Our cardiovascular specialists are qualified to care for any condition affecting your heart. We offer support, guidance and expertise whether you need routine preventive care or a complex procedure.
Heart disease

Heart disease describes a range of issues affecting your heart. We care for narrowed blood vessels, arrhythmias, heart valve diseases and others.

Heart failure

Your heart can't pump enough blood to meet your body's needs for oxygen. Heart failure symptoms may include fatigue and shortness of breath.

Heart attack

A heart attack, or myocardial infarction, occurs when a blood vessel blockage prevents blood from reaching your heart muscle.

Heart valve disease

Heart valve disease describes a problem with one or more of the four valves in your heart. Your heart has to work harder to pump blood.

Atrial fibrillation

Atrial fibrillation, or A-fib, means your heart rate is irregular and too fast. It can lead to a stroke, blood clots and other problems.

Aortic diseases

Aortic diseases, such as aneurysms or aortic valve stenosis, affect the main blood vessel that carries blood from your heart to your body.
Carotid artery disease

Carotid artery disease develops when plaque builds up in the blood vessels that supply blood to your brain. It can lead to a stroke.

Coronary artery disease

Coronary artery disease develops when plaque builds up in the blood vessels that supply blood to your heart. It can lead to a heart attack.

Peripheral artery disease

Peripheral artery disease is plaque buildup in the blood vessels that supply blood to your legs. It can lead to leg pain or cramps.

Adult congenital heart disease

Some people have structural heart problems from birth. These diseases can affect your heart's blood vessels, valves or chambers.

Vascular disease

Vascular disease affects blood vessels anywhere in your body. Examples include blood clots, aneurysms and peripheral artery disease.

Heart rhythm disorders

A heart rhythm disorder, or arrhythmia, means your heart beats too fast, too slow or has an abnormal pattern.

Aneurysm

An aneurysm is a weakened section of an artery wall. Aneurysms can rupture (burst) and lead to a stroke or death.

Hypertrophic cardiomyopathy

Hypertrophic cardiomyopathy is a thickened heart muscle. Over time, your heart can't pump enough blood to meet your body's needs.

Bradycardia

Bradycardia is a heart rhythm disorder where your heart beats too slowly (fewer than 60 beats per minute). It may cause fatigue or shortness of breath.

Tachycardia

Tachycardia is a heart rhythm disorder where your heart beats too fast (more than 100 beats per minute). It may cause fainting or palpitations.

Brugada Syndrome

Brugada syndrome is a rare genetic condition that causes an irregular heartbeat. It's a dangerous condition that can lead to sudden cardiac arrest.

Long QT syndrome

Long QT syndrome is a heart rhythm disorder that affects your heart's electrical system. Your heart takes too long to recharge between beats.

Pulmonary embolism

A pulmonary embolism (PE) is a blood clot (usually from your leg) that travels to your lungs. A PE can cause sudden cardiac arrest or death.

Deep venous disease

These diseases usually affect leg veins. Deep vein thrombosis (blood clots in leg veins) and varicose veins (bulging leg veins) are common.
BJC Heart & Vascular Locations
From routine care to the most advanced treatments, we are nearby to cover your every health need. Find expert, compassionate care to help you live your healthiest life at every stage at convenient locations throughout Missouri and Illinois.
Schedule your appointment