Women Building BJC Visit Girls' School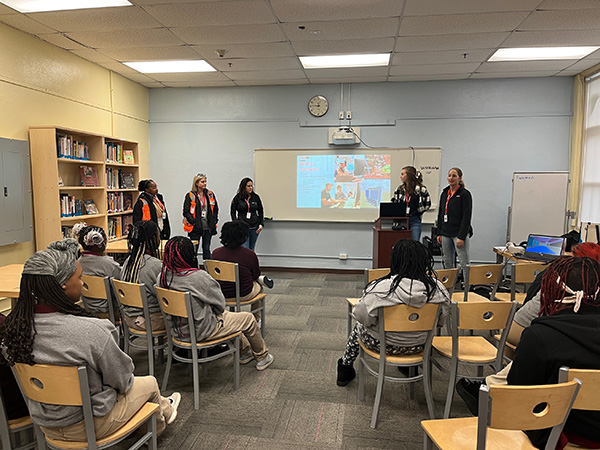 A group of women working on the BJC Campus Renewal Project visited Hawthorn Leadership School for Girls in January, sharing personal experiences and career opportunities in the design and construction industry. The school provides middle and high school girls a college preparatory education with a particular focus on science, technology, engineering and math (STEM).
Their demonstration focused on the variety of roles needed to build a project, job responsibilities, and the paths one could take to pursue careers in design and construction. The team shared stories of their paths into the industry, their roles on the project and the many different career opportunities a construction project can offer. The students also explored the virtual design and construction model for project through virtual reality.
Another group attended the "Cool Women, Hot Jobs" career fair at Hawthorn, meeting with interested young women in smaller groups, sharing even more opportunities within the construction industry outside of day-to-day project operations.
The Women Building BJC group plans to continue sparking interest by inviting interested Hawthorn students in April for an in-depth look at the Campus Renewal Project.
The construction industry faces a labor shortage as the population ages, with more workers leaving the field than entering it. BJC and its contractors are working with area schools through programs such as this and the Career Resource Center to introduce students to good paying careers in the design and construction industries.