Wanna be a ninja warrior?

Inspired by the popularity of "American Ninja Warrior," a new obstacle challenge course has taken shape at Carondelet Park in St. Louis City, with a goal of engaging more neighborhood youth in physical fitness by appealing to their interests, athleticism and energy.
The Challenge Course is the outcome of a collaborative effort among partners across the St. Louis region. With funding from Missouri Foundation for Health's Healthy Schools Healthy Communities initiative, the Challenge Course came to life through the combined efforts of BJC School Outreach and Youth Development, St. Louis Parks Department, Carondelet Park Rec Complex YMCA, and neighborhood Alderwomen Sarah Martin and Beth Murphy.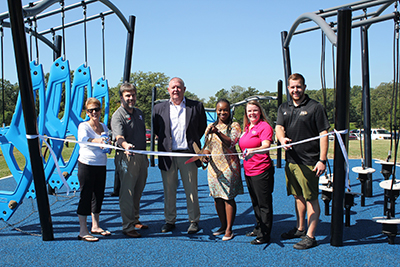 The partners gathered at the site Sept. 13 for a ribbon-cutting to officially open the course, with the lively participation of students from Lyon Academy at Blow School, who were the first to display their skills on the equipment.
"We are excited to help launch the Challenge Course, the latest collaborative project with our community partners," said Erica Oliver, BJC community health partner. "Working in both schools and communities is a way to have a long-lasting impact on health. Physical activity through the Challenge Course can have a positive impact physically, mentally and socially."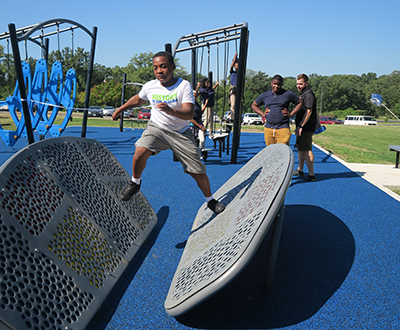 "The Challenge Course grew out of suggestions from neighborhood youth," said Kim Haegele, St. Louis City parks commissioner. "St. Louis has a great selection of parks throughout the region that attract individuals and families to walk, bike, picnic, play and enjoy time outdoors. The new Challenge Course is designed to provide an athletic challenge for youth and teens."
"We are excited about the addition of the Challenge Course next to our Y," said Jennie Alberts, Carondelet Park Rec Complex YMCA senior program director. "This will provide opportunities to get youth involved in new types of physical activity. We are proud to serve our community with much-needed healthy living programs."
The 2,040-square-foot area is equipped with ninja steps, a net traverse wall, floating boards, sway steps and climbing wall. The entire course is built over a rubberized safety surface. Located immediately adjacent to the Carondelet Park Rec Complex YMCA, the course will be open to all and accessible during park hours. YMCA staff will provide free instruction and coaching on the equipment weekdays after school hours.
More about Healthy Schools Healthy Communities
Healthy Schools Healthy Communities (HSHC) empowers communities to build a healthier future for children and families across Missouri. An initiative of Missouri Foundation for Health, HSHC brings together schools, community organizations, businesses, parents and residents to identify and push for changes that increase access to healthy food and physical activity where kids live, learn and play. In the city of St. Louis, St. Louis Public Schools and BJC School Outreach and Youth Development are co-leading the HSHC initiative, currently targeting the Bevo Mill, Carr Square, Carondelet, Forest Park Southeast, Fountain Park, Greater Ville and Shaw communities.