Missouri Baptist Sullivan Hospital Partners to Provide Convenient Care for Students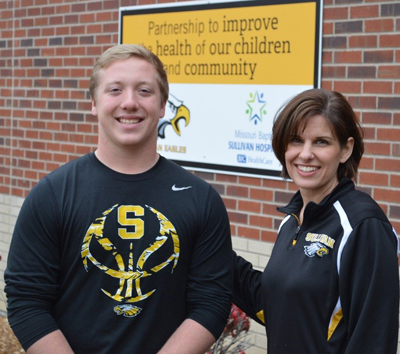 Missouri Baptist Sullivan Hospital partnered with the Sullivan School District to provide easily accessible health care for students to improve their overall health and reduce school absences.
Through this partnership, a Missouri Baptist Sullivan Registered Nurse is based out of the high school and provides direct care for students such as administering medications, implementing health and nutrition education, identifying and referring for treatment of infectious/communicable diseases and scheduling of priority, same-day appointments for students at the Missouri Baptist Sullivan Medical Office when additional treatment by a physician is recommended. 
Through telehealth capabilities, the school's staff nurses in the primary, elementary and middle school buildings can communicate with the RN via tablets to evaluate if students might need additional treatment beyond what can be administered at school.
"This program gives us an opportunity to get a first look at students with a potential health issue prior to them leaving the school building," says Tambra Sellers, MBSH School Partnership RN.  We can then determine if further care is needed without parents having to leave work or the students missing extended periods of class time. With the parent's permission, we can schedule a same-day, priority appointment with one of our providers, and get the student treated at back to class in a timelier manner."