Keeping Our City Healthy: St. Louis CITY SC Welcomes BJC HealthCare and Washington University Orthopedics as Founding Sponsors
BJC HealthCare and WashU Orthopedics to Work with CITY SC on Player and Community Healthcare Needs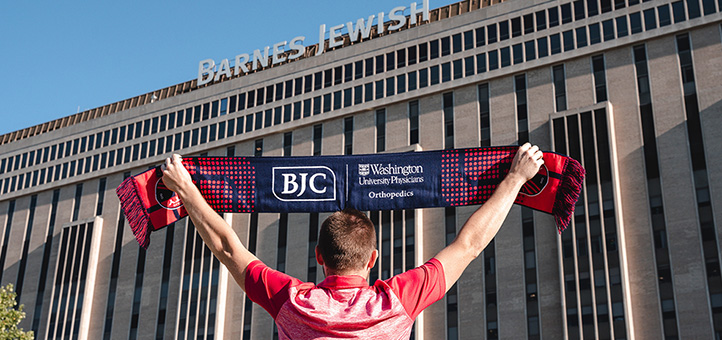 ST. LOUIS, Sept 15, 2022 -- St. Louis CITY SC is continuing to add to its impressive list of STLMade Founding Partners by unveiling BJC HealthCare and Washington University Orthopedics (WashU Orthopedics) as the club's official medical services provider and team physicians, respectively. The comprehensive sponsorship features a number of significant elements and fulfills one of the team's most important priorities: securing a partner the Major League Soccer (MLS) team entrusts with the health and well-being of its players.
As part of the new relationship, BJC will be represented on the First Team jersey's right sleeve, and on the front of the training and academy team jerseys. CITY's state-of-the-art training facility, located just south of Centene Stadium, will be named the "Washington University Orthopedics High Performance Center."
"As two of the region's premier medical providers, BJC and WashU Orthopedics are uniquely positioned to provide exceptional care to our players, just as they do the entire community," said St. Louis CITY SC's Chief Executive Officer Carolyn Kindle. "We deeply value the high caliber care provided by BJC and WashU Orthopedics. Both organizations also share our vision of health, wellness and access in the community."
Like BJC and WashU Orthopedics, CITY SC is rooted in the values of inclusivity, social equity and a mission to succeed both on the field and in our community. On the heels of the March public launch of BJC's community health improvement initiative and Washington University's ongoing efforts to promote health equity, this collaboration will help reinforce a commitment to ending health disparities in our region.
BJC and WashU Orthopedics will team with CITY SC to focus on community health by collaborating on events, including an annual CITY Sprint 5K, health and wellness classes, nutrition education, and volunteer programs.
"This is a long-term relationship that reflects BJC, WashU Orthopedics, and CITY SC's shared commitment to caring for our community," said Rich Liekweg, BJC president and CEO. "We are proud to welcome a new home team to our region, and to serve together as ambassadors of good health and champions of health care access."
As national leaders and trusted sports medicine specialists, WashU Orthopedics will work with the club's trainers to prevent injuries and keep CITY SC athletes in peak form. These physicians also will be pitch-side on game days to provide immediate on-site care and triage for any injuries. With more than 80 orthopedic specialists on its medical staff, WashU Orthopedics has broad, deep experience in treating all types of sports injuries – based on the latest research and technologies – and helping injured athletes safely return to play.
"WashU and BJC medical experts will partner with our sporting staff and trainers to deliver world-class health care for our teams. They are a key element of our new state-of-the-art performance center that incorporates the latest sports training and medical technology," said Kindle. "When you think about the health and wellness of our players and fans, this is easily one of our most important partnerships."
"We're thrilled to be collaborating with CITY SC and BJC to make a meaningful impact on the health of CITY SC players and our community," said Regis O'Keefe, MD, PhD, head of WashU Orthopedics. "Together, we will work to protect the health of these outstanding athletes, their fans and the neighbors of St. Louis and beyond."
ABOUT ST. LOUIS CITY SC
St. Louis CITY SC, one of the few majority female-led ownership groups in all of professional sports, was awarded Major League Soccer's 28th expansion team in 2019. The St. Louis-based ownership group unveiled the club's crest, logo and branding in 2020 and will take the pitch for their historic, inaugural season in 2023. Currently, CITY is putting the finishing touches on Centene Stadium, an STLMade 22,500-seat world-class soccer-specific stadium as part of the stadium district which includes practice facility and team headquarters all within the same urban campus in St. Louis' Downtown West District to create a 24/7/365 fan experience that is furthering St. Louis continued growth and revitalization.
To stay up to date with St. Louis CITY SC, download St. Louis CITY's Official App, available for iOS through the Apple App Store and Android through Google play , or visit STLCITYSC.com and follow the club on Facebook, Twitter and Instagram.
ABOUT BJC HealthCare
BJC HealthCare is one of the largest nonprofit health care organizations in the United States, delivering services to residents primarily in the greater St. Louis, southern Illinois and mid-Missouri regions. Serving the health care needs of urban, suburban and rural communities, BJC includes 14 hospitals and multiple health service organizations. Services provided by BJC include inpatient and outpatient care, primary care, community health and wellness, workplace health, home health, community mental health, rehabilitation, long-term care and hospice. BJC's nationally recognized academic hospitals, Barnes-Jewish and St. Louis Children's hospitals, are affiliated with Washington University School of Medicine.
ABOUT WASHINGTON UNIVERSITY ORTHOPEDICS
Washington University Orthopedics (WashU Orthopedics) is home to the full-time orthopedic faculty at Washington University School of Medicine. As national leaders in orthopedic care delivery, research and education, WashU Orthopedics leads the way in advanced musculoskeletal treatment and technology, providing trusted care for patients of all ages. By the numbers, WashU Orthopedics includes more than 80 orthopedic specialists who provide care at nine area locations in the St. Louis region. WashU Orthopedics ranks No. 1 in Missouri for orthopedic care, No. 3 in the U.S. for National Institutes of Health (NIH) funding and No. 2 in the U.S. for residency training. WashU Orthopedics' sports medicine specialists also serve as team physicians for the St. Louis Blues and area universities and high schools, balancing the desire to compete with protection of each athlete's short- and long-term health.