Doors close, memories linger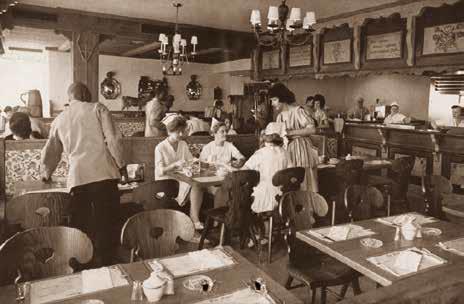 Nurses gather for coffee at the coffee shop in Queeny Tower Restaurant in 1966
by Mary Williams
Snow fell, classical music played in the background and the smell of bacon frying filled the crowded dining room. Even though it was early on a typical Sunday morning, a long line of people waited to be seated. Queeny Tower Restaurant, situated on the 17th floor of Queeny Tower in what was once known as Barnes Hospital, was serving breakfast on that cold winter morning in January 1983, just as it had been since its opening in 1965.
"Back then, we were even open on Christmas, and it was best to make reservations for dinner," says Queeny Tower Restaurant server Joyce Johnson. "Some of my best times here were just looking out the windows, watching the snowflakes fall in the middle of winter. That was so peaceful."
But like most institutions, Queeny Tower Restaurant was not immune to change, and on Nov. 14, 2016, it closed its dining room doors.
Waiter Davey Lang in 1973
"We're still able to provide guests with takeout orders and catering," says Laura Ravenscraft, Barnes-Jewish Hospital director of food and nutrition. "It was unfortunate to announce the restaurant's closure, but it was the best decision to make due to circumstances. Queeny Tower Restaurant hasn't received the business it once had."
A gift of $4.5 million from Edgar Queeny and his wife helped make Queeny Tower possible. The restaurant housed within the tower was modeled after a Swiss chalet, complete with multicolored wood and a roughhewn look. It included a coffee shop, private dining area and a lounge, and German-inspired cuisine was featured on the menu.
Johnson started working at the restaurant in 1982. At that time, it wasn't uncommon to see more patients in the dining room than employees, since there were hotel rooms on three floors below the restaurant where patients and their families lodged. In addition to offering breakfast, lunch and dinner, the restaurant also included two bars.
In the evening, the dining room turned into a dimly lit social hot spot that attracted large crowds of patients, employees and other guests. With hardwood floors, white tablecloths, music playing in the background and candlelit chandeliers, the restaurant was a popular dining choice. The dinner menu included steaks, a shrimp platter and a chef salad with classic Mayfair dressing. The carrot cake was legendary. But Queeny Tower's signature dish was served at lunch.
Window tables were in demand.
The Prosperity was an open-face sandwich made with white bread, turkey breast, honey ham and bits of crispy bacon covered with a special cheese sauce and topped with crumbled parmesan cheese. "It was broiled and served on a steaming hot plate," says Johnson. "I tried to make it at home but it didn't taste the same." When the chef who invented the cheese sauce left the restaurant, the sandwich left with him.
In 1997, the hotel in Queeny Tower closed and business in the restaurant began to decline, until eventually it was serving lunch only.
"I'll miss mingling with guests as much as I miss the Prosperity sandwich," Johnson says.
The Queeny Tower dining room circa 1966.