Connecting Patients to Nature Improves Physical and Mental Well-being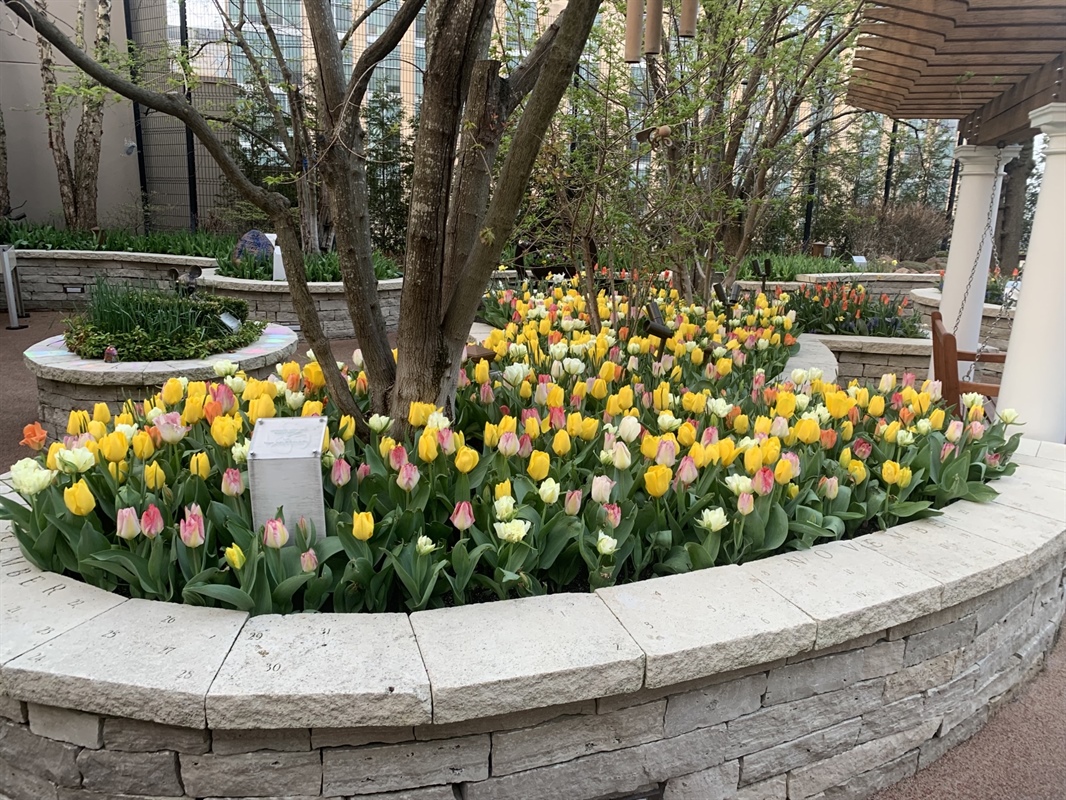 The Olson Family Garden at St. Louis Children's Hospital just exploded with tulip blooms. But Robert Paulson, the grounds supervisor, says even in winter the garden is magical. After it snows he often finds the little footprints of patients and their siblings, and tiny snowmen scattered across the paths.
"I know that there are kids here who probably have never even seen snow before," Paulson says. "That's why I do this job. It's really just extremely rewarding."
Paulson's work in the Olson Family Garden is just one of the ways patients receive extraordinary care at St. Louis Children's Hospital, where children from across the U.S. come for the latest medical advancement. Providing access to healing time in nature supports and empowers patients often facing difficult treatments.
Evidence-Based Care in the Natural World
The health benefits of interacting with nature are clear in the research. Gardening provides myriad benefits, from improvements to patients' body mass index to promoting positive mental health. Even a room with a view of trees or nature settings can lead to lower use of pain medication and shorter hospital stays.
Beyond the physical benefits, Paulson says that time spent outdoors in a natural landscape can provide a sense of stability in the unpredictable world of hospital treatment.
"There is a grounding effect of being in natural sunlight, and immersed and surrounded by living organisms," says Paulson. "It is extremely healing to feel the sun and the fresh air, especially when you're stuck in a necessarily sterile environment like a hospital."
Bringing the Outside In
The Siteman Cancer Center infusion pods are visited twice a month by therapeutic horticulture (TH) staff from the Missouri Botanical Garden. The staff help patients build potpourri sachet kits or teas out of dried herbs or create flower bundles, potted plants or flower arrangements. Jeanne Carbone, supervisor of the program, says the goal of therapeutic horticulture is to promote well-being by deepening a connection to nature. TH staff try to emphasize that the things they create should not just be seen, but smelled and touched, to provide a full tactile connection to the material.
"In all the time I've been visiting, not one patient has talked to me about their cancer," Carbone says. "They talk about their garden, or the activity they're doing. The engagement with nature takes them away from what they're going through."
Building with the Natural World in Mind
There are many wellness gardens across BJC's facilities, including Barnes-Jewish West County Hospital and Evelyn's House. Even new construction at BJC HealthCare is incorporating best practices for allowing the natural world to be part of the healing process. The new patient tower at Barnes-Jewish Hospital is being designed with an evidence-based focus on access to nature, including gardens that can be used by patients, their families and hospital staff, windows with views to nature, artwork and other nature-focused elements.
Three Health Benefits of Gardening
Gardening connects physical activity with a meaningful exposure to nature and sunlight, which can provide several health benefits, according to Aaron Gutjahr, general manager of Move by BJC. Gardening can help:
Improve cardiovascular health and increase your strength. When digging or mulching, over the course of an hour or more, you've lifted a significant amount of weight. "From a strength standpoint, most gardeners can expect an increase in hand and arm strength," Gutjahr says. "A healthy, strong grip is positively correlated to performance in several other activities as well, such as sports like golf and tennis."
Keep you active. You may not be aware of the squats and lunges that you're performing out in the garden, but you can be sure that they are keeping you spry. Some soreness may be expected if this is the start of your gardening season, so be sure to be aware of how long you've spent in some possibly awkward positions, Gutjahr says. In the end, the improvements you'll feel in balance, strength and flexibility will be worth it.
Produce much-needed Vitamin D while soaking up the sun. Vitamin D is essential for hundreds of functions within your body, including maintaining healthy bone density and fighting off inflammatory conditions. "There is also accumulated evidence showing that low levels of vitamin D are related to muscle weakness, pain and impaired balance in elderly individuals," says Gutjahr. "Just 30 minutes of sun is all you need to produce a significant amount of vitamin D."
Bringing the Natural World into Your Life  
If you are interested in incorporating gardening or plant care into your life, Paulson says the most important thing is not to be afraid to fail. Feel free to experiment with different methods and plants until you find something that suits your lifestyle and space.  
Carbone encourages other health care organizations to bring therapeutic horticulture into their practice.
"Offering a connection to nature to patients, no matter their situation or what their connection looks like, will make a difference in their experience."
You deserve to live your healthiest life. Learn more about our mission.