Children's Hospital celebrates 25 years of Paws for Hope

SLCH also receives $75,000 grant from PetSmart Charities to enhance pet therapy program
St. Louis Children's Hospital patients, families, staff and volunteers came together recently to celebrate the healing power of pets.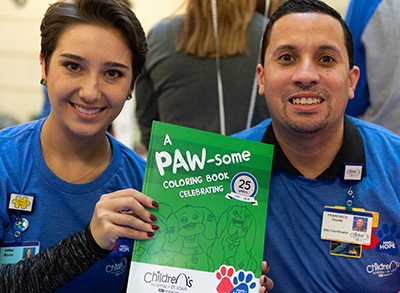 A Nov. 20 event marked the 25th anniversary of the Paws for Hope pet therapy program at the hospital. In conjunction with the event, the hospital received a $75,000 grant from PetSmart Charities.
SLCH has 34 active pet therapy dogs who have met with more than 110,000 kids and families over the past 25 years. With this new grant, SLCH will expand the program, increasing the number of dogs and volunteers to serve new and expanded areas of the hospital.
Nineteen therapy dogs participated in the 25th anniversary event, which took place in the atrium at SLCH. The event featured a coloring book with a page dedicated to each therapy dog, in celebration of the program's 25 years.
The artists were on hand to autograph the coloring book for the kids, and the therapy dogs in attendance provided their "pawtograph" — an ink stamp created in the shape of each dog's actual pawprint — on their page in the coloring book.
But even more importantly, the dogs provided plenty of snuggles and lots of unconditional love — as well as a healthy diversion from the usual hospital routine for the children and their families.
Celebrating the healing power of pets
Although patient Devin LePes wasn't thrilled to be celebrating his 19th birthday in the hospital Nov. 20, visiting with the therapy dogs — including his favorite, Millie, a golden retriever — brightened his day. Devin has three dogs at home.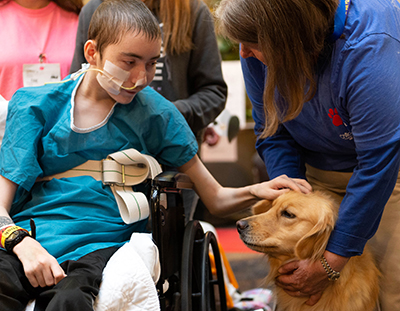 Patient Caden Thompson's mom says seeing the therapy dogs is always the highlight of Caden's visits to SLCH. "The dogs perk you up fast," says Caden, who had a liver transplant at SLCH in 2008 at age 15 months. Caden has a standard poodle named Chewy — short for Chewbacca — at home, along with the family's other five dogs.
Patient Lennon Barnes and her mom made a special trip to SLCH Nov. 20, when they learned about the dog party during a visit to the Children's Specialty Care Center the day before. "Lennon is a huge animal lover, so I had to bring her here," her mom says. "It's amazing how truly therapeutic these dogs are."
Stacey Maly-Rodgers, SLCH volunteer services Paws for Hope coordinator, agrees. "Therapy dogs provide unconditional love and affection, brightening the day for patients, families and staff," she says. "We all need the healing power of pets." 
More about PetSmart Charities and Paws for Hope
PetSmart Charities has granted more than $2.3 million to support animal-assisted therapy programs across North America. Funding from PetSmart Charities supports best practices that enhance the human-animal bond. Since 1994, PetSmart Charities has donated nearly $400 million to improve access to veterinary care, to help preserve families, to positively impact communities, and to connect people and pets through initiatives like the Paws for Hope program at SLCH. 
SLCH's pet therapy program not only broke a record this year, in the number of pet visits with patients — it more than doubled the previous record. "Our biggest year previously was 2018, with almost 18,000 visits," says Stacy Maly-Rodgers, SLCH volunteer services Paws for Hope coordinator. "And we ended 2019 with almost 38,000 visits." 
"We are thrilled to have the support and to celebrate this wonderful, longstanding program and partnership with PetSmart Charities," says Malcolm Berry, SLCH chief development officer. "These dogs change the whole feel of the hospital and lift everyone's spirits, while providing therapy people can't provide. We're grateful to PetSmart Charities for bringing happiness to Children's through a very special breed of volunteer."