Bridging the Gap Between Compassion and Innovation: What It Really Means To Be a Nurse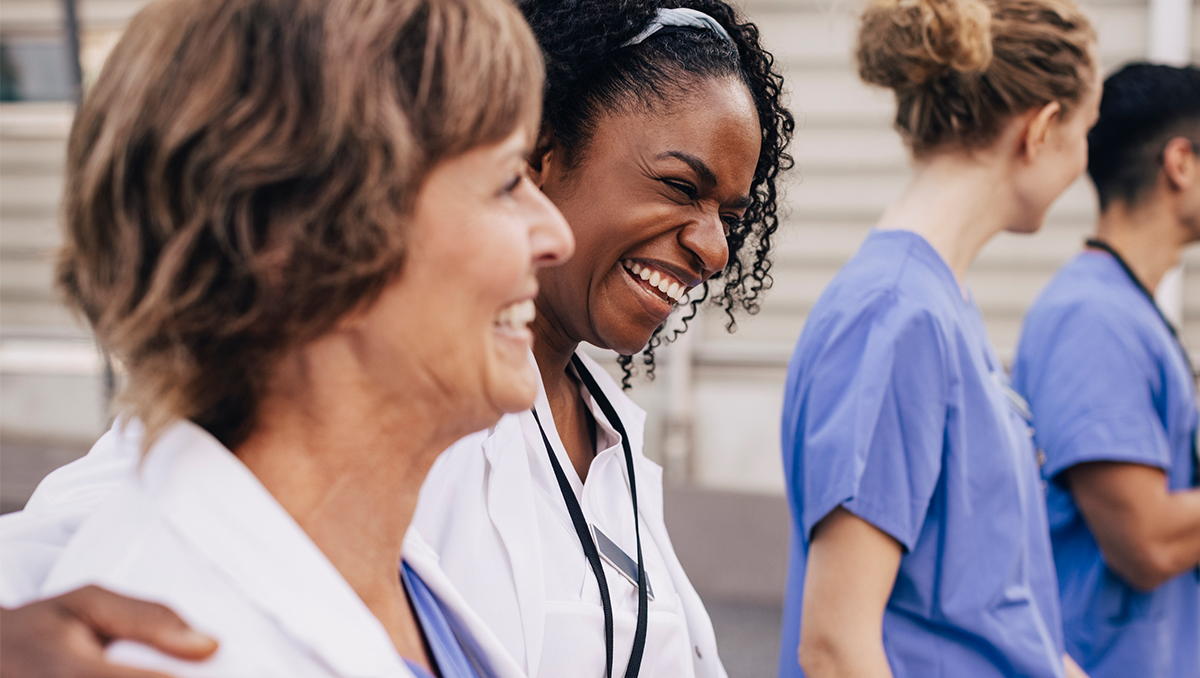 ---
What does it mean to be a nurse, really? People often think of someone standing at a hospital bedside delivering medication, helping patients into wheelchairs and providing comfort and encouraging words.
While these images are certainly part of the story, there's much more to this time-honored profession than meets the eye. Nurses are found throughout hundreds of specialties requiring various skills, ranging from wound care and advocating for patients, to spotting hidden problems or irregularities, to documenting medical history and symptoms, among many others. 
Today, as BJC HealthCare celebrates its 30th anniversary as a health care system, we acknowledge all the ways nursing has evolved and changed. But one constant remains — providing extraordinary care to patients and their families.
An evolving profession
Nursing is one of few revered professions that earn the respect of the public and the communities they serve. Nurses have been around for centuries, but today nursing is one of the largest health care professions with more than 3 million registered nurses in the U.S., according to a U.S. Bureau of Labor Statistics 2022 report.
Nurses work in every aspect of health care and are crucial in delivering extraordinary care to their patients, bringing equal levels of compassion and expertise to their practice, partnering to help eliminate health disparities and, perhaps most importantly, showing empathy at the time when people need it most.
Thirty years ago, as Barnes Hospital, Jewish Hospital and Christian Health Services and their affiliates joined forces to become one health care system, options for new nurses were less flexible. Tommye Austin, MSN, PhD, senior vice president for patient care systems and BJC's chief nurse executive, celebrated her 34th year as a nurse this year. She has seen many improvements in entering the field over the past three decades.
"We were required to start as medical-surgical nurses even if you wanted to be, say, an ICU nurse," Austin said. "If I tried to do that today, I would have people who would not come into our organization. So, things have really, really changed."
Angela McConachie, RN, FNP-MSN, DNP, director and associate professor at Barnes-Jewish College Goldfarb School of Nursing, said 30 years ago nurses had a narrower focus than they do now. Today, nurses are involved in every part of health care, from direct patient care, to research, to administration, to IT and informatics.
"Over the last 30 years the nursing profession has become more interdisciplinary focused, patient centered, and has expanded greatly," McConachie said. "Nurses have become a key part of every aspect of health care throughout the community and hospital settings, affecting patient care in a positive manner."
Counteracting the nursing shortage
If nurses are critical within a health system, a nursing shortage can stress that system. It's no secret the nation's health care systems are experiencing a nursing shortage in the aftermath of the COVID-19 pandemic.
But this is not a new problem. "There was a nursing shortage when I started as a nurse in 1989," Austin said. "Hospitals were fighting and offering all kinds of things for us to join their organizations."
Health care organizations have been working for decades to attract, recruit and retain extraordinary nurses. The key, according to McConachie and Austin, starts in nursing school. The Goldfarb School of Nursing brings nurses into Barnes-Jewish Hospital earlier in their educational journey than other programs, pairing students with staff in the specialties they are interested in with the goal of easing the transition to clinical practice and encouraging the students to stay with BJC HealthCare.
"The hospital partners with the schools to help ingrain the nurses to the culture of the floor, to the profession, to make them feel as comfortable as they can when transitioning to practice," McConachie said. "With this program we can tailor their clinical experience and streamline that process as much as possible."
Austin said the program offers a positive first impression for students — another key to recruitment and retention.
"We want nurses who create a welcoming environment for new graduates consistently, so those students want to come to their units," she said. "During this time, after the pandemic, individuals who are very welcoming have really helped our organization to retain staff."
Additionally, Goldfarb is working to develop the nursing education pipeline early, welcoming programs that bring in middle and high school students interested in nursing to provide details on the vast opportunities available. McConachie said the program allows young people the opportunity to see how many directions a nursing degree can take someone.
"They get to talk about what the nursing profession does," she said. "They learn that nurses do a lot within the health care setting that they didn't even realize we did."
Honoring excellence
The breadth and depth of the nursing profession was on full display in St. Louis Magazine's 2023 Excellence in Nursing Awards, which included several nurses from BJC HealthCare and Washington University School of Medicine.
McConachie said that the recipients, and all the excellent nurses she knows and works with, embrace change, development and flexibility in their work, whether that's working with new technology or advances in research. 
"It's being able to adapt to change and reevaluate situations, because things are always going to change," she said. "Being able to absorb and help with the changes to be a proactive, positive part of that movement."
Austin said institutions that foster that development help create an environment of excellence in nursing.
"There are so many ways to demonstrate excellence as a professional nurse," Austin said. "At BJC, we foster growth, development and professionalism. So, you can be the best that you can be as a nurse."
Looking to the future
After a few uncertain years, nursing teams and the administration at BJC HealthCare are steadily building and rolling out new programs designed to make nurses' day-to-day life easier and recruit and retain a diverse and extraordinary workforce.
In February of this year, BJC fully rolled out an app allowing nurses at Missouri Baptist Medical Center and Christian Hospital to select additional shifts. As of early May, the app had allowed nurses to pick up more than 30,000 hours of shifts between the two hospitals. BJC also recently implemented a program where nurses and other clinical and non-clinical staff can get paid daily to prevent issues with delays in income.
"We are knocking it out of the park," Austin said. "I see a lot of technology and a lot of processes that will be improved. These are tough times but these are also exciting times because we get to design that."
Austin also noted that pipeline programs, like the one for middle school students, as well as other recruitment efforts, are used to develop the diversity of the nursing pool.
"It enriches the patient's environment, and it does impact their experience," she said. "And it brings different lived experiences to the clinical environment."
McConachie said at its core, there is one way the nursing profession hasn't changed, and will never change.
"Nurses are anywhere and everywhere across the health care system, and our goal is connecting patients, families and communities," she said.
Learn more about the extraordinary care you deserve.