BJC HealthCare Opens Outpatient Center in Ellisville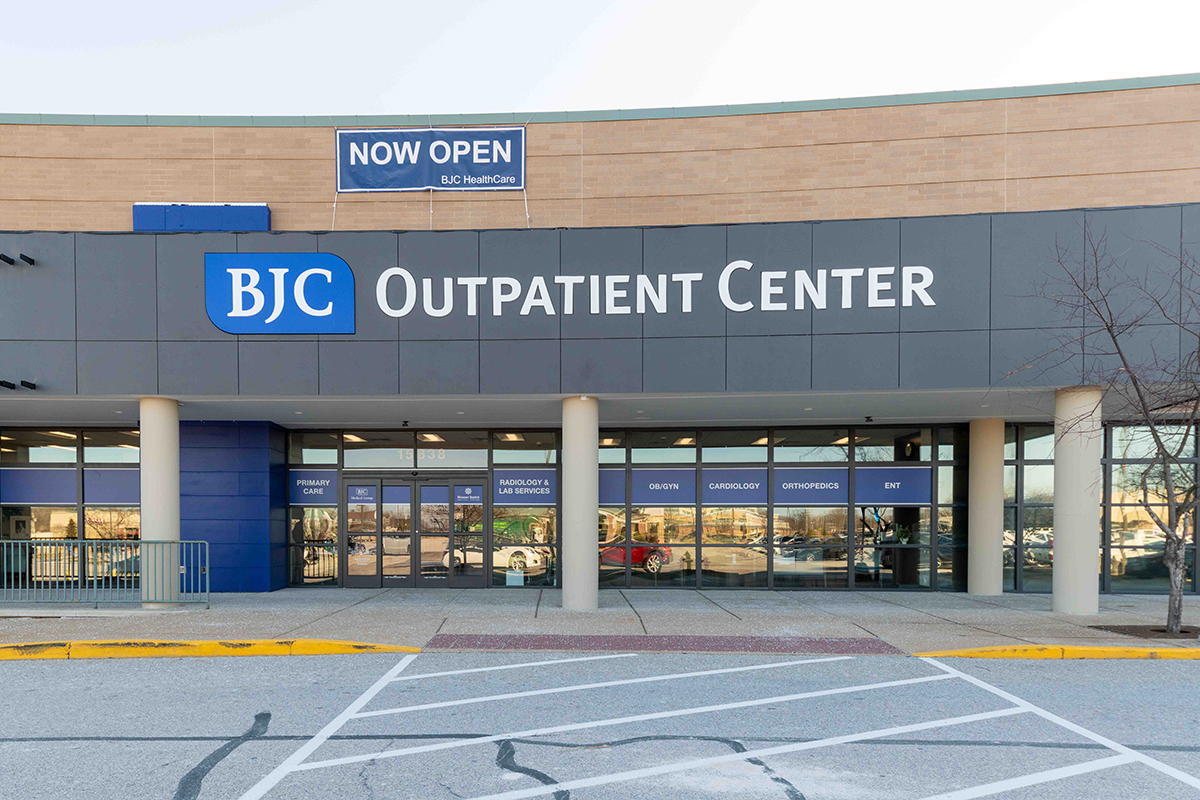 ST. LOUIS, MO. (February 8, 2021) – BJC HealthCare is bringing the expertise of BJC Medical Group and the services of Missouri Baptist Medical Center closer to patients and families in West St. Louis County. On February 1, 2021, the newest BJC Outpatient Center opened at 15838 Fountain Plaza Drive and offers world class care for patients ages 13 and older in a specially designed outpatient facility.
The new outpatient center is approximately 15,000 square feet of patient-friendly design focusing on healing and healthy lifestyles, featuring artwork from local artists, and fifty dedicated parking spots. BJC made a commitment to the Ellisville community in October 2019 to bring excellent care to the community and provide 50 new medical positions to the area through the development of the outpatient center.
"This brand-new facility allows our physicians and practitioners to deliver quality care in a state of the art and convenient location for families in and around Ellisville," says Dr. Douglas Pogue, president of BJC Medical Group. "Like all BJC locations, we're observing strict infection-prevention protocols that provide a safe environment for patients. This new center upholds our mission of providing exceptional care for the growing needs of our community for many years to come."
The new outpatient center focuses on providing the following healthcare services:
Imaging services:

Bone density

Mammography

X-rays

Ultrasound

Laboratory services

Primary care and family medicine

Specialty services:

Cardiology

ENT

OB/GYN

Orthopedics
Due to COVID-19, most providers and specialists offer virtual visits, with several offering online scheduling as well. Consistent with BJC's commitment to keeping patients and families safe during their visit, temperature and symptom screenings are required upon entry and masks must be worn at all times in the facility. Most laboratory and imaging services are available on a walk in basis. To schedule a visit or find out more about services offered at this location call 314-690-1113.
###
BJC Medical Group is a well-established, multi-specialty physician group in Missouri and Illinois with over 600 doctors and advance practice providers across 125 locations.
BJC HealthCare is one of the largest nonprofit health care organizations in the United States, delivering services to residents primarily in the greater St. Louis, southern Illinois and mid-Missouri regions. Serving the health care needs of urban, suburban and rural communities, BJC includes 14 hospitals and multiple health service organizations. Services include inpatient and outpatient care, primary care, community health and wellness, workplace health, home health, community mental health, rehabilitation, long-term care and hospice. BJC's nationally recognized academic hospitals, Barnes-Jewish and St. Louis Children's hospitals, are affiliated with Washington University School of Medicine.
Missouri Baptist Medical Center offers a full continuum of medical and surgical services, including heart, cancer, women and infant's, breast health, gastrointestinal, orthopedic, stroke, therapy, wound and pain management services. The hospital has a 24-hour adult emergency department and cares for pediatric patients at a separate emergency department in collaboration with St. Louis Children's Hospital and Washington University physicians.