BJC HealthCare and Washington University Aim to Help More Employees Own Homes Through Expanded Live Near Your Work Program
The housing assistance loan amount has increased and the program expands to more neighborhoods
ST. LOUIS (November 8, 2023) – In an effort to better support employees and spur investment in historically disinvested neighborhoods in St. Louis and St. Louis County, BJC HealthCare and Washington University in St. Louis expanded their Live Near Your Work homeownership and neighborhood stabilization program.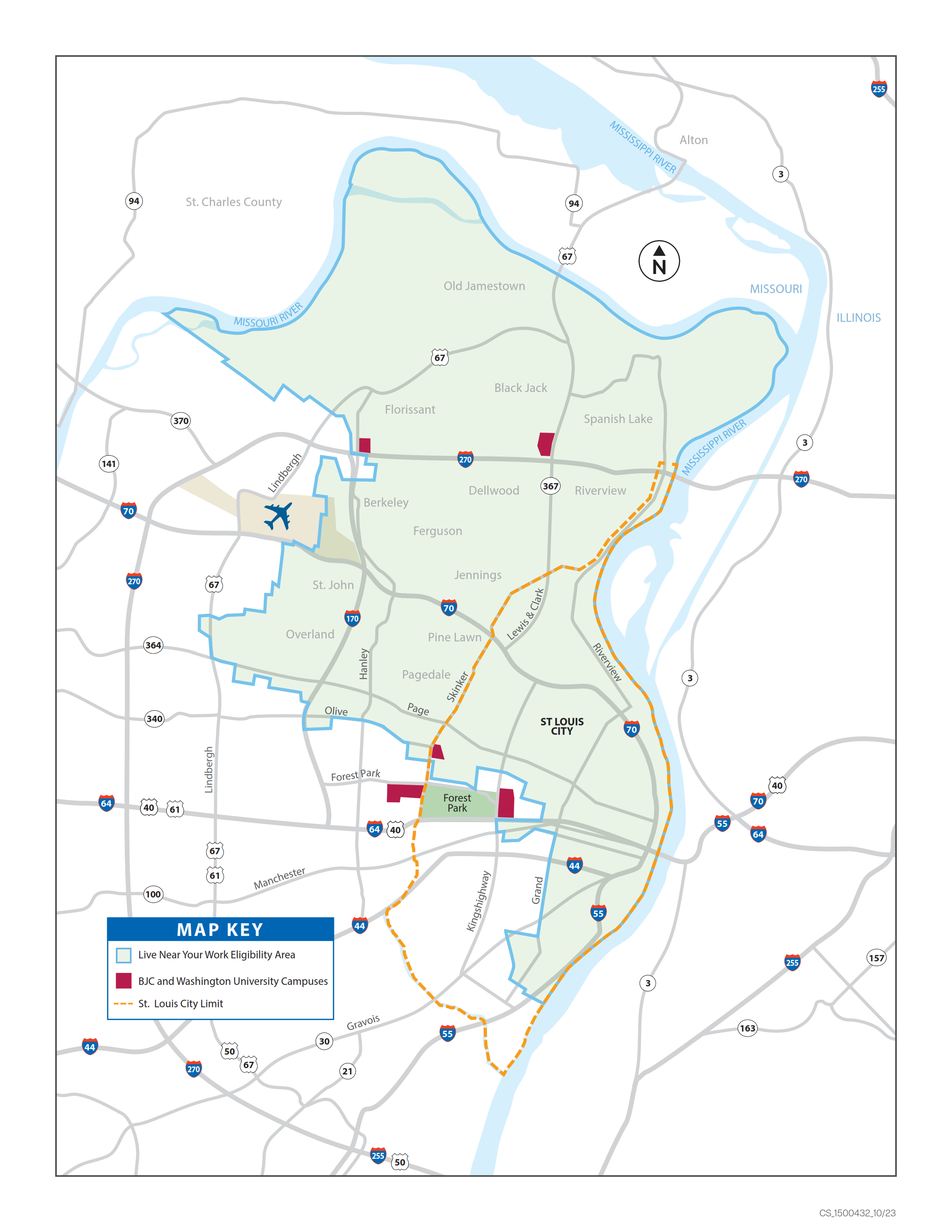 The Live Near Your Work program is available to all benefits-eligible Washington University and BJC employees systemwide. The program offers a limited number of $12,500 forgivable home loans – an increase of $4,000 per loan since the program began in 1997.
The program also has greatly expanded to include more neighborhoods that have faced historic disinvestment primarily in the City of St. Louis and North St. Louis County as well as University City's third ward. These neighborhoods were selected to align with local and regional initiatives to advance racial equity and economic opportunity.
"The Live Near Your Work program was designed to ease the financial burden of buying a home for BJC and Washington University employees, while helping to improve the economic health of our region," said Deidre Griffith, BJC vice president of community health improvement. "The expanded regions in St. Louis city and North St. Louis County have been significantly impacted by systemic racial and spatial inequities. By including these communities, we are working to create positive outcomes through equitable investment and economic development."
Qualifying employees can apply for a forgivable loan to be used toward a down payment or closing costs. After five years, the loan is forgiven so long as the employee continues to reside in the home and holds a benefits-eligible position at BJC or Washington University.
Lisa Weingarth, senior advisor for St. Louis initiatives at Washington University, said Live Near Your Work is an example of both institutions' ongoing efforts to make St. Louis healthier and more prosperous for all.
"As the region's two largest employers, we at BJC and Washington University take seriously our obligation to the region," Weingarth said. "We do that by delivering excellent patient care to the region, supporting local businesses and by expanding economic and educational opportunities for our combined workforce of more than 52,000 employees."
Since Live Near Your Work's launch 26 years ago, BJC and Washington University have continuously increased the program's annual budget, eligible neighborhoods, and size of forgivable loans. Today, both institutions have committed $300,000 each per year for the program.
Chelsea Clayton, a respiratory care supervisor at Barnes-Jewish Hospital, dreamed of owning a home for her and her 8-year-old son. In 2019, the Live Near Your Work program helped her turn that dream into reality by providing her with a loan she applied toward a deposit on a three-bedroom, two-bathroom home located in St. Louis' West End.
"It's a huge blessing and without the program I can't say I'd be a homeowner," Clayton said. "Knowing that I have something I can leave my son and knowing that he will always have a place to live is huge."
Anne Peterson, a business analyst for Washington University Advancement, is one of the more than 400 employees who have leveraged the program to finance a home. In 2019, she bought an abandoned house in West End neighborhood near the Delmar MetroLink station. The property had been ravaged by an electrical fire and was littered with old tires and trash.
"There were a lot of reasons to run screaming from the house," Peterson recalled. "The Live Near Your Work program allowed us to design the home we wanted. The program was easy to access and the support we received was terrific."