Barnes-Jewish Hospital receives fifth Magnet® designation for nursing excellence
FIRST ADULT HOSPITAL IN MISSOURI TO ACHIEVE FIVE CONSECUTIVE DESIGNATIONS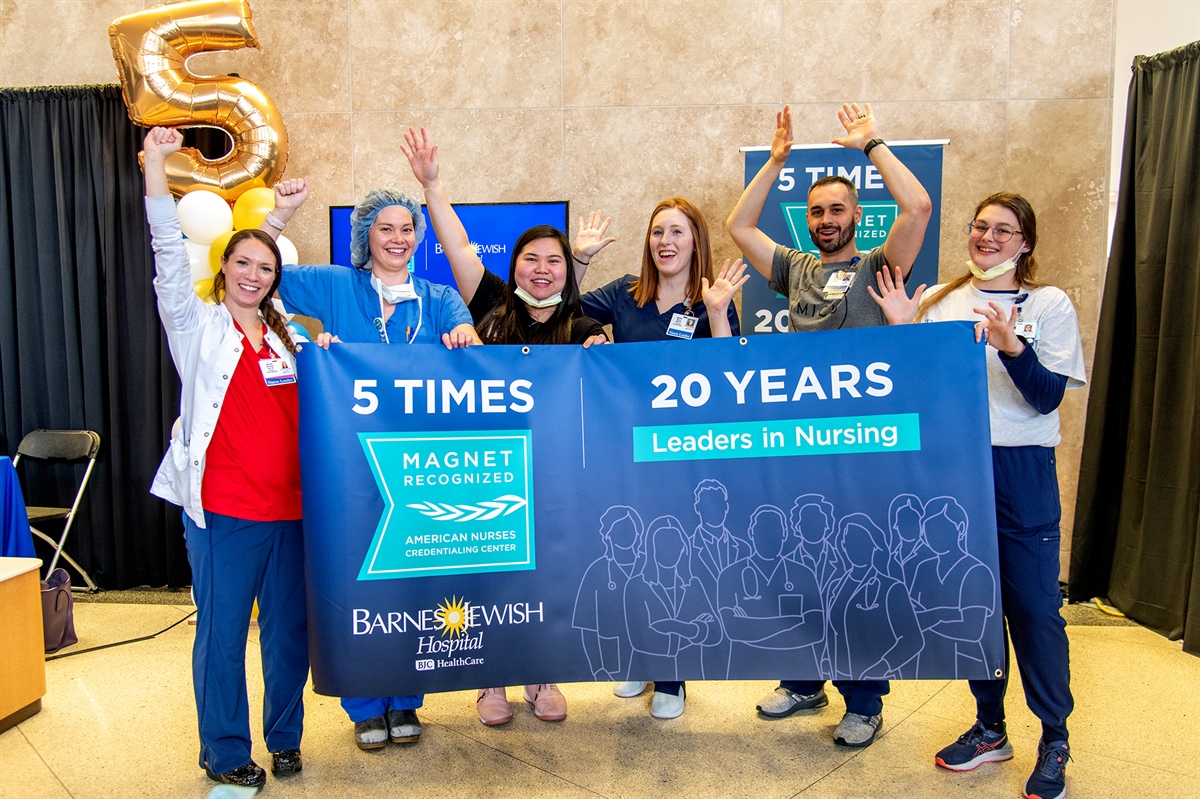 ---
Barnes-Jewish Hospital has once again achieved the highest acknowledgment of nursing excellence — Magnet® recognition by the American Nurses Credentialing Center (ANCC). The ANCC granted the designation Feb. 17. Barnes-Jewish has maintained its designation since 2003 and is the first adult hospital in Missouri to achieve five consecutive designations. Approximately 10% of U.S. hospitals are designated Magnet, and as of January 2023, 5% of Magnet organizations have been designated five times.
Another reason to celebrate: Mayor Tishaura Jones issued a proclamation declaring February "Barnes-Jewish Hospital Magnet Nurses Month" in the City of St. Louis! Watch local coverage on KMOV TV.
"Our nursing team is absolutely incredible, and I am so proud of them for achieving this recognition," says John Lynch, MD, Barnes-Jewish Hospital president. "The appraisal team was thoroughly impressed with every nursing staff member they met, with the quality care our patients receive, and with our culture that supports an environment of teamwork and collaboration."
The voluntary credentialing program for hospitals is the highest honor an organization can receive for professional nursing practice. Magnet recognition has become the gold standard for nursing excellence and is taken into consideration when the public judges health care organizations. Hospitals must reapply for Magnet recognition every four years based on adherence to Magnet concepts and demonstrated improvements in patient care and quality.
"Our BJC Values of Compassion, Respect, Excellence, Safety and Teamwork are at the core of the care our patients receive," explains Angelleen Peters-Lewis, PhD, RN, FAAN, chief operating officer for Barnes-Jewish Hospital who also served as chief nurse executive during the previous designation. "The ANCC recognized that we address the unique needs of every patient and continuously improve our nursing practices. This is what our patients deserve, and our nurses take great pride in this work."
To achieve this fifth designation, Barnes-Jewish participated in an extensive application process and on-site evaluation conducted by the ANCC, which assesses the hospital's outcomes, professionalism of the nursing staff, use of evidence-based practices and research in clinical care, and overall patient-centered experience. The ANCC looks for evidence of excellence in the following areas: transformational leadership, exemplary professional practice, new knowledge, innovations and improvements, and more. This process was both rigorous and thorough for all involved — from bedside nurse clinicians to department leaders, the executive team and members of the board of directors.
"The standards continue to get more rigorous for each Magnet designation," adds Peters-Lewis. "Our nursing teams continue to meet and exceed these standards, even during a global pandemic. They have an unwavering commitment to our patients and the community we serve."
According to the ANCC, approximately 10% of hospitals in the U.S. are designated Magnet. Research cited by the ANCC indicates that hospitals embracing Magnet standards achieve better patient outcomes and higher patient satisfaction. Other BJC hospitals that have achieved Magnet recognition include Memorial Hospital Belleville and Shiloh, Missouri Baptist Medical Center and St. Louis Children's Hospital.
About the American Nurses Credentialing Center's (ANCC) Magnet Recognition Program®
The Magnet Recognition Program® administered by the American Nurses Credentialing Center (ANCC), the largest and most prominent nurses credentialing organization in the world, recognizes health care organizations that provide the very best in nursing care and professionalism in nursing practice. The Magnet Recognition Program serves as the gold standard for nursing excellence and provides consumers with the ultimate benchmark for measuring quality of care. For more information about the Magnet Recognition Program and current statistics, visit https://www.nursingworld.org/organizational-programs/magnet/.