5 Questions to Ask at Your Annual Physical Exam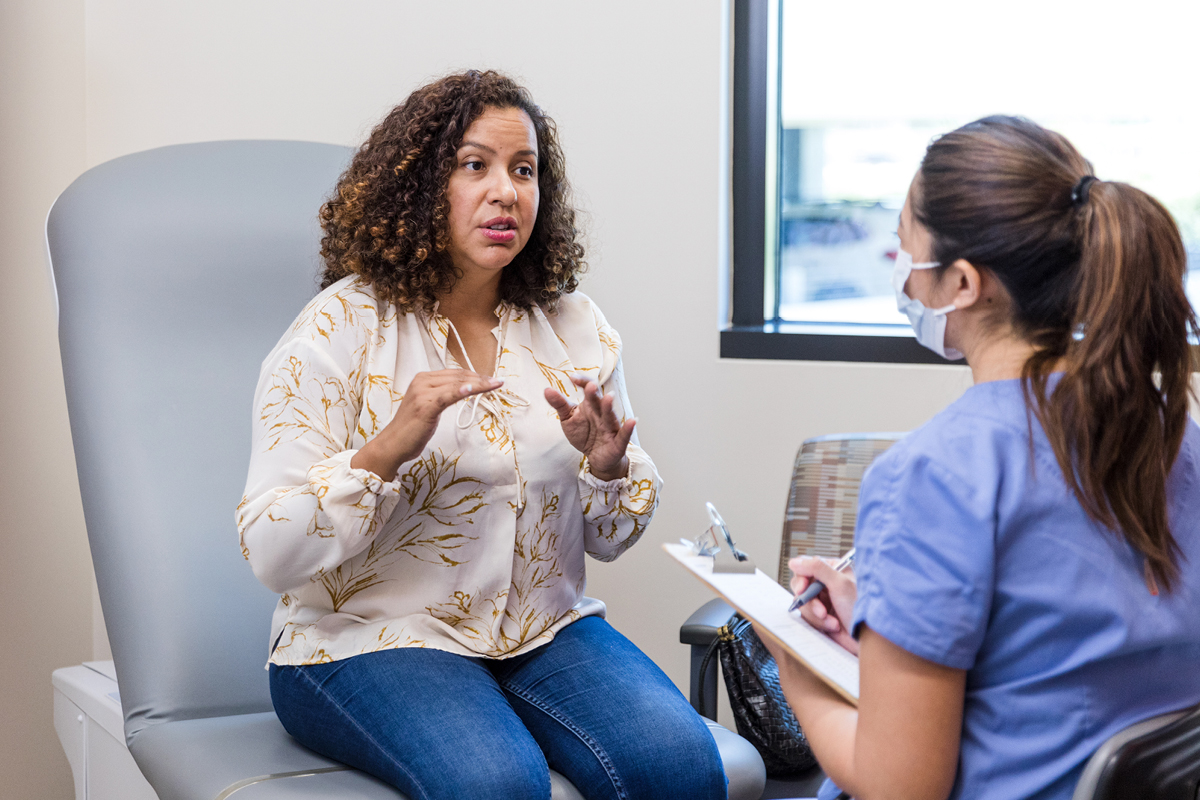 Communicating with your primary care physician helps you make good health decisions. Here are 5 questions to ask at your annual physical exam.
When you get sick, you usually know exactly what to ask the doctor: What is my diagnosis? What treatment do I need to get better? How soon will I feel better? Should I make a follow-up appointment? The purpose of your visit is specific and so is the information you need to deal with it.
During an annual physical exam, questions you need to ask may not be obvious. It may not be clear whether you need to ask questions at all. You do. To get the most benefit from your annual physical exam, bring this short list of questions to ask your primary care provider.
Looking for a primary care provider?
1. What screenings and vaccinations do I need?
Screenings
Your doctor will check certain health markers at every office visit, including height, weight, blood pressure and heart rate, for example. Your annual checkup may include lab tests such as a complete blood count (CBC), comprehensive metabolic panel (CMP), cholesterol and thyroid hormones among others, especially if you are over 40. Ask which tests you need at each annual exam.
Recommendations for heart, breast, cancer and other screenings change regularly, and may depend on your own level of risk. Ask your doctor when you should start routine health screenings and how often you need to repeat them.
Vaccinations
Sometimes adults forget they need vaccinations, too. Influenza and COVID-19 are easy to remember, but when was your last tetanus-diphtheria booster? Have you received a pneumonia vaccine or a vaccination against shingles? Ask which ones are appropriate for you.
2. What do my numbers mean?
All those medical terms and numbers may not make sense to you, but your doctor can tell a lot about your health with these stats. Ask for an explanation of what each screening and test will check for and how to interpret your results.
3. Am I at risk of any medical conditions?
Your family history, personal health history, gender, ethnicity, lifestyle and other factors can influence your future health risks. Be prepared to give your primary care doctor as much information as you can and ask what these factors mean for you.
4. What do I need to work on?
Even if you feel perfectly healthy, there is always room for improvement. Ask what else you can do to support or improve your current condition. Your doctor will also be happy to answer questions you might have about preventive care for your unique circumstances.
5. How do I get more information?
Find out if there's a way to ask questions of the doctor after office hours and between appointments. You may also want to ask your primary care doctor to recommend reliable sources of health information, like WebMD or CDC.org.
Annual Checkups with BJC Primary Care
Your primary care provider will work with you to determine how often you touch base and what health screenings you should get based on your age, sex, risk factors and overall health. BJC HealthCare can answer many of your questions even before your first primary care visit.
The MyChart application enables patients to view and manage their medical records including test results, doctor visit summaries, past and future appointments, and current medications. The app is free to all BJC patients and also offers:
Electronic communication with your primary care doctor and medical care team

A way to request prescription refills

Access to reliable health information resources

The ability to request medical appointments
ABOUT PRIMARY CARE
A BJC primary care provider is your partner in health. Your primary care team is here to handle routine health needs and treat illnesses, injuries and chronic conditions. A primary care provider can help you reach your wellness goals. Learn more.
Find a BJC primary care provider near you and get started on better care.