Take a look back at the people, stories, events and milestones across BJC that made 2019 special.
Alton Memorial Hospital joins Siteman Cancer Network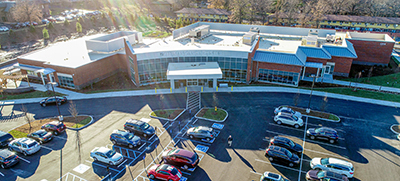 In May, Alton Memorial Hospital joined the Siteman Cancer Network to improve the health of River Bend residents and neighboring communities through cancer research, treatment and prevention.
AMH is the third hospital to join the Siteman network and the first network member in Illinois. Network membership provides more direct access to cancer prevention and control strategies and genomic and genetic testing. Patients also have streamlined access to highly specialized treatments and technologies, including clinical trials, at Siteman.
"Alton Memorial Hospital is proud to partner with Siteman, a nationally recognized comprehensive cancer center," said Dave Braasch, AMH president. "This partnership will bring additional resources, including prevention efforts and access to leading-edge, personalized clinical trials, to River Bend residents and the greater Alton community."
The network's efforts to reduce the cancer burden also are expected to increase the number of people who are screened for cancer, which should result in earlier detection and improved health outcomes.
"Siteman Cancer Center and Alton Memorial Hospital — through the Siteman Cancer Network — are committed to preventing cancer and transforming patient care in the communities we serve," said Timothy Eberlein, MD, Siteman director and the Spencer T. and Ann W. Olin Distinguished Professor and Bixby Professor and Chairman of the Department of Surgery at Washington University School of Medicine. "Together, we're working to build a healthier region."
Eunice Smith Home re-named Alton Memorial Rehabilitation & Therapy
Eunice Smith Home, the skilled nursing and rehabilitation community that has been serving the senior communities of Alton, Godfrey and the River Bend, Illinois, area for 53 years, officially became known as Alton Memorial Rehabilitation & Therapy (AMRT) in December.
"We are committed to keeping the Eunice Smith legacy and building upon the high standards of excellence this community has provided," says Daniel Vogel, AMRT administrator. "We believe this legacy can only be enhanced by the numerous advantages of aligning with Alton Memorial Hospital and its reputation for quality, conscientious care for seniors living in the River Bend area and their families."
Currently rated as a 5-star community by the Centers for Medicare and Medicaid Services (CMS) in the area of Quality Measures, the rehabilitation, skilled nursing and long-term care services at AMRT are provided by the experienced professionals from Bethesda Health Group, which manages the community per an agreement with BJC.
In the coming months, AMRT will hold an open house, and at the time will unveil areas of the community that honor the history and reflect the essence of "Miss Eunice," including a healing garden.
Barnes-Jewish Hospital Transplant Center marks milestone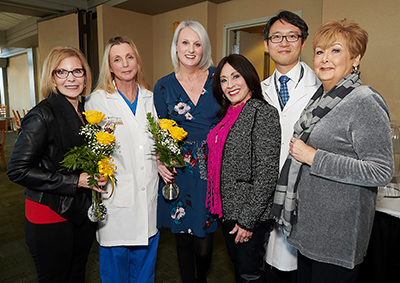 Certain events have a way of changing lives, or reorganizing them into unforgettable before-and-after memories.
In early February, a special moment took place at Barnes-Jewish Hospital when four women, who all live in the St. Louis region, met for the first time to celebrate giving the gift of life to each other. The meeting also marked a milestone for the Washington University and Barnes-Jewish Transplant Center.
Not only were the women part of the Transplant Center's internal paired kidney exchange program, but one transplant marked the 10,000th organ transplant at BJH. Their stories and this milestone are a testament to the power of organ donation and how transplant can save lives.
A willing but incompatible living donor who wants to help a friend or loved one can participate in a paired exchange through the Washington University and Barnes-Jewish Transplant Center. The names of the living donor and recipient are added to the paired-exchange pool, where they can be matched with other willing donors and recipients who are compatible.
At BJH, the kidney transplant program accounts for more than half of all the transplants performed by the transplant center since 1963. The transplant center is the 12th largest in the nation by volume and is renowned for excellent patient outcomes.
Barnes-Jewish St. Peters Hospital employee finds support when she needs it most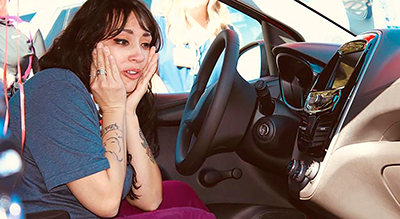 The timing couldn't have been worse for Esther Massey, Barnes-Jewish St. Peters Hospital emergency room patient care technician.
Of course, there's never a convenient time for car trouble. But as a single mom balancing the demands of nursing school and her job, car repair bills meant she was going to have to make some hard decisions.
With no other options, Massey was faced with having to quit nursing school and apply those funds toward purchasing a car.
Her co-workers took note of her situation and came up with a plan to help. Together, they raised $14,000 to buy her a safe, reliable car so that she could continue attending nursing school. The dealership even took care of the taxes and licensing fees.
When her friends and colleagues gathered outside the ER to celebrate the 2020 Chevrolet Spark donation, Massey was overwhelmed by the gift.
"I didn't realize I had that kind of support system here," she said. "This was the one time in my life that I really needed it."
Barnes-Jewish West County Hospital unveils new facility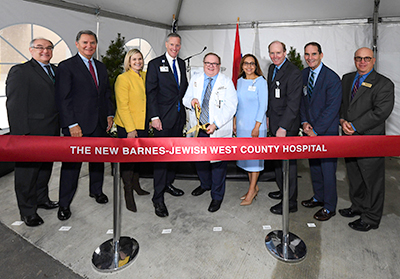 The new Barnes-Jewish West County Hospital opened Nov. 5, replacing the existing 50-year-old facility. Designed as the "hospital of the future" with maximum flexibility, efficiency and technological advancements, it offers an optimal healing environment that's designed to enhance excellent patient care.
"Every detail of the new hospital is designed to improve outcomes, as well as the experience for our patients, families and the team providing their care," said Bob Cannon, Barnes-Jewish Hospital president and BJC group president. "The combination of advanced technology, adaptable clinical spaces and a welcoming campus will create the ideal environment for care and healing."
Located behind the existing hospital, the new 260,000-square-foot facility has 64 private rooms designed for the comfort of patients and with accommodations for family members. There are 14 operating rooms, including one robotic operating room, with the most modern and innovative technology, four intensive care unit rooms, and a welcoming lobby, waiting areas, café and concierge services.
"Our new hospital brings together the science of care with the compassion of caregiving," said Yoany Finetti, RN, MSN, BJWCH patient care services vice president and chief nursing officer.
BJC Behavioral Health celebrates its AFFIRM program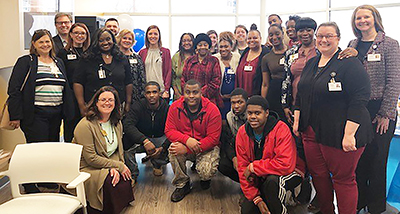 Working with young people who may otherwise fall through the cracks between child and adult services is the focus of the BJC Behavioral Health assertive community treatment for transition age youth (ACT-TAY) program known as AFFIRM. The program opened in a new facility in Pagedale and celebrated its grand opening in February.
"The ACT-TAY team is excited to be providing intensive support to adolescent and young adults in the area," says Lisa Johnson, clinical supervisor of the program. "We strive to provide individualized services, help clients identify their strengths and recognize how to assist them in accomplishing their stated goals."
The team consists of a psychiatrist, nurse, mental health professional, employment specialist and substance-abuse specialist to give clients ongoing, individualized care.
The acronym AFFIRM underscores both the services delivered and the goal of the program: A – Assessment of need; F – Focus on transition age; F – Family and support network; I – Integrated care; R – Recovery; and M – Motivation to change.
BJC HealthCare charitable donations cap off BJC's 25th anniversary celebration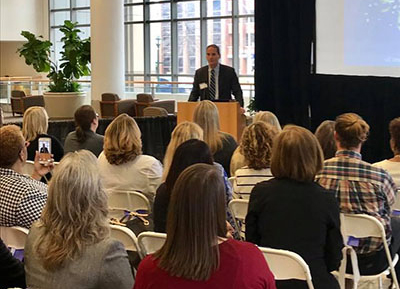 In March, a reception brought together 13 nonprofit organizations selected to receive a special BJC donation, along with their employee nominators.
The event capped off BJC's 25th anniversary activities. To commemorate BJC's anniversary in 2018, team members were invited to nominate a charitable organization that had personal meaning to them to receive part of $25,000 set aside to support grassroots, local organizations with a shared mission of improving health, education, child/youth development, senior/disabled support or community-building.
BJC team members responded with more than 100 nominations, which were evaluated by the St. Louis Community Foundation. The Foundation made recommendations on how to allocate the total funding opportunity among the deserving nominations.
"BJC was formed 25 years ago and it took an entire year to celebrate — our work, our mission, our purpose, our impact and our future," said BJC president and CEO Rich Liekweg. "We looked for a way to distribute support among the communities we serve and were overwhelmed with the number of organizations nominated by our team members. It brings pride to the entire organization to see the impact this gesture has meant."
Based on the resounding success of the program, Liekweg had more good news to share with attendees. "What began as a 25-year opportunity has been so successful in identifying worthy organizations and in bringing together our team, this will become an annual event," he said. "You help us do what we do best — serving our community. And we are fortunate to have partners like you to share in this work."
BJC Home Care/Hospice helps patients make memories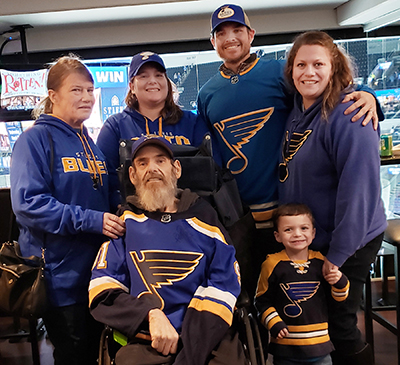 On Feb. 23, the St. Louis Blues notched an overtime victory against the Boston Bruins. No one at the game that night enjoyed it more than Tom Herberger.
What he really savored was being able to share the evening with his family members and friends as guests of the St. Louis Blues. He knew it probably was the last time they'd all be together.
Herberger was a BJC Hospice patient, and the hospice Party Patrol made the Blues game outing happen. As part of BJC Hospice's Joyful Celebrations program, Party Patrol volunteers plan memorable days for Hospice families when they see a need.
Herberger's outing was just one of many special moments orchestrated by BJC Hospice staff and volunteers throughout the year.
Three new primary care physicians join North County practices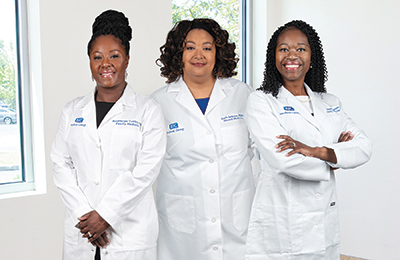 In north St. Louis County, two BJC Medical Group practices continue to make exemplary primary care more readily available in the community.
Staffed by seven family practice providers and three internal medicine providers, BJC Medical Group at Northwest HealthCare welcomed new provider Tiffany Adams-Holmes, MD, to the team Sept. 1.
And BJC Medical Group Primary Care North County, a new practice also located at Northwest HealthCare, is being formed by Bessevelyn Tables, MD, who began Sept. 1, and Gayla Jackson, MD, who began Oct. 1.
While the practices operate separately, they are united in their patient-centered approach. Providers work in partnership with patients, ensuring they understand and have a voice in their care. This approach also applies to the remainder of the patients' treatment care team — a nurse practitioner and nurses specifically assigned to the provider.
"Patients are the priority. They're the reason we're here," says Leslie Barnes-Berry, BJC Medical Group practice administrator. "We do everything we can to make sure they have the best patient experience possible."
Siteman Cancer Center celebrates completion of new facility at NWHC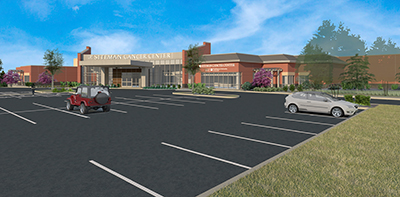 Siteman Cancer Center was welcomed to the North County community Oct. 22, as a large crowd gathered to celebrate the completion of its newest facility at Northwest HealthCare.
The event featured patients, their family members and friends, and leaders of Siteman and Christian Hospital coming together in recognition of the facility's completion and Nov. 4 opening to begin seeing patients.
Speakers included Rick Stevens, Christian Hospital president, and Timothy Eberlein, MD, Siteman Cancer Center director and head of the Washington University School of Medicine Department of Surgery, as well as patients who shared their stories.
Growing to Serve celebration marks start of construction for Siteman Cancer Center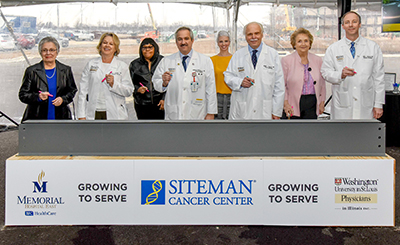 About 200 people gathered at Memorial Hospital East in February to celebrate the start of construction for a second Medical Office Building on the Shiloh campus, which now houses Siteman Cancer Center. The $38 million, 70,650-square-foot, three-story building opened this month and also includes clinical space for non-cancer care providers affiliated with Memorial and BJC Medical Group of Illinois.
This is Siteman's first facility in Illinois and will replace a temporary location at 4000 N. Illinois Lane in Swansea, where Siteman has been operating since last year.
"Our objective on a daily basis is to not only meet, but exceed, expectations to provide the very best care to our patients in an accessible manner," said Mark Turner, Memorial Regional Health Services president. "This means so much to our community."
The new facility will accommodate multidisciplinary care with radiation oncology and chemotherapy services, and will provide access to therapeutic clinical trials, which are designed to evaluate the effectiveness of innovative cancer therapies.
Who knew 'Gloria' was a lullaby?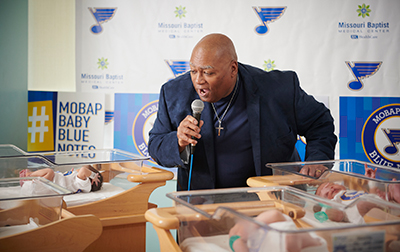 Among the Blues-related stories that have gotten nationwide attention, the video of Charles Glenn singing to newborns in the Missouri Baptist Medical Center nursery was among the most popular. MBMC employees also had an opportunity to pose with the Stanley Cup while it was on campus.
'Chayse-ing' goals and moving forward at Missouri Baptist Sullivan Hospital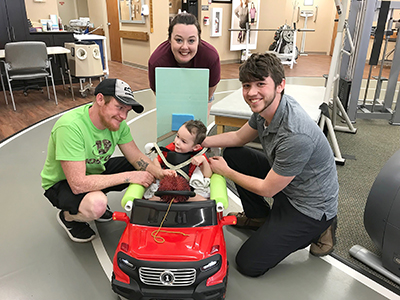 At a small-town rehabilitation facility like Missouri Baptist Therapy and Wellness in Sullivan, Missouri, therapists are used to being on a first-name basis with their patients. Developing a one-on-one rapport by seeing their patients two to three times a week over the course of three to four weeks is commonplace for them. It's one of many things that set them apart from other rehab clinics. But for Chayse Everhart-Rector and his parents, the connection they've built has been even more important.
Physical therapist Kerri Wallace, MPT, and occupational therapist Cody Ellis, OTR/L, CLT, have seen Chayse almost exclusively from the beginning of his treatment in February 2016. They have worked closely as a treatment team, comparing goals and techniques across treatment plans to get the most out of his time in clinic. They have even gone so far as to take a special course on pediatric mobility to find new and effective ways to help Chayse — and any future pediatric patients with similar impairments.
Ashlee Everhart, Chayse's mother, says therapy has been key in helping overcome the obstacles of developmental delay. "The teaching aspect of his therapy has really helped. The therapists are always encouraging and find a way to work with him, even in circumstances that aren't ideal."
She is thrilled that the therapists Chayse began with — and has stayed with — have been so adaptable and resourceful.
"We love Kerri and Cody. That's why we continue coming here after moving. They don't quit. They don't give up," says Everhart.
She says that other long-term providers who work with Chayse are "astonished" at how much progress he's made, particularly with his comprehension and retention, because of the perseverance and diligence of his physical therapist and occupational therapist.
Everhart wants other parents who may share in struggles like hers to know that there is hope and help available in the Sullivan area for children like Chayse. "People need to know that you can get great pediatric therapy locally."
Parkland moves Cancer Center, opens new clinic in vacated space
Since 1995, Parkland Cancer Center has partnered with Missouri Baptist Medical Center, with MBMC oncologists seeing patients at Parkland Health Center's Bonne Terre location. In July, the Parkland Cancer Center and Infusion Center were relocated to a newly renovated facility on the fourth floor of the medical building at PHC-Farmington. While the community wondered what would become of the vacated space at PHC-Bonne Terre, plans were underway, and in November, Medical Arts Clinic-North opened in the newly renovated space at PHC-Bonne Terre, making access to medical care even more convenient to those living in the northern part of St. Francois County.
The new cancer center and infusion center location is a bright, cheery, 6,500-square-foot, state-of-the-art treatment facility. Five board-certified oncologists and a staff of oncology and infusion-certified nurses provide diagnostics and primary cancer treatment, including medical oncology, chemotherapy, immunotherapy, access to clinical trials, genetic testing and radiation oncology referrals, as well as continuous follow-up, consultations, second opinions for cancer and blood disorder management, and infusion therapy.
Medical Arts Clinic was established in Farmington in 1938. In more recent years, the clinic became part of BJC Medical Group and was relocated to the medical building at PHC-Farmington. The original clinic building, located on choice property near the downtown Farmington area, was razed, and in 2013 the land was donated by PHC to the City of Farmington for the purpose of building a new public library.
Medical Arts Clinic currently employs 28 providers, with seven specialties represented.
St. Louis Children's Hospital opens inpatient behavioral health unit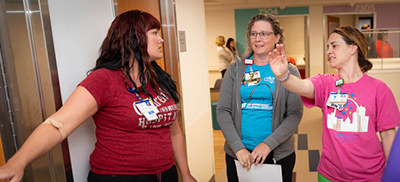 St. Louis Children's Hospital opened a 14-bed inpatient behavioral health unit over the summer. The goal for care is to provide a safe and secure place for treatment where patients can move beyond the immediate mental health crisis. Employees toured the space (below).
"I came here a couple of years ago to work with the behavioral health population, and there just aren't enough inpatient psych units for kids and adolescents in the community," says Landre Kingdon, an SLCH behavioral health social worker. "So, I really love that we have seen the need and decided to be a part of the solution."